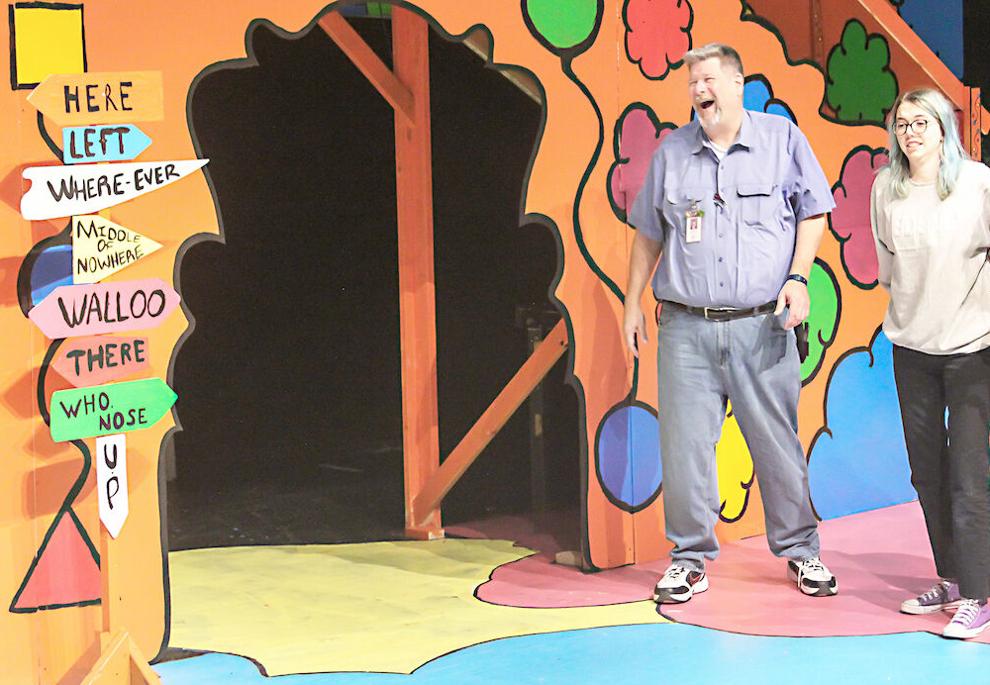 After nearly three decades teaching at Derby High School, Theatre Department Chair Richard Shultz is set to take his final bow, so to speak – planning to officially retire at the end of the current school year.
"I joke that I came with the building. The building opened in January of 1994; they hired me in August," Shultz said
While not quite matching the historic streak of "The Phantom of the Opera" on Broadway, Shultz has had his own impressive run in Derby. He came to Derby after spending his first five years teaching at Berean Academy (just east of Newton), initially taking a position as a computer science teacher.
Not long after he started at DHS, he volunteered his services to the the theatre department, helping with sound and carpentry as technical director – a role he held for 10 years. Then, when former chair Sue Tanner retired – and after he had received his certification – Shultz took over the department that he has been leading for the past 17 years.
During that time, between main stage productions and musicals – as well as puppet shows with his Acting III class over the past decade – Shultz estimates he has helmed 60-70 shows at Derby High. Through them all, Shultz noted his focus has been on empowering and equipping his students to take charge. 
"The true role of a director is to have the vision for the play, the vision for the musical, convey that to everybody else and then help them achieve that vision," Shultz said. "The biggest thing that I bring is a willingness and a desire to collaborate. I try to teach my students how to find their strengths, but also find their weaknesses, and find people that compliment their weaknesses."
Using himself as an example, Shultz admitted he does not like painting – but he has students who do an amazing job in that arena, like with the set for the most recent and final show Shultz helped stage, "Seussical."
"Seussical," in fact, was the first show Shultz directed when he took over as department chair in 2006. When it came time to decide on his final musical last spring, Shultz said it was actually his friend and longtime vocal director Tyler Morris who suggested bringing his career full circle.
Whether teaching computer science or any of the acting and tech classes he has led over his time at Derby High, Shultz noted he goes in wanting his students to aim high in preparation for what comes after their educational careers.
"My classroom goals have always been I want my students to understand what the professional standards are and to do their best to live up to them," Shultz said. "I've always wanted my students to set their own standards, to set them high and to work hard to live up to them."
Of those former drama students, particularly, many have taken that philosophy and run with it. Shultz noted he has multiple former students pursuing acting professionally, while others are working with Music Theatre Wichita, as a stage manager in Denver, as an art director for live TV productions of musicals (like "The Sound of Music") or some other form of pursuing their artistic dreams.
Gearing up for his final show, Shultz noted his students were emotional, but excited to be a part of it – like senior Sara Collins. With her family, including two sisters, going through the drama department previously, the impact was not lost.
"It's obviously been fantastic and I couldn't have asked for a better theatre teacher," Collins said. "Just the way that he carries himself and cares so much for people, I feel like I definitely am going to take that [with me]."
While Shultz admitted he doesn't have any set plans for retirement, he expects he'll end up back in theatre at some point – hoping that spark of passion will carry on in the DHS theatre department as well.
"It's still a little surreal, the idea that next fall I won't be coming back here. It's sinking in intellectually, but it hasn't hit me emotionally yet," Shultz said. "There's an educational thought that students won't care how much you know until they know how much they care. I want my students to walk away understanding how much I care about them, how important to me and to my life that they are, because they are."