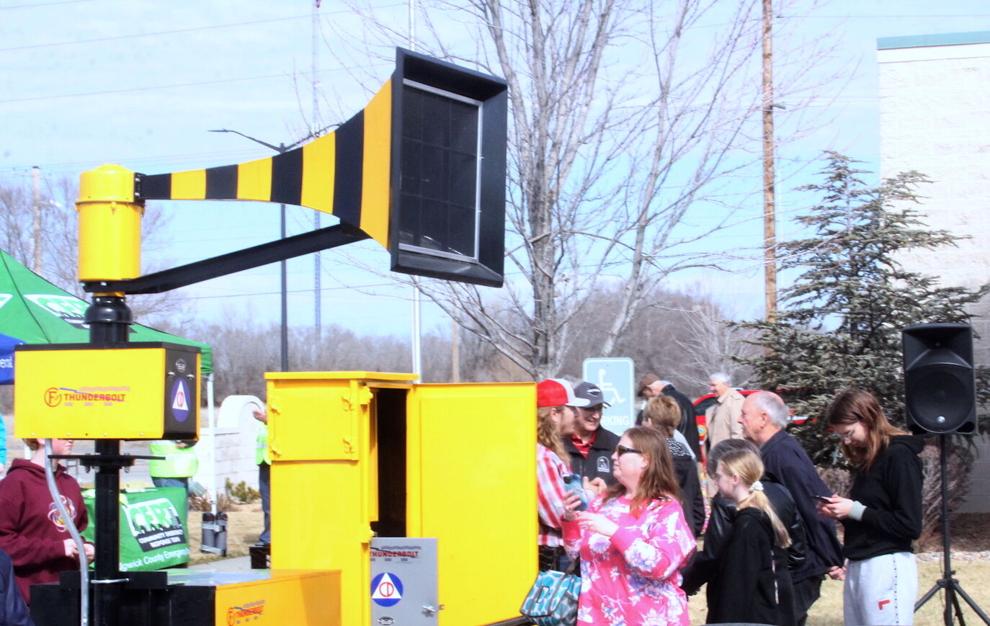 For the past seven decades, through heat, cold, rain and snow, a group of sirens have turned in 24/7 duty throughout Sedgwick County. Known as "Thunderbolt sirens," the bright yellow devices – with their distinct shape of a narrow neck morphing into an oversized square horn – were the iconic symbol of the civil defense era of the 1950s. It was a time when the government and citizens alike were on edge about a possible Russian nuclear attack.
Over the years, some, but not all, have been replaced by more updated versions, and their roles have expanded from an air raid warning to vital storm and severe weather alerts.
There were about 80 Thunderbolt sirens in the county. While their numbers have decreased to about 60 now, they still have a role to play.
And among their group, four have been deemed as the oldest, still-operational such sirens in the world.
Their longtime service was highlighted in a March 4 ceremony at Sedgwick County Fire Station 32 in Park City.
That event showcased a Model T-1000 with serial number T-75 (denoting it was the 75th such unit produced), which was installed in 1953 at Kellogg and Rock Road.
The other three vintage devices, with their serial numbers, include:
• T-79, which started out at the Santa Fe Rail Shops and (sometime in the 1970s) was moved to Walker Avenue and Glenn streets. It is now part of a traveling exhibit county officials have put together to preserve the sirens' heritage.
• T-104, now at Wichita Fire Station 20, 2255 S. Greenwich. It started out at Douglas and Anna at Christ the King School.
• T-116, now at SCFS 38 at 1010 N. 143rd Street East. It began its service at the Planeview Community Building.
Now a part of local history
"Historical landmarks like this make our community interesting and unique," said Jonathan Marr, deputy director of Sedgwick County Emergency Management.
Feedback from local history buffs enforced that view.
They said, "you can't take these things down," Marr said.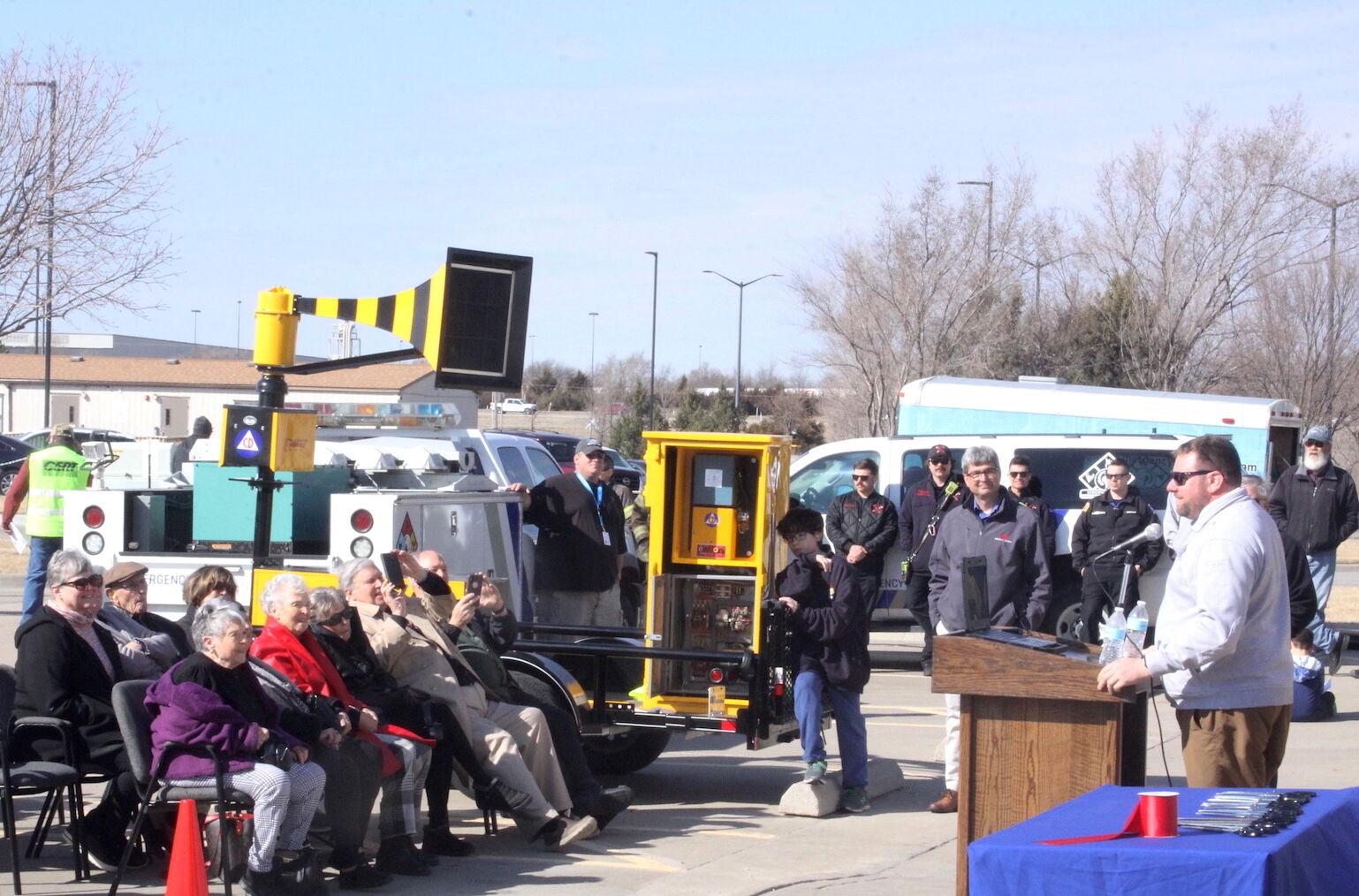 With additional research, Marr found out and agreed that the sirens, made by Federal Signal Corp., are a part of local history.
However, it can be a challenge to keep them going because they don't make parts for them anymore, but the county is doing what it can to keep them operational – or at least hang on to them somehow.
"Faced with throwing non-operational Thunderbolts in the dumpster or reusing them, we couldn't really throw them out," he said.
The Thunderbolts have a higher pitch than newer sirens, but experts have found that the lower pitch sound actually travels a bit farther. Nonetheless, the Thunderbolts are loud and have proven to be effective.
In one early case of that, a Wichita Police sergeant in the 1950s ordered a Thunderbolt to sound and alert citizens to a dangerous storm, a move that officials said saved lives and is believed to be the first such use of the sirens. Sirens, once just viewed as alerts for air raids, soon became part of the warning systems of impending severe weather.
County officials add that sirens are meant for outdoor warnings and they are not designed to be heard inside. With that in mind, residents must avail themselves of numerous ways to stay alert in times of storm activity, such as staying tuned into local media or employing a weather-alert radio, they say.
But outdoors, the loyal Thunderbolts will remain vigilant and on duty as long as they can operate.