Derby green is in high school principal Tim Hamblin's blood. As a legacy and member of the Derby High School class of 1984 himself, the school traditions hold a lot of meaning to Hamblin – maybe none more so than graduation.
"All of my siblings went through Derby High School; I went to many, many graduations, so it has a very special meaning to me," Hamblin said. "For me personally, I have always wanted and tried to make our ceremony, if not different, at least not stale and stuffy. I've always tried to find ways to help those who are in the audience maybe get to know the members of the class a little bit or a little bit about what the class has done or is about."
Graduation, admittedly, is Hamblin's favorite part of the job as principal at Derby High School. This May, he would have led his ninth graduation ceremony while at DHS.
There are a number of traditions Hamblin tries to hold to at the graduation ceremony – which he noted typically draws a crowd of 8,000 to 9,000 at Wichita State University's Koch Arena – that range from standard (class speakers, roll call and diploma presentation, etc.) to the more unique twists Hamblin has added to the proceedings.
"If the kids have put the time in, the least their principal could do is put some original thought and attempt to put their heart and soul into their celebration," Hamblin said.
One of the personal touches Hamblin puts on each ceremony is picking out five or six students to highlight each year. Every student has a story to tell and, while Hamblin doesn't have the time to tell all of them, he lines out a handful to feature that help illustrate how the path to graduation can vary and the significance behind that.
Rarely, those students will be the highly decorated athletes who have earned a number of recognitions along the way. More often than not, though, they are students who have faced a number of significant challenges through their high school careers – like one recent graduate who attended eight different high schools before getting her diploma from Derby.
Hamblin's stories factor heavily into the experience of a Derby High School graduation, while he also looks to leave each graduating class with some very personal advice before sending them out into the world.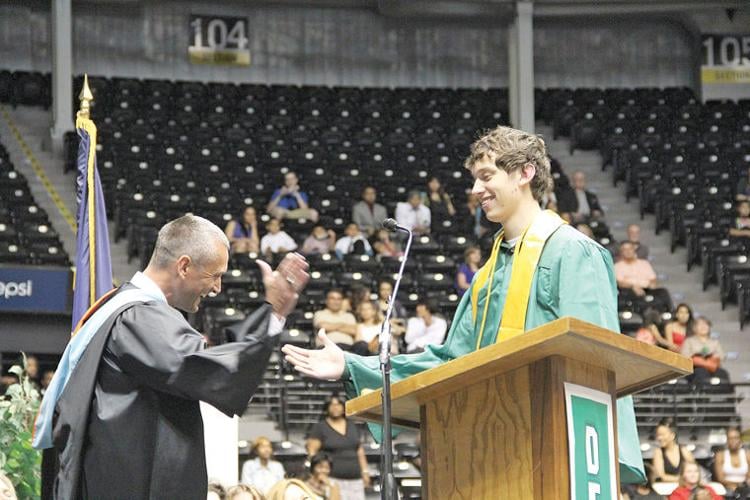 "Sometimes there's laughs and sometimes there are tears, so there is that rollercoaster of emotion. That's not necessarily my intent," Hamblin said." I don't walk through the tunnel and towards the stage and think, 'OK, I want to be funny here and pull the heartstrings here.' The makeup of the class dictates heavily the message I convey."
Personally, Hamblin's own graduation experience has heavily influenced the approach he takes with the ceremony each year.
Back in 1984, Hamblin noted a number of his classmates brought kazoos with them into the ceremony and decided to provide their own accompaniment while the choir performed "The Battle Hymn of the Republic."
Given that his fellow graduates decided to "not behave very well" during their ceremony, that has led Hamblin to be dialed in for any graduation ceremony he leads. Knowing it may be one of the few formal recognition ceremonies graduates are a part of, he hopes to keep the students and audience engaged to avoid any such incidents that may take away from such a meaningful experience.
While the current pandemic postponed the regularly scheduled graduation ceremonies, a survey of this year's seniors showed the DHS class of 2020 still – overwhelmingly – want to celebrate together. Knowing that, Hamblin is doing all he can to provide some kind of recognition ceremony. After all, it is a part of his duties as principal.
"My job, in my opinion, is to bring a ninth grader to the point that they've received their high school diploma," Hamblin said, "so I think every principal should view graduation ceremonies the way I do."