Bill Shaw understands there is an unavoidable learning curve with summer collegiate baseball.
Bringing in 25 players and a pair of assistant coaches that have likely never met means there will be an adjustment period. However, with two weeks of regular season games remaining, that degree of unknown is being replaced by a cohesive squad.
Derby (14-10, as of July 8) has won back-to-back games to close within 4.5 games of the division lead. It has also won five of its last eight games.
"Over the last 10 days or so, we're starting to settle in on a core group of guys position-player wise," Shaw said. "We're also getting our pitching rotation worked out."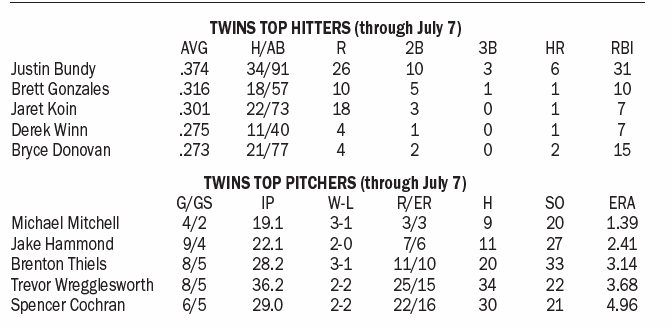 Part of that stretch has been helped by an evolving and promising rotation. Michael Mitchell (UC San Diego), Spencer Cochran (Oklahoma State) and Trevor Wregglesworth (Alma College) have become the Twins' top three starters. Brenton Thiels (LSU Eunice) isn't too far behind as the 7-foot starter threw five shutout innings in their 12-2 over Hutchinson on July 5.
"It has been very helpful getting 10 or 11 pitchers available for our ball games," Shaw said. "We went through a few weeks with only six pitchers and at this level it's almost unheard of … it was almost like every night we were using the entire pitching staff."
The back end of Derby's bullpen has also settled in alongside the rotation. After starting through his first four appearances of the summer, Jake Hammond has stepped in as its closer.
One of four Twins to make the Sunflower Collegiate League All-Star Team, Hammond has given up only one run in relief.
"That is Jake's forte," Shaw said. "He's got the personality for that role. He relishes the role of closer."
Joining Hammond in last week's All-Star Game were Cochran, OF Brett Gonzalez (SE Missouri) and IF/OF Justin Bundy (NW OK State).
The lineup has been aided by speed and utility players across the top and bottom of the order.
Driving in almost 25 percent of Derby's runs, Justin Bundy (six home runs, 31 RBIs) has become its largest run producer.
Over Derby's last three games, the Northwest Oklahoma State product has hit a trio of three-run home runs.
"He's a home-run threat at every bat," Shaw said. "But he's also a team player and he's a great kid … He's got the deep-ball threat. When I say team player and just like [Sunday night's game], we had a runner on first and with him being a left-handed batter, I felt the need for a hit-and-run. Lo and behold, he slaps the ball to the shortstop area and he was forced to cover the bag."