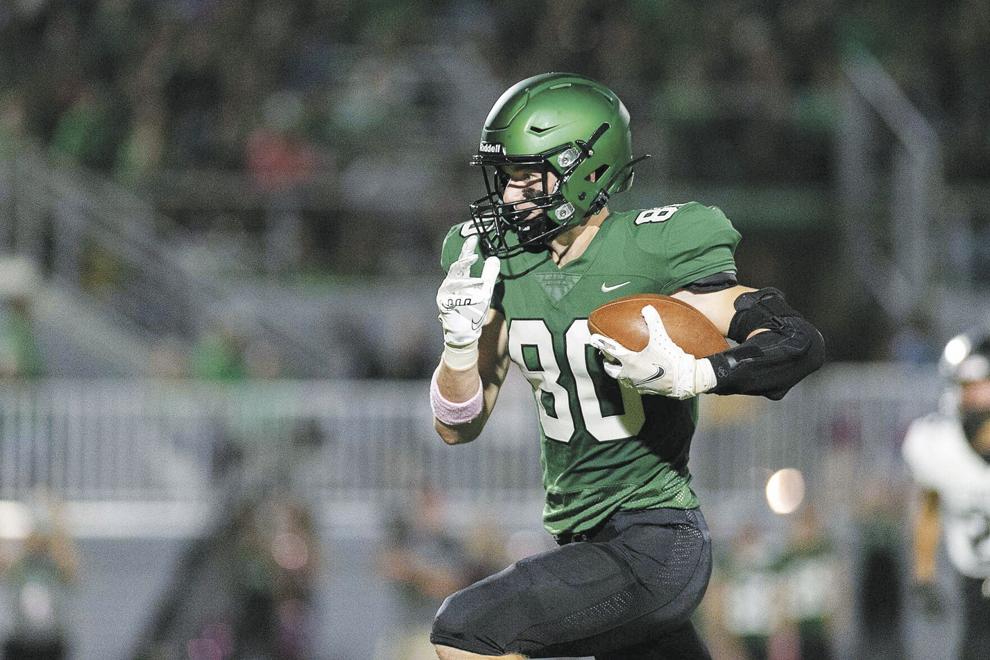 Seniors Mercer and Drake Thatcher provide unique chemistry to Derby football. The twins are critical pieces on the Derby offense that is on the cusp of another state championship.
Mercer has taken over the starting quarterback role this season after playing some wide receiver last season. As a tight end, Drake has played a crucial role in the blocking game and is an offensive weapon for Mercer to find down the field.
After waiting in the wings throughout their careers, the duo gets to enjoy Friday night lights together side by side.
"It's a dream come true," Mercer Thatcher said. "Just to walk out of the locker room holding Drake's hand like we always have done with all the kids screaming our names, it really is a dream come true."
The two have been playing the same sports for a long time and aim to push each other in everything they do.
"It is pretty fun to play with my brother," Drake Thatcher said. "We push each other to get better every single day, whether it is football, baseball or whatever we are doing."
"Playing football with my brother is something else," Mercer Thatcher said. "He's my twin brother, and we get on each other and compete. We also have a really deep bond, and it has a good effect on the field."
It's not every day that you can have a sibling connection between quarterback and tight end, but Derby has that.
"We do have that twin connection," Drake said. "Mercer knows where I am going to be at all times, and you saw it on that 43-yard pass and catch in the Lawrence Free State game."
The Mahomes and Kelce connection runs deep, but the Thatcher twins might have better chemistry.
"I like hitting Drake a lot more," Mercer said. "It is very amazing to see Mahomes and Kelce on TV and stuff like that, but we are making some of those plays on our own, trying our best."
Drake Thatcher opted not to comment on the Thatcher to Thatcher or Mahomes to Kelce debate.
"I don't know if I can say us so, I am not going to comment," Drake said.
The brothers have drawn some inspiration for plays from watching football and even ran a few using Mercer as a decoy, with Drake taking the snap. But, according to the Thatchers, and to Drake's delight, they have been trying to get more tight-end options in the playbook.
"We ran a tight-end sneak for a touchdown against Hutchinson, and we ran another one against Free State, which was a play that was on TV one time," Mercer said. "We've tried suggesting shovel passes and stuff like that. We can get creative with it."
The Thatcher twins have played football together since the third grade and now have an opportunity to hoist one more state title in the final game of their Derby careers.
Both brothers were quick to add their teammates into the conversation about winning a state title.
"It is really cool to be in that position, and I consider all of these guys out here to be my brothers," Drake said. "Mercer is obviously special because he's related to me."
"It's a blessing because it's not just me and Drake or me and Dylan or anything like that," Mercer said. "It starts up front with the offensive line and also the wide receivers who block their butts off to get a chance to get a ball maybe and let Dylan or me score from behind them."