The senior class has an opportunity to do something that no class at Derby has done: win four straight state titles. After clinching the seventh straight sub-state title with a 62-28 win over Lawrence on Nov. 19, the 26 seniors are on the cusp of putting one more trademark moment on an already impressive resume.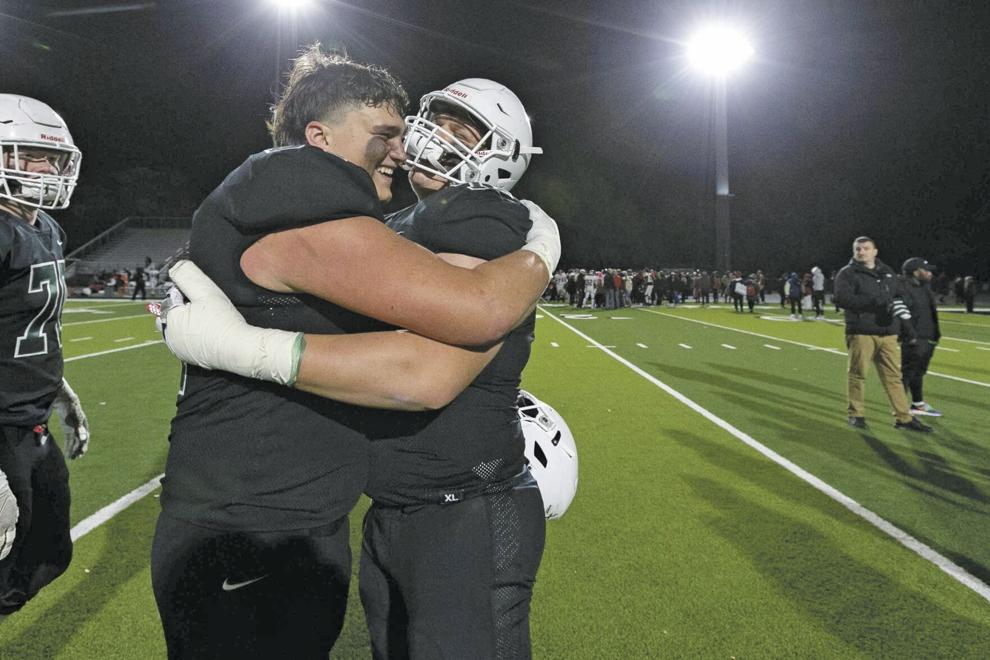 In four years, the Panther senior class holds a 46-2 record, four AVCTL-I titles and has reached the state championship the last four years with three title wins. These seniors have been a part of head coach Brandon Clark's Panther football program since junior football, creating a successful and tight-knit group.
The postgame celebrations on Nov. 19 were full of emotion and it is only fair to give you a little peek into the raw emotions following the game.
A handful of seniors and coach Clark shared the excitement of returning to the state championship and the family atmosphere that Derby football has created.
Defensive lineman Andon Carpenter
"It is unbelievable to reach the state championship again. I just want to thank all the people, the other classes in front of me, for putting us in this position."
Offensive lineman Dylan Conn
"It is incredible, I am very proud of my guys, and I have never been more proud of them in my life. I can't wait to get after it on Saturday."
Quarterback Mercer Thatcher
"It is unreal, but we are not done. We have one more to go… This senior class has been my family since I can remember. I started playing football way back when and I've known these guys for my entire life."
Offensive lineman Alex Key
"I just think that this is the tightest group we have ever had. We have a lot of good leaders, and the freshmen really look up to us. It is a family atmosphere, and we really try to bring everyone in."
"It is so special. Derby has never done it four years in a row and to get to try to do that is special. When we went on our senior retreat, we set our goals for the year, and obviously, our ultimate goal is to win state."
Wide receiver Cayden Brown
"It is amazing. All we're worried about is one week at a time, and we got a running clock in the substate championship. We have one more weekend, one more game to go. I just can't wait to get on to the next team."
Defensive back Corey Akins
"It feels great. It is like a fever dream. We have been looking up to our upperclassmen since our freshman year. We have put in the work in the weight room and and have shown up to zero hour every day ready to work. Our senior class has definitely earned this and hopefully we can go put a cap on it next week."
Offensive lineman Jonas Vickers
"This senior class has worked its butt off since our freshman year from playing scout team to playing varsity. Having four in a row is something never heard of before, and we are happy to be a part of it and lead the team. This senior group is extremely tight from playing each other in middle school. Even going back to junior football, splitting up for middle school, and coming back together, it is just something special, Derby has this dynasty of putting teams together and keeping them tight."
"Most of the coaching staff have known these kids since they were in junior football. They have done the junior football camps and middle school camps with them. Now they are getting ready to graduate, and we wanted nothing more for this senior class than to make it to state. We have had relationships with these kids for 10 years, and it is really awesome to see them excited, happy, and see them get closer to their goal. We have one more left and have work to do this week."