One round of postseason wrestling remains. 
Six Derby wrestlers will represent their program at the Class 6A state tournament at Hartman Arena in Park City, Kan. The girls matches will be held on Thursday, Feb. 25, while the boys will be two days later.
Seniors Cody Woods (106), Cason Lindsey (152) and sophomores Tate Rusher (126), Knowlyn Egan (132) and Miles Wash (182) will represent the Panther boys. Freshman Amara Ehsa (101) became the first girls' wrestler in school history to qualify for the state tournament. 
"I feel confident that our five can place," coach Bill Ross said. "You can be in the running for a top-five finish if so and we're going to try and go for it. We've got the fabulous five and we're going to go and try and do some fabulous things this weekend." 
101: Amara Ehsa (11-4)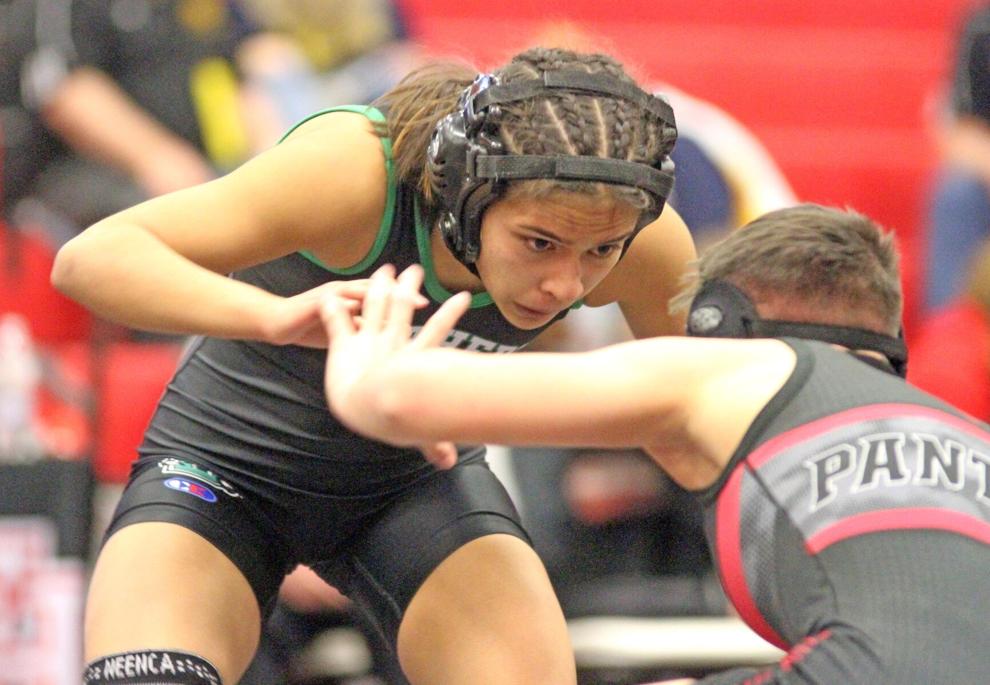 State qualification(s): 1
Ehsa got her money's worth in sub-state. The freshman picked up 16 points to defeat Garden City's Chloe Sullivan in the quarterfinals. The next round led to Breckyn Elliott of Great Bend, who is No. 1 in Division I wrestling. Ehsa held a 5-0 edge after the first period and took Elliott to overtime, but was unable to pick up the win in a SV-1, 7-5 loss. She then needed overtime to knock off Dodge City's Stephanie Ortega (TB-1 7-5) to advance to state.
"I'm very excited for her," Ross said. "She has worked her tail off and she has been a joy to work with. She has only been doing it for two years and she loves the sport."
106: Cody Woods (32-5) 
State qualification(s): 3
Woods' mission for a state championship was on full display at Saturday's meet. He is now positioned to rebound from his state championship loss, entering state as the No. 1 wrestler at 106 pounds. He is a three-time state qualifier and is in pursuit of his third state medal. After winning regionals, the senior is now 4-0 against other ranked wrestlers this postseason. Saturday's bracket final gave Woods his second-straight win over Washburn Rural's Jonathan Morrison (dec. 6-4).
"He has to realize he is the senior and that he's the two-time state placer in this bracket," Ross said. "… He knows he's the favorite, he has the experience, has wrestled since an early age and he just has to go out and wrestle the way he knows how to." 
126: Tate Rusher (29-10)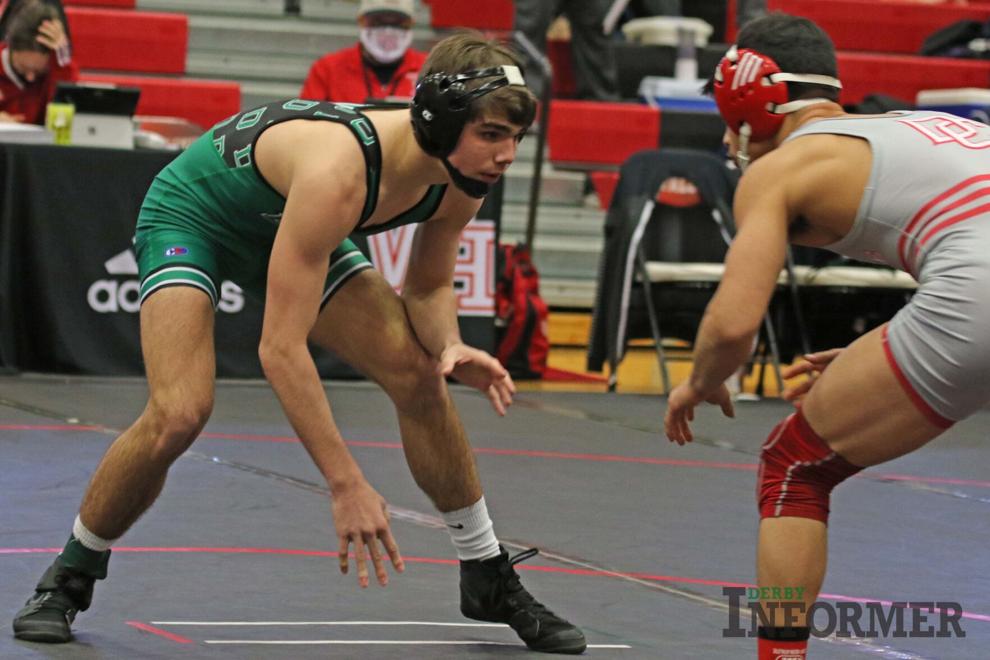 State qualification(s): 2
A different tone came about Saturday for Tate, his teammates and his family. After seeing his brother Treyton sustain a season-ending knee injury, the team as a whole was forced to bounce back after seeing one of its seniors go down unexpectedly. Tate fell just two points shy of a sub-state championship, losing to Campus' Dylan Sheler (dec. 7-6). The sophomore will be making his second trip to state in as many seasons. He shut out his first two opponents, picking up wins over Dodge City's Ismael Ramirez (dec. 6-0) and Junction City's Patrick Foxworth (dec. 2-0).
"It doesn't take a whole lot to motivate Tate," Ross said. "That motor is going 100 miles per hour and almost non-stop. He loves the sport, he loves practicing and he loves competing. Just the fact that he gets to wrestle at all is enough motivation for him." 
132: Knowlyn Egan (30-10)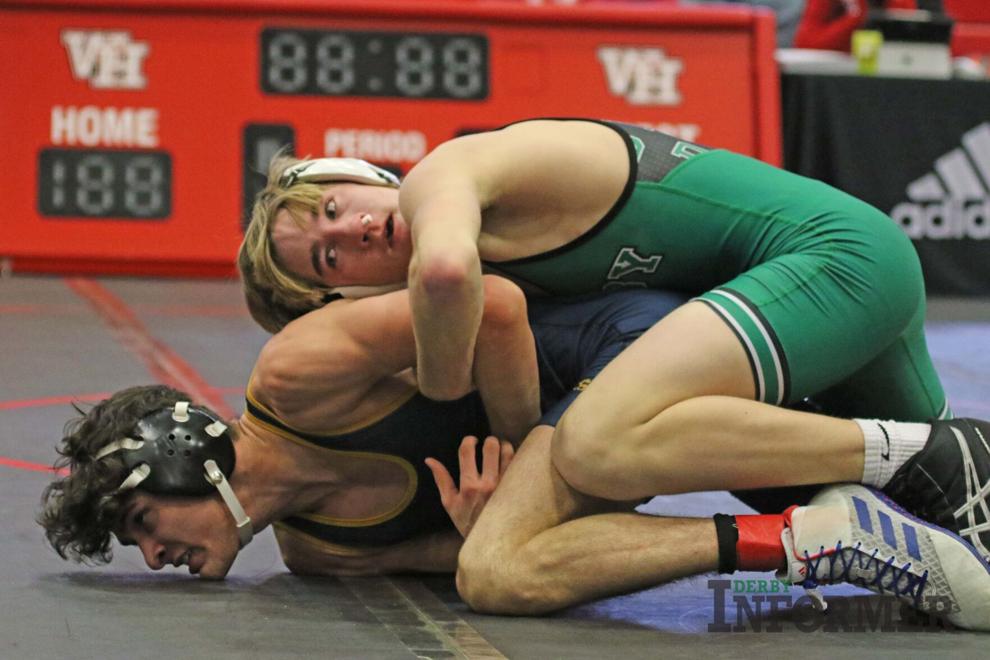 State qualification(s): 2
At the conclusion of last year's state tournament, Egan became the fifth Derby freshman wrestler to place fourth or better at the meet since 2013. The sophomore picked up his second state trip in dominating fashion, crushing Junction City's Anthony Petrusky (MD 11-0) in the consolation semifinals. He clipped Campus' Jacob Rymer (dec. 3-2) to take the consolation final.
"Any time you have experience at the state tournament and you place, it pays dividends the next year," Ross said. "With him having that experience, that is definitely going to play into it… he won't fear anybody and he'll be ready to go. 
152: Cason Lindsey (33-2)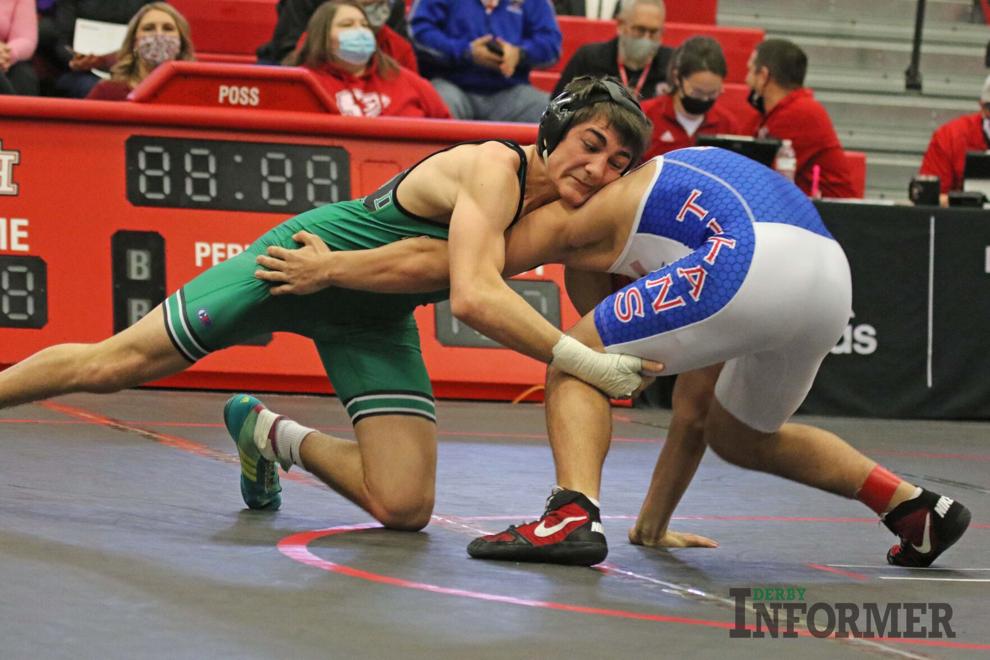 State qualification(s): 4
Lindsey picked up arguably Derby's biggest win, defeating Luke Barker of Dodge City (dec. 5-1). Barker has held the No. 1 ranking at 152 pounds through the season. Lindsey is in position to join rare territory for Derby wrestling. With a state medal next weekend, Lindsey is looking to become the seventh wrestler in program history to win four state medals, joining Dustin May (2001-2004), Kelly Heincker (2001-2004), Cody McDonald (2012-2015), Brandon Becker (2015-2018), Cade Lindsey (2016-2019), Triston Wills (2016-2019).
"He's wrestling with a lot of confidence right now," Ross said. "That kid is such a competitor and he hates to lose. That in and of itself is a big deal." 
182: Miles Wash (26-7)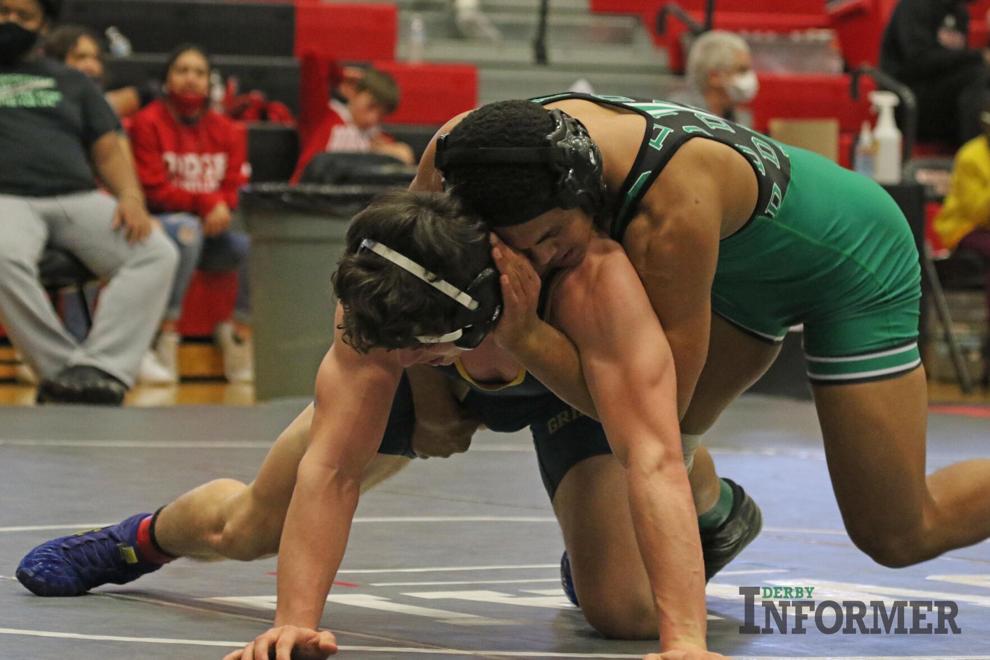 State qualification(s): 1 
Wash has made monster strides on the wrestling mat and it paid off with a trip to state. The sophomore faced the No. 1 wrestler in his weight, Quentin Saunders of Wichita West, in the championship semifinals. While he was unable to knock him off, he defeated two seniors, Washburn Rural's Remington Stiles (No. 2 in 6A) and Lawrence Free State's Austin Burenheide, to get to state. Both wrestlers were returning state qualifiers.
"With his work ethic, preparation and business-like approach [in sports] and in the classroom," Ross said. "I wouldn't be surprised if he doesn't have his picture and name on the wall before he is done. You know as well as I do that the only way he gets his picture up there is if you're a state champion."
ALL 6A STATE QUALIFIERS
(#)= current KWCA ranking
SR Cody Woods, Derby, ***^^ (1st) 
FR Jonathan Morrison, Washburn Rural, * (2nd) 
SO Nolan Bradley, Lawrence Free State, **^ (3rd) 
FR Ezekiel Witt, Junction City, * (5th) 
FR Casin Lawrence, Olathe North, * (4th) 
FR Andrew Honas, Lawrence, * (6th)
FR Ethan Woltkamp, SM East, *
FR Kasen Smith, Gardner-Edgerton, *
JR Jacob Tangpricha, Washburn Rural, **^$ (1st) 
SO Eric Streeter, Lawrence Free State, ** (4th) 
JR Jantzen Borge, Manhattan, ** (5th) 
FR Raymond Hernandez, Dodge City, * (6th)
SO Cael Alderman, Olathe North, **^ (2nd) 
SO Jack Elsten, Lawrence, **^ (3rd) 
JR Ben Darling, BV West, **
SR David Franke, BV North, *
SR Bishop Murray, Washburn Rural, ****^^^$$ (1st)
JR Darius Shields, Lawrence Free State, ***^^$ (2nd) 
SO Kayden Blake, Junction City, * (5th) 
FR Jameal Agnew, Manhattan, * (6th)
JR Kevin Honas, Lawrence, ***^^ (3rd) 
FR Jacob Vazquez, Olathe North, * (4th) 
JR Sam Perez, BV North, *
SO Ethan Jenkinson, SM East, *
JR Dylan Sheler, Campus, ***^^ (2nd) 
SO Tate Rusher, Derby, ** (3rd) 
JR Ismael Ramirez, Dodge City, * (4th) 
SO Henri McGivern, Washburn Rural, * (5th) 
SR Joe Triscornia, Olathe North, ****^^^ (1st) 
JR Jahir Contreras, SM East, **^
JR Jacob Bradley, Olathe East, **
SO Noah Conover, Olathe Northwest, **
JR Damian Mendez, Dodge City, ***^^$ (1st) 
JR Easton Taylor, Manhattan, ***^^$ (2nd) 
SO Knowlyn Egan, Derby, **^ (3rd) 
SR Jacob Rymer, Campus, ** (4th) 
FR Trevor Vazquez, Olathe North, * (5th) 
SR Jacob Bartlett, BV Northwest, *** (6th)
FR Collin Smith, Gardner-Edgerton, *
SR Logan Farrell, Lawrence, ***
JR Erick Dominguez, Garden City, ***^^ (1st) 
SR Bowan Murray, Washburn Rural, ***^ (2nd) 
SR Caleb Streeter, Lawrence Free State, **** (3rd) 
Camden Aldrich, Wichita Northwest, ** (4th) 
JR Michael Solomon, Blue Valley, ** (5th) 
SR Gabe Barron, Olathe North, * (6th)
JR Jacob Bragg, Olathe East, **
SO Therron Meade, Gardner-Edgerton, *
SR Nathan Bowen, Campus, ****^^ (1st) 
SR CJ Neuman, Junction City, ***^ (3rd) 
JR Blaisen Bammes, Manhattan, ***^^ (5th) 
JR Rudy Hernandez, Dodge City, **^ 
SR Trey Medina, Lawrence, ***^ (2nd) 
JR Cash Thomas, Olathe South, ** (4th) 
SO Alec Samuelson, Olathe North, **^ (6th) 
Nick Carlson, Olathe East, ***
SR Cason Lindsey, Derby, ****^^^$ (1st) 
SO Luke Barker, Dodge City, **^$ (2nd) 
JR Nick Vincent, Washburn Rural, *** (5th) 
FR Griffin Bohanan, Junction City, * (6th)
SR Luke Hyland, Blue Valley, **** (3rd) 
JR Keeghan Troutman, Gardner-Edgerton, *
SR Thomas Knudsen, Olathe South, * (4th) 
JR Veda Gummadipudi, BV West, *
SR Marcelino Otero, Dodge City, ***^ (1st) 
JR Aiden Boline, Washburn Rural, * (5th) 
SR Josh Janas, Garden City, ***^^ (4th) 
JR Easton Zapien, Liberal, ***  
JR Landon Wilkes, Olathe North, **^ (2nd) 
JR Bobby Thomas, Olathe South, ***^ (3rd) 
SR Justin Doebele, Blue Valley, * (6th) 
SO Anthony Andrews, BV North, *
JR Austin Fager, Washburn Rural, *** (2nd) 
SR Ruben Rayas, Dodge City, **^ (4th) 
SR Corbin Williams, Campus, ** (5th) 
SO Matthew Marcum, Lawrence Free State, * (6th)  
JR Blake Jouret, Olathe South, ***^ (1st) 
SR Jaxon Avena, Olathe East, *** (3rd) 
JR Noah Sharp, Olathe Northwest, **^ 
SR Elijah Hann, Olathe West, ** 
JR Quentin Saunders, Wichita West, ***^^$$ (1st) 
SR Tony Rivero, Liberal, ** (2nd) 
SO Miles Wash, Derby, * (4th) 
SR Remington Stiles, Washburn Rural, ** (5th)  
SR Zack Leskovac, Olathe South, *** (3rd) 
SR Malique Washington, Olathe East, ** (6th) 
JR Gavin Biancalana, BV Northwest, * 
SR Marcellus Edwards, Olathe West, * 
SO Caden Ross, Wichita Northwest, ** (3rd) 
SR Isaiah Zinkan, Junction City, ** (4th) 
SR Alex Allison, Lawrence Free State, *
SO Roman Loya, Dodge City, *
SR Gus Davis, Gardner-Edgerton, **^ (1st) 
JR Ty Farrington, BV North, ** (2nd) 
SO Lucas Conover, Olathe Northwest, ** (6th)
SR Ty Knudsen, Olathe South, * (5th) 
SR Mason Ross, Wichita Northwest, ***^ (1st) 
JR Santonio Turner, Dodge City, ** (4th) 
SO Zach Franco, Washburn Rural, * (5th) 
JR Judah Peterson, Junction City, * (6th) 
JR Brooks Lowe, BV West, *** (2nd) 
JR Turner Leonard, Olathe East, * (3rd) 
SR Carter Lahmeyer, Olathe North, *
SR Alvin Horner-Luettel, SM Northwest, **
FR Sebastian Lopez, Garden City, * (1st)
SR David Huckstep, Washburn Rural, ***^ (2nd) 
SR Damian Illalio, Manhattan, ***^^ (3rd)
JR Angel Aguilera, Dodge City, * (4th) 
JR Jorge Gallegos, Olathe North, * (5th) 
JR Jay Jensen, Gardner-Edgerton, * (6th)
JR Nicholas Herzog, Blue Valley, *
FR Brett Carroll, Olathe East, *