What has 2020 not done for Derby football?
The Panthers dropped a pair of regular-season games for the first time since 2011. Add in two cancelled games due to COVID-19 quarantines, its first league loss since 2014 and a pair of playoff road games and it's just part of the picture.
Thus far, the challenge has been met and possibly even beaten.
Even that abstract painting couldn't stop its pursuits of a sixth-straight state championship game. Derby (7-2) will head to Junction City (9-1) for the Class 6A West sub-state game. The winner will advance to face either BV North (6-2) or Olathe North for the state title on Saturday, Nov. 28.
With a win on Friday, the Panthers would become the 11th school in KSHSAA history to play in six or more consecutive state championship games. They would be the third high school in Class 6A to accomplish the feat. They'd join Wichita Southeast (7, 1974-198) and Lawrence (10, 1986-1995). Hutchinson (7, 2003-2009) split its appearances between Class 5A and 6A.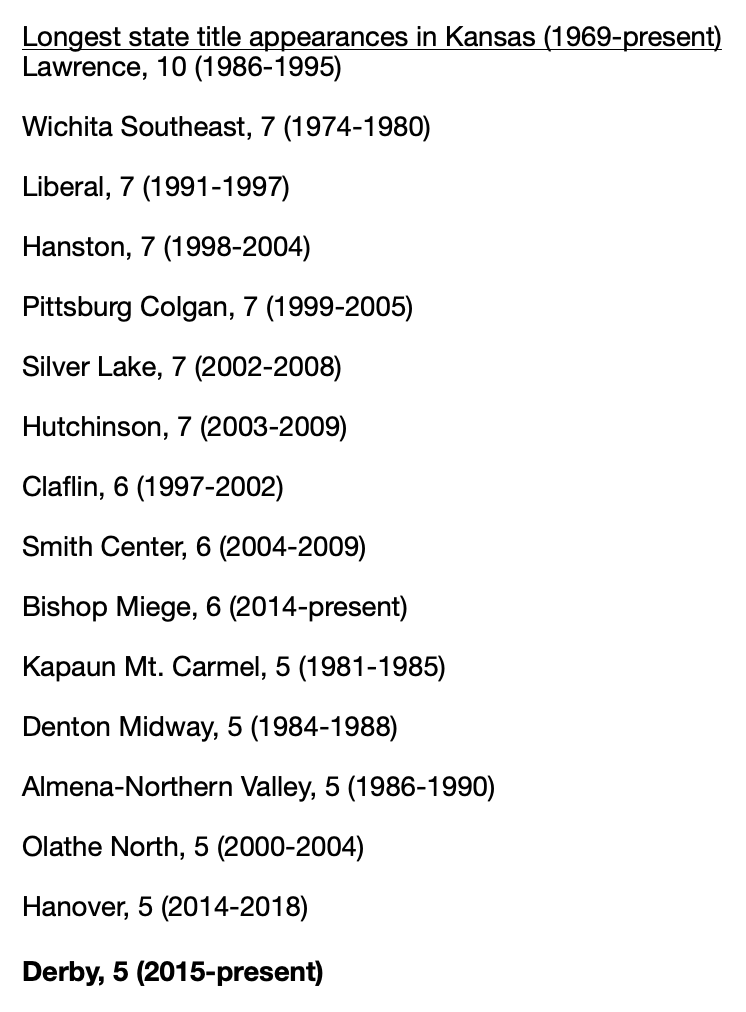 Derby's climb to once again sit atop 6A will be met by one of the classification's most dynamic offenses. Junction City quarterback Andrew Khoury (2,918 yards, 29 touchdowns, 62 percent completion) has been working with a talented supporting cast that includes, among others, Russell Wilkey (1,099/449 receiving and rushing yards, 12 touchdowns) and wide receiver Marcello Bussey (1,372 receiving yards, 16 touchdowns).
"They've got a receiving corps that is unreal," coach Brandon Clark said. "Coach [Randall] Zimmerman does a great job of getting those guys in mismatches and moving them around, so we can't just put one guy on them."
As Derby preps to hit the road for sub-state, its third-down defense continues to shine against some of its stiffest competition. In its wins against Gardner-Edgerton and Lawrence, it held the two teams to a combined 19.2 percent (5-of-26) conversion rate.
While its front seven met the challenge of slowing down Lawrence running back Devin Neal, Derby's secondary will need to cover almost every inch of Al Simpler Stadium to stop Junction City's passing attack.
"Adding Tanner Knox back [due to injury] was huge," Clark said. "Amare [Ramirez] is getting healthy and helping us out. Jameer Clemons and Corey Akins, especially Jameer, is one of the most-
improved kids on the field. Cason Lindsey has also been lights out."
2020 Derby football statistics (through sectionals)
Lem Wash, 71-of-101 (70.2%), 954 yards, 13 TD, 5 INT
Dylan Edwards, 153 carries, 1,411 yards, 21 TD, 2 FUM
Lem Wash, 142 carries, 917 yards, 13 TD, 2 FUM
Derek Hubbard, 30 carries, 171 yards, 3 TD
Reid Liston, 30 catches, 419 yards, 6 TD, 1 FUM
Drake Thatcher, 13 catches, 212 yards, 5 TD
Dylan Edwards, 14 catches, 180 yards, 1 TD
Mercer Thatcher, 5 catches, 60 yards
Jack Hileman, 2 interceptions
Jace Jenkins, 1 interception
Cason Lindsey, 1 interception
Leshaon Davis, 1 interception
Andon Carpenter, 2 fumble recoveries
Kaleb Gifford, 1 fumble recovery
Samuel Same, 1 fumble recovery
3,573 yards of offense (397.0 ypg)
2,624 rushing yards (291.5 ypg)
949 passing yards (105.4 ypg)
3rd down conversions: 34-of-69 (49.2%)
4th down conversions: 7-of-15 (46.6%)
Opponent total yards: 2,171 (241.2 ypg)
Opponent rushing yards: 1,318 yards (146.4 ypg)
Opponent passing yards: 853 yards (94.7 ypg)
Opponent 3rd downs: 31-of-98 (31.6%)
Opponent 4th downs: 11-of-26 (42.3%)