Nearly five months after seeing high school sports endure an abrupt ending due to the threat of COVID-19, the Kansas State High School Activities Association (KSHSAA) gave its member schools the green light for the 2020-2021 fall season. 
The decision came courtesy of a nearly split vote between the executive board members. The group of nine administrators reached a 5-4 decision in favor of proceeding as planned with the fall calendar. 
Fall practices will be allowed to begin on the originally scheduled date of Monday, Aug. 17. Games and/or tournaments will begin for girls golf and tennis on Friday, Aug. 21. Boys soccer and volleyball will follow on Friday, Aug. 28, while football and cross country will first begin on Sept. 2.
The Derby Informer contacted district activities director Russell Baldwin at the conclusion of the July 28 vote. He said the district is in active discussions to accommodate upcoming activity and game schedules and make modifications as needed. Safety protocols have also yet to be established, but are also on the way.
KSHSAA has also listed considerations for each fall sport, providing guidance for its member schools as they decide how and/or when they'll conduct each activity.

What that means for fans at games and if and/or when they'll be allowed, that will fall on local healthcare authorities. 
"One-size-fits-all is both certainly applicable and not applicable in this regard in terms of facilities, contests and how local health authorities will regulate that," KSHSAA executive director Bill Faflick said. "That is a local decision and local healthcare departments will provide capacity limits for contests inside and in facilities."
As of Thursday, July 30, Kansas is the 27th state to announce no changes to its schedules or has yet to make a ruling. The chart below, courtesy of the National Federation of High School Associations (NFHS) indicates which states have either decided to modify their calendar or make no changes. Seven additional states have ruled there will be no fall football. All numbers are subject to change.
Sports or no sports? That is the question
NO CHANGES (27): Alabama, Alaska, Arkansas, Colorado, Connecticut, Delaware, Idaho, Indiana, Iowa, Kansas, Louisiana, Maryland, Michigan, Minnesota, Missouri, Montana, Nebraska, New Hampshire, North Dakota, Ohio, Oklahoma, Pennsylvania, Rhode Island, South Dakota, Tennessee, Utah, Wyoming
MODIFIED CALENDAR (24): Arizona, California, District of Columbia, Florida, Georgia, Hawaii, Illinois, Kentucky, Maine, Massachusetts, Mississippi, Nevada, New Jersey, New Mexico, New York, North Carolina, Oregon, South Carolina, Texas, Vermont, Virginia, Washington, West Virginia, Wisconsin. 
NO FALL FOOTBALL (7): California, District of Columbia, Illinois, Nevada, New Mexico, Virginia, Washington.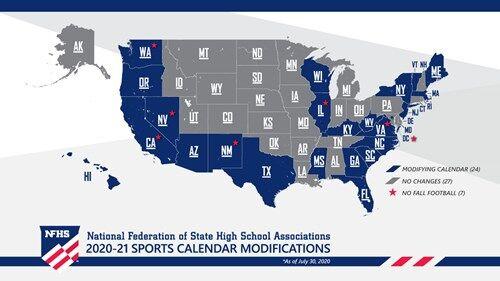 The decision to stay on track for Aug. 17 came roughly a week after asking the executive directors of KSHSAA to survey state superintendents on when they're choosing to start school. 
After seeing a large majority share August start dates, that didn't go unnoticed by the executive board.
"Over 70 percent of our schools appear to be starting by the week of Aug. 24," Salina South athletic director Ken Stonebraker said. "That's a fairly large number. [However], when you read the comments from our superintendents, you're going to hear, 'please start, let's hold…' I just don't know if there is a perfect answer to that."
Had the motion to delay sports gone forward, there would have been modifications to the front end of schedules. Boys soccer, football, gymnastics and volleyball would have been held until Tuesday, Sept. 8. That would have canceled the opening week of the football season and also shortened the season for each of the above sports. 
Cross country and girls golf and tennis would have been allowed to start on time.
Other proposed recommendations by the KSHSAA executive director staff included the following. 
Reducing the football season, (8 = HS, 6 = MS/JH) 
Cutting football jamborees 
Reducing the boys soccer season (14 = HS, 8 = MS/JH) 
Reducing the volleyball season (30 = HS, 24 = MS/JH)