Megan Keil was always a swimming standout at Derby High School and recently competed at the United States Swimming Olympic trials.
After claiming two state titles at Derby, Keil became an All-American sprint swimmer at the University of Missouri. In that span, she also punched her ticket to the Olympic trials.
Keil was able to qualify for the Olympic trials based on a qualifying time of her 50-meter freestyle at a USA Swimming-sanctioned event over a year before the trials and before COVID forced a change of plans.
"I don't remember exactly which meet I first qualified for it," Keil said. "There was just a certain time standard that you had to hit. I qualified over a year before, but there were so many changes with COVID, but it all worked out."
Regardless of the outcome at the trials, Keil enjoyed the opportunity to compete against the nation's best swimmers in Omaha, Neb.
"It was such a cool experience," Keil said. "I think everyone there was just happy to be there. I expected it to be so much more stressful than it was. It was the most fun that I've ever had."
Keil's previous season at Mizzou provided some confidence heading into the trials.
"It went really well. It was a COVID year, so obviously everything was a bit different. We didn't have as many in the regular season, but I mean, I got to swim through it, so I was happy with it."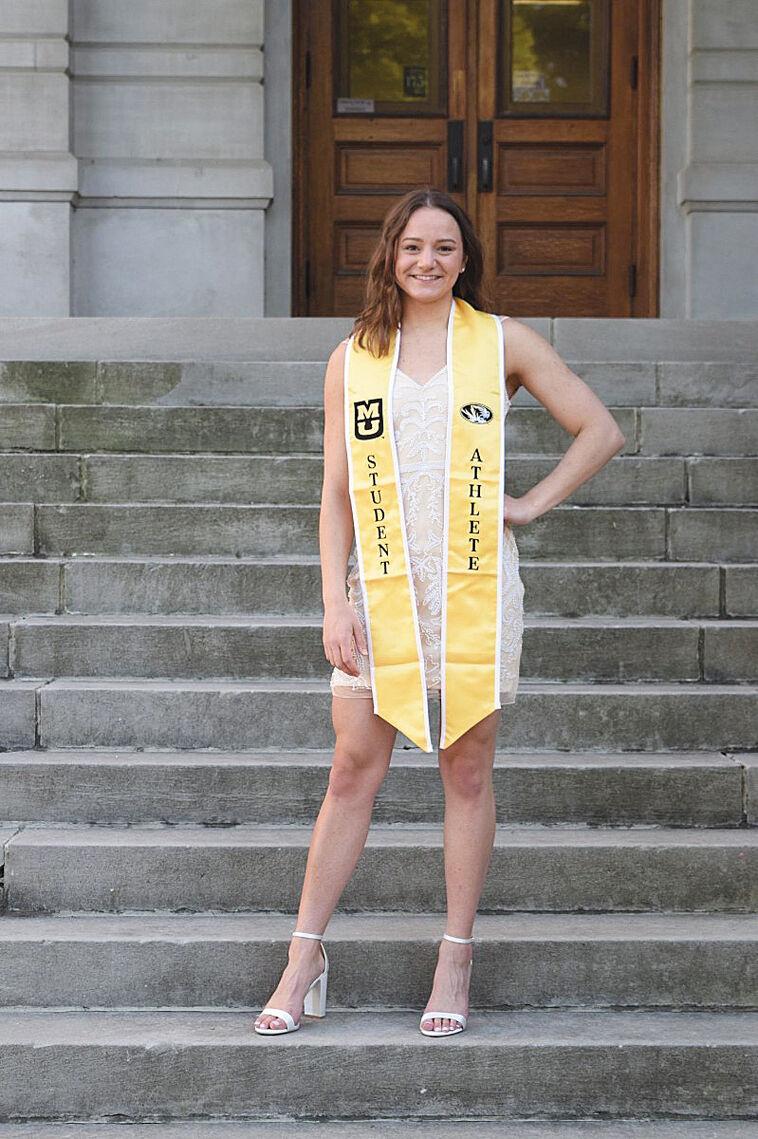 With the area loosening capacity restrictions heading into the trials, Keil was able to race with her own cheering section in the stands.
"It was really nice to have all of our teammates, friends and my parents there in the stands watching," Keil said.
The attention that the Olympics bring created a different environment for the competition.
"It was awesome," Keil said. "It was just so different than any other meet because it is all set up for TV, so you walk in and out of this huge arena, and all of the lights are just on you. So it is nothing like any other meet."
Despite the different environment, it didn't affect her in the pool.
"It didn't really throw me off or anything, Keil said. "It is just kind of funny because we were not used to it in swimming. It was like, 'Wow, this is so fancy,' so it was funny."
The Olympic trials provide an opportunity for fans to watch veterans and rising stars compete for the same goal of reaching the Olympics. In Keil's case, she had the chance to interact and compete with swimmers she watched growing up.
"I think that one special thing was just walking out on the deck or into the locker room and seeing the people that made the team in the past that I have looked up to since I was young," Keil said. "Then being competitors, it was such a surreal feeling."
According to Keil, one of the coolest quick interactions was seeing Katie Ledecky in a different environment.
"I didn't get to talk to her, but on the first day there, Katie Ledecky walked out of the elevator in front of me," Keil said. "I took a second and was like, 'Wait, was that really her? So it was funny."
It was only a brief interaction, but the chance to rub elbows with some of the best swimmers in the world added to the experience at the trials.
The future is still a little uncertain for Keil, who graduated from Mizzou in three years and is headed to law school at Missouri in the upcoming semester.
"I'm still kind of deciding on that," Keil said. "I'm going to be in school during that time, so it is an option." With the granted extra year of eligibility, she would have the option to compete.