Nine months after winning its fifth state championship in program history, the Panthers are set to open the 2019 season.
Derby will travel to Garden City on Friday, Sept. 6 with kickoff set for 7:00 p.m. It'll be its longest season-opening road trip since doing the same drive in 2007.
The two schools played at Panther Stadium last August and coach Brandon Clark's crew began their championship campaign with a 49-6 win. They led 42-0 at halftime before utilizing their backups for much of the second half.
The Buffaloes were tasked with replacing over 90 percent of their offense a year ago and will have seven starters returning to that group this fall. Dual-threat quarterback Carlos Acosta will look for a new battery mate; however, after seeing running back Reece Morss graduate.
Derby will also be facing arguably one of the biggest offensive lines it'll see this fall as Garden City averages over 6-foot-3, 290 pounds across its front four.
Clark said it was a young Garden City unit one year ago and his team will need to be prepared for an improved group. 
"Garden has a ton of size [up front] and they also have some weapons behind them," the Derby coach said. "Their quarterback is a whole different player than he was a year ago. He can run and pass with the best of them."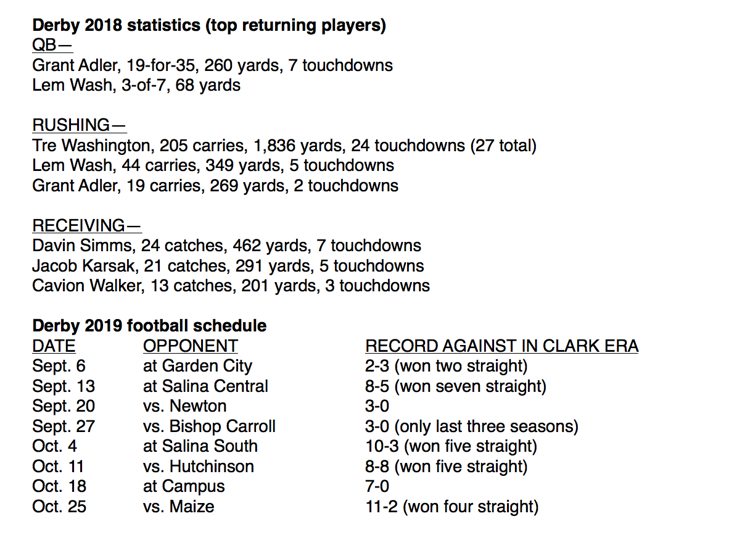 Friday marks the return of senior quarterback Grant Adler, who has endured two significant injuries against Bishop Carroll over back-to-back seasons. He'll have do-it-all running back Tre Washington (stats below) alongside him as well as five of Derby's top six receivers from last year.
"Grant is a competitor," Clark said. "He wants to win as bad as anybody on the field. He's done a great job of putting on some weight this offseason. He is already way better than he was last year. It's almost like he hasn't taken any time off."
The Panthers have won four season openers in a row, dating back to its last regular-season loss to an AVCTL-I school against Maize in 2014. They have won 27-straight league games since that trip to play the Eagles.