Derby was away on the scoreboard, but right at home on the field. 
Playing in its fifth-straight state title game (all at Emporia State's Welch Stadium), it also claimed its second-consecutive championship in a 63-26 win over Olathe North (10-3). 
The Panthers broke two state records in their high-scoring affair, including points (63) and total yards (674). The marks knocked BV North off the top of both rankings. 
Its rushing offense, which totaled 472 yards for the game, was the catalyst of its fourth game of 60 or more points this season.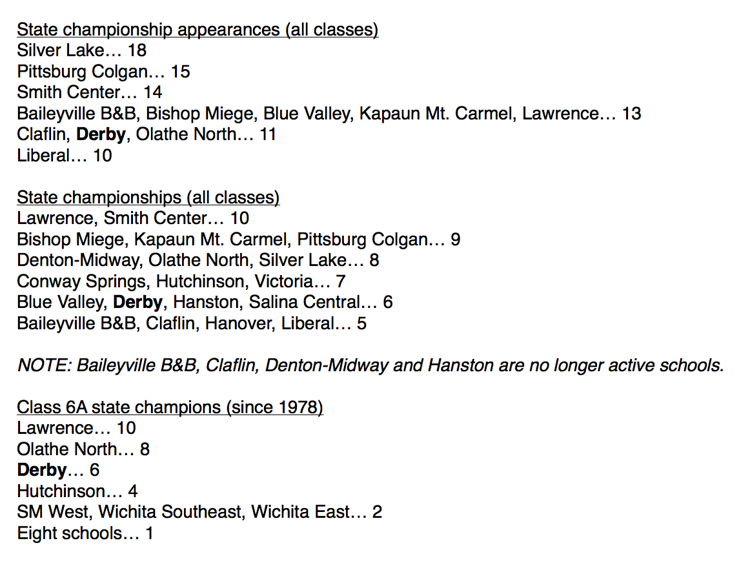 Junior quarterback Lem Wash's 11-yard touchdown run capped a stretch of 21 unanswered points over the games first seven-plus minutes.  
The Eagles' were held to 12 yards over their first six plays as they saw their opposition open up the 21-0 lead.
Olathe North's Arland Bruce IV was able to score a pair of touchdowns to cut Derby's lead to 21-13, but coach Brandon Clark's squad responded with another stretch of three unanswered touchdowns. 
Bruce was the bell cow of Olathe North's offense. The junior finished the year with 43 rushing touchdowns and 48 total and touched the ball on 39 of its 62 plays. 
Derby's second scoring run began with the third of four rushing touchdowns for Wash. After shutting down the ensuing Olathe North drive down in four plays, Wash connected with junior wide receiver Reid Liston on an 81-yard touchdown pass.  
The junior quarterback capped Derby's final first-half drive with a 17-yard score. 
His four rushing touchdowns tied three other players, including former Derby running back Brody Kooser, in 6A state championship history. The only player to score five or more is former Olathe North and Kansas State great Darren Sproles.
The Panthers' 42 first half points was their 11th halftime lead of 40 or more points this fall. 
Almost any of Olathe North's hopes of making a second-half comeback were erased in the third quarter as it was unable to find the end zone. Its first possession of the quarter ended on the first of two turnover-on-downs with a punt coming in between. 
Derby broke the 6A state championship scoring record when senior running back Tre Washington scored on a 10-yard run to make it 56-13 with 2:34 remaining in the third quarter. 
The Panthers got a little taste of the future when freshman Dylan Edwards scored their final touchdown on a 24-yard run just inside the start of the fourth quarter. 
D: Washington 38-yard run (Simmons kick)… 7-0 
D: Wash 1-yard run (Simmons kick)… 14-0 
D: Wash 11-yard run (Simmons kick)… 21-0 
ON: Bruce 1-yard run (PAT good)… 21-7 
ON: Bruce 1-yard run (PAT no good)… 21-13 
D: Wash 70-yard run (Simmons kick)… 28-13 
D: Liston 81-yard pass from Wash (Simmons kick)… 35-13 
D: Wash 17-yard run (Simmons kick)… 42-13 
D: Adler 8-yard run (Simmons kick)… 49-13 
D: Washington 10-yard run (Simmons kick)… 56-13 
D: Edwards 24-yard run (Simmons kick)… 63-13 
ON: Sanches 69-yard pass from Sarver (PAT no good)… 63-19
ON: Bruce 2-yard run (PAT good)… 63-26
Rushing: Wash, 15-179-4; Washington 16-162-2; Liston, 7-85; Edwards, 6-26-1; Adler, 3-20
Passing: Wash, 5-7-115-1; Adler, 4-4-114; Liston, 1-1-7; Hamblin, 0-1-0-1
Receiving: Liston, 3-118-1; Washington, 3-65; Karsak, 3-46; J. Clemons, 1-7
Rushing: Bruce, 39-133-3; Stout, 1-50; Nelson, 2-7 
Passing: Nelson, 7-19-111; Sarver, 1-1-69-1
Receiving: Sanchez, 3-124-1; Stout, 3-29; Union, 2-27