Senior defensive back Brian Murph III is all over the field as part of a defense that has forced 28 turnovers this season. Murph holds two defensive touchdowns on six turnovers in his first year of Derby football.
Since moving from Fort Worth, Texas, Murph has also changed from wide receiver to safety and earned a starting role after an impressive showing at Derby Night Lights.
"When I came here this year, I was going to play wide receiver," Murph said. "I switched to safety because there was an opening at safety, so when I switched, both me and sophomore defensive back Demaria'e Baker were behind two people. Once we had our Derby Night Lights scrimmage, that is when we went off and won the starting spots."
You might read that and think he made the move to the defense because he couldn't catch, but that is far from the truth when it comes to Murph's situation.
"They can't say that our defensive backs can't catch because the safeties lead the team in interceptions," Murph said. "We have some of the best hands on the whole team."
As a former wide receiver, Murph still has those instincts to find the football, and the adjustment has been a successful one.
In the 42-41 win over Maize on Oct. 15, Murph made two pivotal interceptions, including one in the end zone that proved to be the difference in the win.
Murph has a 33-yard pick-six and a 31-yard scoop and score, which he credits to his blockers on those returns. The excitement after making the turnovers is one of his favorite parts of making the play.
"My favorite part when I scored was when Jonas Vickers lifted me in the air; I hadn't done that before," Murph said. "Seeing the crowd go crazy and seeing my teammates going wild is pretty awesome too. Then when watching film after the game, the coach will say funny things like, 'Murph...or superman' after a big play, so it is pretty fun."
The safety does his due diligence in preparing for the next opponent. According to Murph, there is an expectation to watch about three hours of film every day so that the defense can be ready for the latest install the coach brings to practice.
According to Murph, the Derby defense gets overlooked because of the dominant offense that the Panthers have, but as long as both sides do their job, it doesn't matter.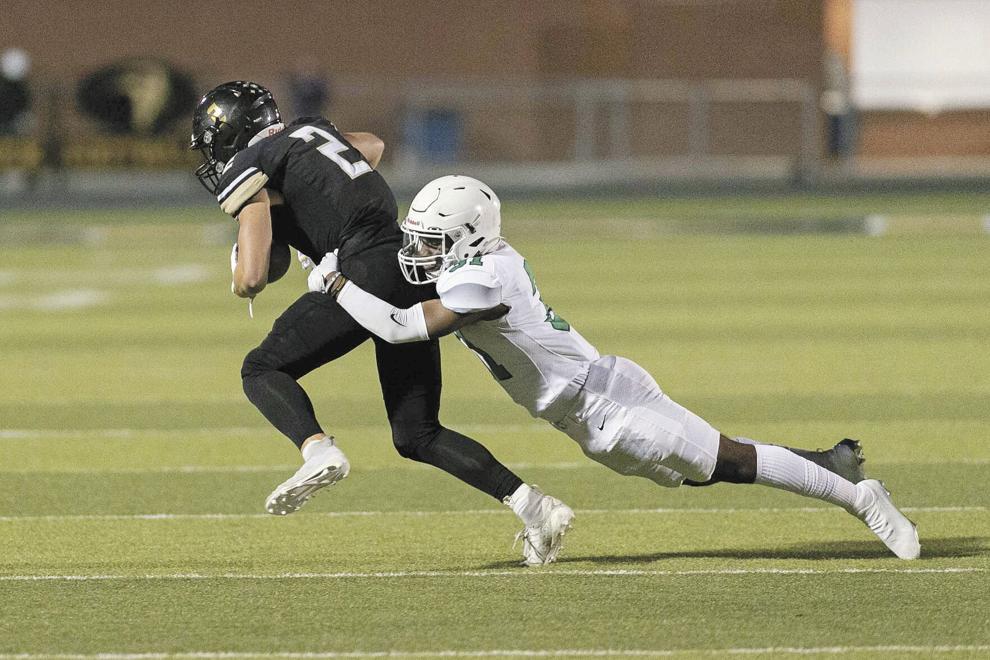 "They say offense wins games and defense wins championships, and I really feel like our defense is top-notch," Murph said. "We get the stops for the offense to score. From interceptions to fumble recoveries, our defense has a lot of turnovers this year, so we just do what we need to do so our offense can score."
Coming from Texas, Murph has felt right at home in Derby. According to Murph, his teammates made him feel like part of the family as soon as he got here.
"I'm going from a big city to a smaller one, but everyone is family here and I am really close with my teammates," Murph said. "They have brought me in like family. It was just from the start, from day one. They were so welcoming and didn't make me feel like an outsider."
With one more game to go, the senior class has the opportunity to hoist the state trophy in all four years at Derby. It will be Murph's first shot at a state title, but he is fighting to win the state championship for his teammates.
"I'm just happy to be able to try to get them their fourth straight state title," Murph said. "I'm trying to get my first, but getting them their fourth, which is something that nobody has done before here; it's exciting."