It's hardly the Derby Chamber Chili Cook-Off without an entry from Nicholas Engle.
The city councilman and local businessman has competed in the annual chili contest each year since its inception in 2015. He only missed 2020 – along with everyone else – when the event was canceled due to the pandemic.
With the chamber planning to bring back the event this year, Engle is yet again preparing to represent his business, Keene Insight Financial Strategies, with a fresh pot of his best chili.
Engle has lived in Derby for about 12 years, starting his financial practice in 2013. He joined the chamber within his first year of business, looking for ways to get connected to residents in the area.
Prior to starting Keene Insight, he worked for more than a decade in the restaurant industry, which instilled an interest in cooking in him.
"When they put together that initial event, I thought it'd be a fun way to be involved with the chamber – the community," he said. "Food is always a fun way to get involved for me, personally."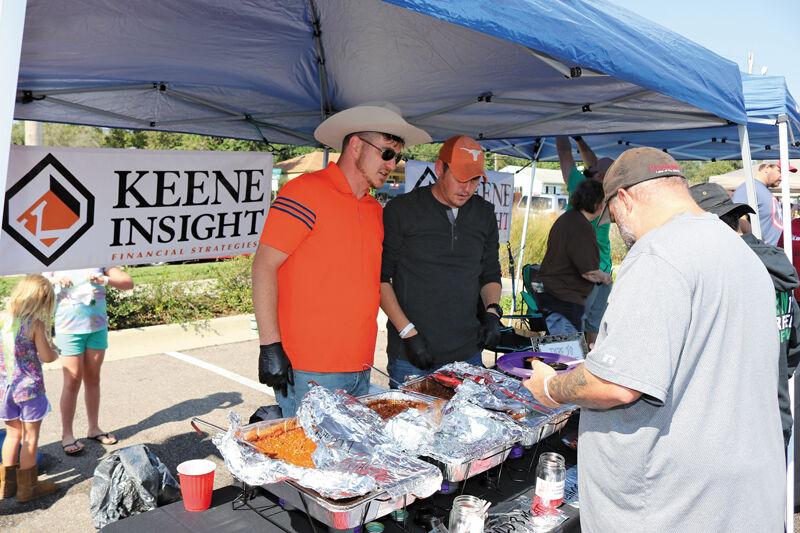 And Engle's involvement in the local chili scene doesn't stop at the chamber's contest. He also sees the other side of chili contests by helping plan one.
Engle volunteers to help coordinate the annual Wichita Wagonmasters Downtown Chili Cook Off, held Sept. 25 this year. The contest has been a Wichita tradition for more than 30 years and features dozens of teams from Kansas and other states.
The contest is also a sanctioned event with one of the national chili cook-offs, and the Wagonmasters use it as a way to collect money for local nonprofits.
On the participant side of cooking chili, Engle has had a level of success, winning the chamber's very first cook-off in 2015.
"I don't know that they officially release results of non-first place each year, but I'm typically in the top three," he said.
While Engle said he's a fan of hot foods, he usually tries to make his chili accessible to those who might not like it as spicy.
"I want [my chili] to have a little kick to it, but I want it to be very approachable by a normal person," he said. "I like a hearty chili. I usually do three different meats in mine."
Engle also said he tries to locally source as many ingredients for his chili as possible. One year, he was able to source all the tomatoes and seasonings from his home garden and sourced the meats from the area.
"It's a great time of year to start thinking about a nice Midwestern soul food," he said.
The Derby Chamber of Commerce Chili Cook-Off will take place from 11 a.m. to 2 p.m. on Oct. 9 in the parking lot at Madison Avenue Central Park. To taste each chili and vote, participants must pay $5.
The event was originally planned for Oct. 2 but was postponed by one week due to inclement weather.
Member businesses can enter the contest for free by registering online at www.derbychamber.com. Three awards will be given out: "Best Chili," "Best Business Spirit," and "Mayor's Choice."
Proceeds from the event will go toward supporting the chamber's other upcoming community events, including the pancake feed and the Derby Christmas Parade.