The year 1971 was one full of milestones. The voting age was lowered to 18, the first microprocessor was introduced, the Vietnam War was winding down and, closer to home, the Derby Senior Center was founded.
To mark its half century, center officials threw a party on July 28 at The Venue at Madison Avenue Central Park, which attracted about 200 people. It was an island-themed event, complete with colorful leis and steel drum tunes by musician Brad Shores.
Among the attendees was Fifi Unkel, 76, a longtime Derby resident who seemed to know everyone there – and she had good reason to as she's one of the busier members, often taking one of the center's popular exercise classes. While Unkel has been a member for years, she really started going on a regular basis after her husband passed away several years ago.
Unkel has enjoyed her friendships there, but one of the toughest periods of the center's history happened just recently, when COVID-19 brought things to a grinding halt for a period, including a three-month shutdown.
Members really missed seeing each other and taking part in activities, she said. Now that a vaccine is available and the center has reopened, the return to a sense of normalcy has been a welcome relief, she said.
"Everyone is anxious to get out," she said looking around at the socializing.
Barney Tull, 72, has been a center member for "years and years and years," as he put it. An avid photographer, Tull has taught photo classes there as well as going on some of its trips and other activities. And for those who want to socialize and have fun at a leisurely pace, there's "always a card game going on," he said.
"It's just a wonderful place and you always feel welcomed," he said. "You can't do any better."
Ready for the next 50 years
That's music to the ears of BreAnna Monk, whose official title is senior services and transportation director for the city.
Monk, who had been at the center's helm for five years, said that she's "ready for the next 50 years."
"Well, at least for a long time," she laughed.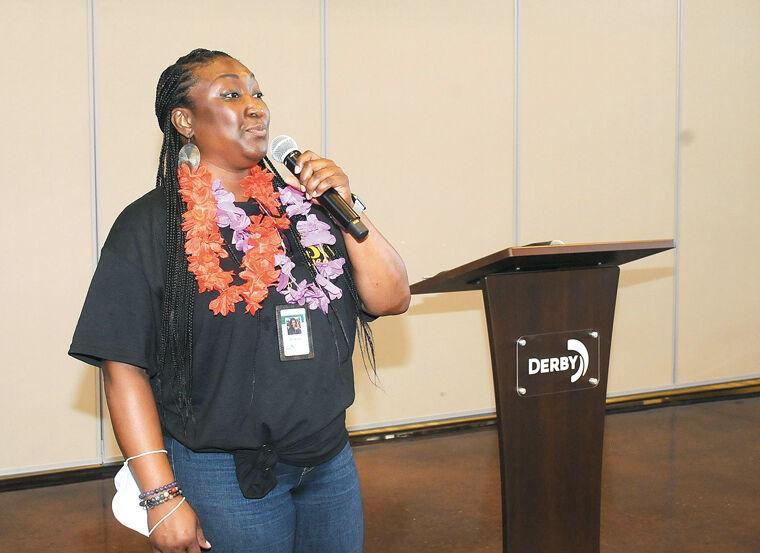 On a more serious note, Monk pointed out that not all senior centers survive through the decades, and making the 50-year mark is a striking achievement.
Derby's Senior Center, now on the south side of the city building at 611 N. Mulberry, had a number of homes before its current one.
It started out in the First Baptist Church, moved on to the old Derby Recreation Commission building, then to a building that now houses the Damascus Road Church before heading to Mulberry Street.
That move took place in 2002 after the north end City Hall opened in December 2001, according to Ted Austin, the city's director of operations.
From a modest start, the center now has about 3,200 members. And they don't have to be from Derby, either, as it's open to anyone in the county and even the surrounding area, Monk said. Membership is available to anyone 55 and older or married to someone in that age group.
"We do have a few younger members," she said.
Of course, not everyone takes part in activities all at once, as the center operates on an informal "come and go" basis.
There is no cost to join, but some activities or classes may have fees.
Growth through the years
As to the formula for existing for so long, Monk said it boils down to a simple rule: giving people what they want and what they're looking for.
Dances are extremely popular as are exercise classes, and informational sessions such as tips on taking care of loved ones.
Another favored selection deals with the day and overnight bus trips to regional attractions.
Mayor Randy White, who called the center "one of the best in Kansas," said while he likes the facility's track record, he's also looking forward to its future.
"It will be fun to see what the next big thing is for it," he said.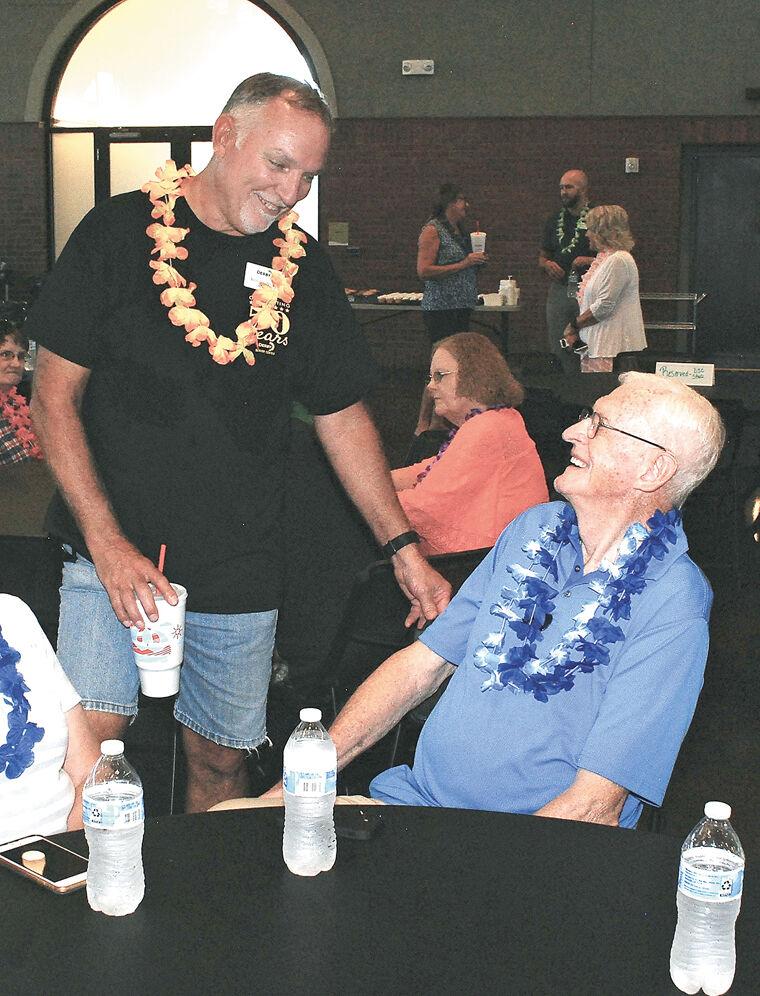 White, who gave a short speech before the event's lunch started, was pleased with the celebration.
"Wasn't it fun to look across the room at all those bright colors and people talking with their friends?" he asked.
Some 50 years ago, Derby was a fairly small town, so the fact that the center has been operating since then is an achievement, he said.
"Rock Road was nothing back then," he said of what is today's busy commercial corridor.
For many members, having the center be another "home" is a prime attraction, he said.
"They meet a need," White said. "It's a base for people to get out of the house and meet their friends. It gives people an opportunity to enjoy life."
That's one of the many reasons why the COVID shutdown was especially hard on area seniors, he said.
Like Monk, White said giving members what they want is a key factor.
"People enjoy having the senior center, and when people like things, they show up," he said. "You can do all the programming in the world, but if people don't like it, it doesn't work."