Tears welled in Jodie and Jacob Karsak's eyes when the news hit.
Less than one week after suffering an ankle injury in the Class 6A state championship football game last November, x-rays confirmed a break, surgery, and a two- to three-month recovery.
It was a mother seeing the hurt in her son when he had worked diligently at perfecting his craft. It was a son understanding that the benefit of thousands of shots he had taken over the previous eight months would be halted.
No words were spoken, just raw emotion.
"He's a lot like me in that we won't assume the worst," Jodie said. "We're going to wait until we know. Neither of us had gone, 'oh this sucks.' We were both very hopeful and we wanted to wait and see what the damage is. Once we got that news … it was a special moment that he and I had."
What seemed insurmountable, however, became one of Jacob's greatest triumphs.
HOOPS ON THE MIND
Basketball is firmly entrenched in the Karsak home.
Jodie played three years (1995-1998) under coach Linda Hargrove at Wichita State. That came after a brief stop at Cloud County Community College and high school at Olathe South. That enjoyment of the game has been passed down to Jacob and younger sister Kacie.
Jacob remembers tutelage at home or sometimes in the driveway, leading to an unquenchable thirst for the game.
"My mom would always say, 'Jacob, if you want to be good, you've got to go shoot or I'll go open up the gym for you,'" he added.
At the same time, Jodie said she always wanted it to be Jacob's decision and choosing his route instead of carving it herself.
That training and passion escalated when Jacob attended the Drew Hanlen Basketball Camp heading into his freshman year at Derby High School. Hanlen trains the likes of NBA superstars Zach LaVine and Joel Embiid now, but used to do youth camps as well.
The camp coordinated a free training app designed around basketball and Jacob was hooked.
"I really liked that and then my mom ended up buying a subscription to it," he said. "I would do Panther Pride and then do one of those workouts after about an hour or hour and a half [four to five days a week]."
On the hardwood, Jacob mixed in an occasional varsity basketball game as an underclassman, but was instrumental on the JV side before suffering the ankle injury as a junior.
As a sophomore during football, he said he didn't participate as much in practices, so it opened the door to taking a more aggressive approach in hoops and training.
HANDS ON OR HANDS OFF?
Where did some of Jacob's competitive fire begin?
Jodie recalls sitting atop the stands in Newton, watching him play junior football. Jacob, who was about a third grader at the time, was removed from the game after another starter had suffered an injury.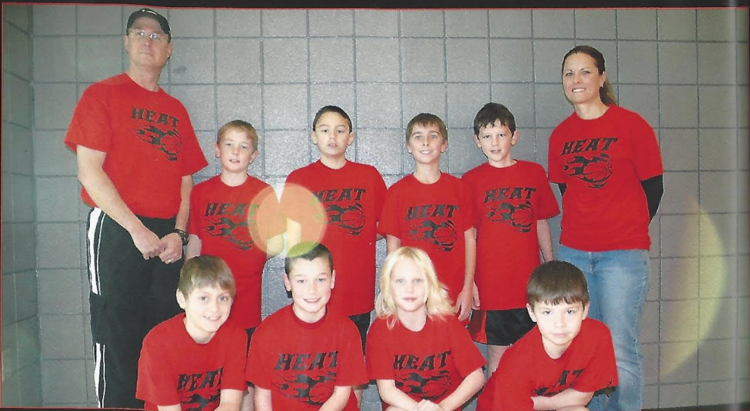 She decided, but now embarrassingly admits, to take the moment into her own hands.
"I picked up my phone and [my husband] Ben was a coach," she said. "I told him, 'let me talk to my son.' It was during the game and I can't remember what I said, but Jacob gave him the phone and said, 'alright, Dad I'm ready to go in.'"
While small in nature, Jodie said the moment parlayed into a realization of a bigger picture.
Becoming a head coach changed her perspective once she took the lead seat on the Lady Panther bench in March 2013.
"I was coaching all these kids all the time and so in some ways it was a really great blessing for [Jacob and I's] relationship," she said. "… I didn't get to watch a lot of his middle-school games because I was coaching. Ben would record them and he'd bring them home and ask me to watch them with him. I liked that dynamic much more than the pick up the cell phone and call moment."
Jacob can't specifically recall the Newton story; however, he said his recollection of those moments at home paints a broader picture of who his mother is.
"We'd sit down in our kitchen at our table and plug in the camcorder to the laptop," he said. "We'd rewind and watch, rewind and watch."
While it might not be as common for a mother and son to share that experience, Jodie said she appreciates the attentiveness Jacob brings to those moments.
"It would be so easy for a son to say, 'you're a girl,'" she said. "Jacob has never made me feel that way … in terms of what I know and how I'm teaching him things, there has never been a gender issue. I've always really, really appreciated that about him and how he has handled me being a coach."
A BAD BREAK
Staring down the navy blue of BV North jerseys, Jacob was a part of the special teams unit on the opening kickoff of last year's state championship game.
Job No. 1 was to expose the Mustangs' wedge on the kickoff. It didn't form and it gave Jacob the chance to make the stop on the play.
"I stood the guy up and ended up getting piled up on by a bunch of other tacklers," he added.
Crack.
"I remember laying on the bottom of the pile thinking, 'wow, my ankle really hurts. I'll get taped up by [head athletic trainer Rex Schott], defense plays first and that'll be plenty of time for me,'" he said of the moment. "I took two steps on the field and I said, 'ouch.' I went to the ground and I thought I probably couldn't play anymore."
Jodie and Ben watched nervously as the first-play pileup exposed Jacob's game-opening injury.
"'Ben, I think it's Jacob,'" Jodie said of the moment. "He said, 'no, just wait,' but I was pretty sure it was him. At that moment your heart sinks. Being a person of faith, you just start praying. I've been there and I've been in athletics. I'm thinking as a player, 'this is it and this is where you go. It's for the ship and for everything.'"
The initial diagnosis was a high-ankle sprain, but 72 hours later the image became all too clear.
There was no easy formula in piecing the moment together, but Jacob chose to tackle each layer as it unfolded.
"The first week before my first physical therapy session, I was getting in the mindset that I'd have to work my tail off if I wanted to get back to the player I once was," he said. "I wanted to be able to play summer basketball and do 7-on-7 football."
The now senior rarely, if ever, misstepped the process.
Even as he sat courtside last season, the senior said he'd do upper body workouts while in his boot and sometimes shoot at practice.
"Jacob is an unbelievably high-character kid," Derby boys basketball coach Brett Flory said. "It had to be very difficult for him, seeing a team struggle for much of the year and knowing he could make a huge difference … He's a phenomenal person and a phenomenal teammate."
Whether it was kneeling upon his scooter post-surgery to make the 20 free throws that were required to leave practice or the rigorous three- to four-day a week workouts at the DRC, Jacob successfully tackled his recovery much like that afternoon in Emporia.
"The lesson was just to know that I always needed to be working," he said. "Looking back … I don't want to be in that spot again and think, 'maybe if I would have worked harder, stretched more or something like that I wouldn't be in that spot.'"
Having seen her son rebound from the injury, Jodie understands that tomorrow isn't promised. What it won't change is her appreciation for the road her son traveled.
"We all have a story and it'll be a part of what he gets to share," she said. "Think of how many people he's going to come across and whether it's crushing an ankle, a physical ailment, or going through something that you feel like you're stopped dead in your tracks … you feel hopeless. He was able to walk through that and learn so much."