The trip to Koch Arena on March 9, 2019, will always be etched in the minds of Derby fans.
Not only did it mark the end of a transformative senior class for the Lady Panther program, but it marked a beginning for a team that has zero intentions of fading out of the Class 6A spotlight.
Coach Jodie Karsak's squad can't escape the reality that it'll have to replace almost 64 percent of its scoring. However, it's a challenge they accept with its returning core, pair of transfers and stellar incoming freshmen class.
Senior Sydney Nilles will be a major focal point as a three-year, all-league selection and starter, but the Derby coach said she sees production coming up and down her bench.
"I feel like I have more depth this year than I've ever had," Karsak said. "I'm super excited about it. I want to keep practices highly competitive and I would be okay with saying, '[fill in the blank] had a great week of practice and you're starting Friday.'"
Last year's season finale and third-place finish gave some relief to a bittersweet taste of a state semifinal loss.
Ready to write the next chapter, Karsak said she's ready for her five seniors (Nilles, Heather Mills, Sadie Svymbersky, Blaize Grunden and Kaitlyn Strobel) to help aid where it left off last March.
"I think it would be silly not to use that and I already have," Karsak said building off the game. "… Those seniors that left were such a big part of our program. Now it's turn for new players, but it's still about [the team]."
Junior Katelyn Kennedy has a year-plus of starting experience and will give the Lady Panthers back one of their most versatile defenders. Karsak said that her guard is also on the cusp of becoming a more rounded player offensively.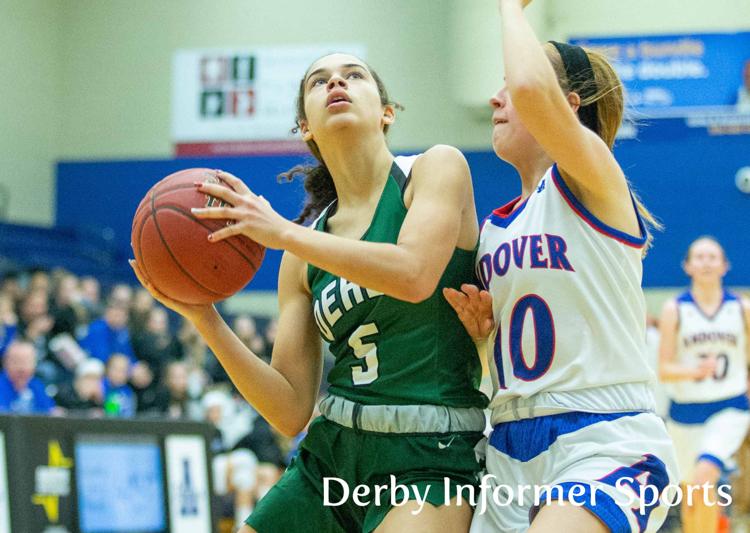 "One thing everyone will see this season is that she's put in a ton of time trying to get her shot to where she wants it to be," the Derby coach said. "She wants to finish at the rim and she's worked on her ball handling too. Offensively, you're going to see a different Katelyn Kennedy."
Standing at 6-foot-3, junior Jaidyn Schomp returns to give Derby a true stretch forward. Last season, she had the best 3-point percentage of all six players that attempted 40 or more shots from deep.
"She can just stroke it," Karsak said. "She had a great summer … she's another kid that's going to surprise. People know who Katelyn and Jaidyn are, but they haven't had to be in those roles where the spotlight is bigger."
Defensively, Karsak said she believes Schomp will be a major presence in the paint.
"The one thing I really wanted her to work on is that we need her to be a rim defender," Karsak said. "Even though Kennedy [Brown] was 6-foot-6, Jaidyn's reach is huge. We'll be able to play our pressure defense and invite them to go get swatted by Jaidyn."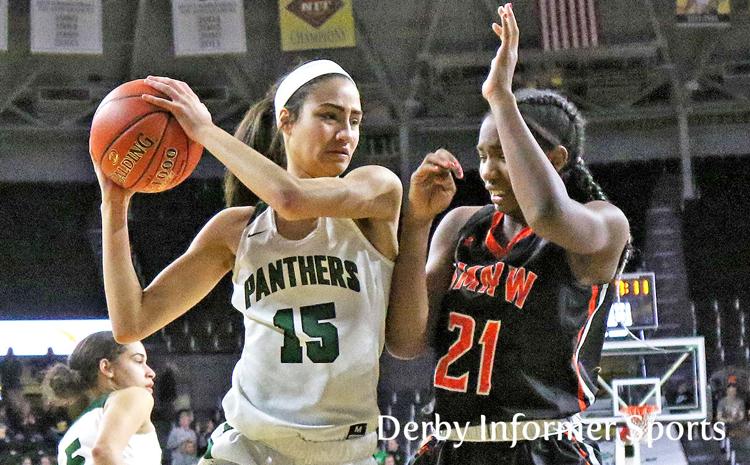 Nearly 74 percent of all shots that Mills took as a junior came from the 3-point line. Karsak's message for her this season has not changed.
"So much of it is confidence because you're thinking about so many things," the Derby coach said. "I'm not worried about her getting to the rim and I want her to be in the corner, so that someone else [drives], they can kick the ball to her to nail that shot."
Beyond that, Karsak said her senior guard will and has played an instrumental role in working in the younger core at the varsity level.
At the Pittsburg State camp over the summer, the Derby coach said Mills took it upon herself to provide a key teaching moment for one of its underclassmen.
"She has grown up so much and [understands] what it's all about as well," Karsak said of Mills. "… we're sitting up at lunch and Heather says, 'you know why Coach took you out, right? I hope you figure this out before I did because I didn't see it for a while. I thought it was always personal and it's not.'"
Adding to the mix in the paint is 6-foot-2 sophomore and Circle transfer Tatum Boettjer. She played on the same summer team as incoming freshman Addy Brown and also was on the Derby volleyball team this past fall. She is the first of two transfers, including Derryana Cobbins of Wichita Heights. Cobbins will be eligible in January.
Karsak said Boettjer has made a seamless transition and will be up for immediate minutes.
"She wants to go down and bury somebody," Karsak said. "I'm so excited [about her paint presence] and she can space out because she can hit a 3. She's not afraid to dribble down the floor … but her natural position is at the block. The kid has great hands and feet and she can jump."
One Brown graduates and another enters the Lady Panther program. The youngest sister in the family is already being lauded as one of the top recruits in the 2023 class nationally.
"She's going to put her hard hat on and going to go to work," Karsak said of her 6-foot-2 guard. "She'll get rebounds and if you want to talk about a bulldog, you want her setting that screen for you. She's got a knack for that rebound, she'll dive on the floor and she's just going to work hard."
Joining Brown in the class is guard Maryn Archer. The freshman also brings national recruiting attention, giving the Lady Panthers what Karsak said is an 'elite point guard' profile.
"I don't know if I've had a kid come in who is able to go 1-on-1 and be so great," Karsak said. "… It is her speciality. It's what makes her elite at this point."
While both players will likely play sizable roles as freshmen, the Derby coach stressed the importance of her staff aiding them in the transition to high school.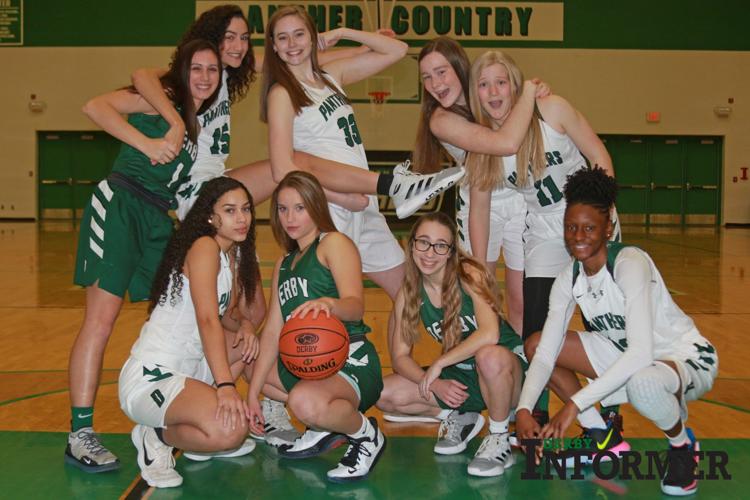 "I can't emphasize enough to players that when they go from eighth grade to a varsity player, that's hard," Karsak said. "The only thing more difficult is when you're going from high school to college … it's going to be huge for our staff to continue to communicate."