All of the motivation needed for Derby boys' basketball sits inside its 22 games last season.
It's difficult to put words to five games lost by five points or less, but at the same time thrilling for coach Brett Flory and his staff when nearly the entire roster is back in 2019-2020. Three wins toward the end of the year, including a sub-state blasting of then No. 2 Topeka, might just be the ticket to right the ship.
"We got better and better as the season went and I saw a lot of really good things toward the end of the year," he said. "… In the postseason, we played our best basketball. The summertime was then huge. We had a really good summer league and built off the success from the end of the year. We got back to where I felt we were expecting to win every time we went out."
Derby could return as many as nine players that played in 16 of its 22 games. While the exact roster still is to be determined due to the extended football season, Flory said the identity of the roster still can take shape.
"One of the goals is to truly be position-less as much as we can," Flory said. "That allows us flexibility to be great defensively. Hopefully we can have whoever we want in defensively and matchup and not worry about a certain guy at a certain spot offensively."
With so many returning players, however, it also makes final roster decisions difficult.
"I'm all for playing about 10 guys or so, but you can't really play 14 at a consistent basis," the Derby coach said. "There is going to be some fierce competition at tryouts and even once practices start [with the full team]."
The bedrock of the roster will have the benefit of three seniors at minimum.
Guard Nick Bonner shot nearly 50 percent from the floor and was one point away from tying his career-high in scoring in Derby's win against Topeka.
Flory said he believes Bonner's brightest days are still to come.
"Nick is one of those program guys that has gotten better and better [every year]," he said. "He's ready to be his best as a senior."
Much like the football field, injuries played a major factor in limiting senior Grant Adler last year. He played in only eight games as a junior, but Flory said they don't underestimate the impact he can make when he's on the floor.
"He's a great baseball and football player too," Flory said. "We saw at the end of last year that he can fill a role very well. He just wants to win … Defend, rebound, make an open 3, he's totally fine with that. He gave us a huge boost at the end of last year."
Fans don't have to look much further down on the roster to see another case of the injury bug.
Senior guard/forward Jacob Karsak will get to play his first full season of varsity basketball after missing all of last year due to an ankle injury in the state championship football game.
The Derby coach said he credits Karsak's ability to balance his football and basketball schedule in the fall, allowing him to be ready for when winter arrives.
"It's tough to be able to find the time to work on your game and be a good football player and be a student on top of that," Flory said. "He's managed it as well as anyone we've had. Barring anything unforeseen, he should have an excellent senior season."
Flory said he believes they were seeing Lem Wash's best basketball as last season came to a close and numbers support that. The junior scored a career-high 15 points in its sub-state championship loss at Lawrence Free State, including a 3-of-6 performance from deep.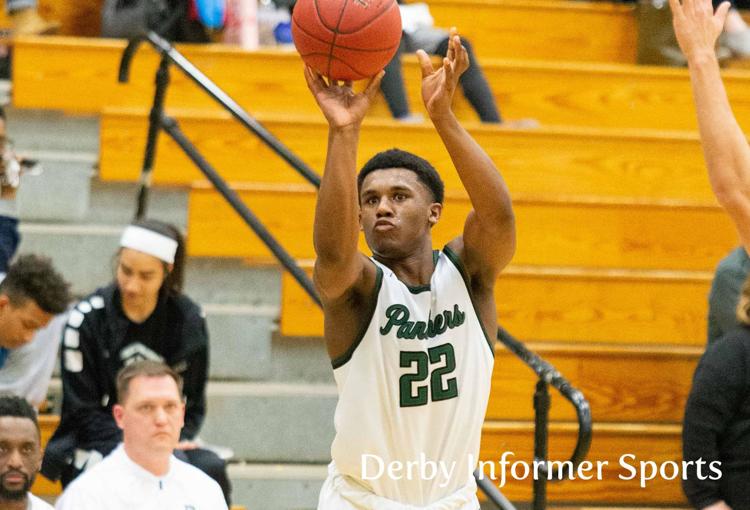 "He's put in a tremendous amount of work to be ready," Flory said. "… He finished on a high note and he's taken that and run with it. Early in the morning, he's been at the DRC putting in work before zero hour … He's had a great offseason."
While Wash may stand under 6-0 tall, the Derby coach said he's one of the team's best rebounders.
"He's one of our most physical and strongest guys around the basket," Flory said. "Hopefully that'll give us a lot of versatility."
One of the biggest playing time boosts might come from junior forward Isaac Ray. Standing at 6-foot-5, his height alone could offer a critical component as the tallest player on the team. That being said, Flory said he, too, is a player who can offer different skill sets, including being one of the team's best ball handlers.
"He's really matured and he's ready to have a bust-out season," Flory said. "Freshman year, we were really excited about him and we've been excited about him for a long time … Last year he had the game to do it, but he didn't have the confidence to do it."
Sophomore Amari Thomas certainly fills the profile of a "positionless" player as he's able to not only play on the block but also shoot from the perimeter. Classmate and point guard Jameer Clemons is also cut from the same cloth, as Flory believes he also is one of the team's best rebounders.
"He might be our best offensive rebounder in the program," Flory said. "He's bouncy, wants to do it and plays really hard."
One of the unknowns about this season is the changing of the guard in AVCTL-I.
Maize lost nearly its entire varsity roster after qualifying for the Class 5A state tournament. Campus is exactly the opposite, sitting at No. 2 in the Class 6A Kansas Basketball Coaches Association rankings with almost its full roster back.
Then the door opens to the likes of Derby and Salina South, who both appear poised to make a serious jump in the league conversation thanks to deep rosters.
"Campus will have one of the most talented rosters in the league, if not the state," Flory said. "Salina South developed a core of kids that will now be entering their junior year. It'll be reaping the benefits of that … Salina Central is going through a bit of a transition, but it's always solid."