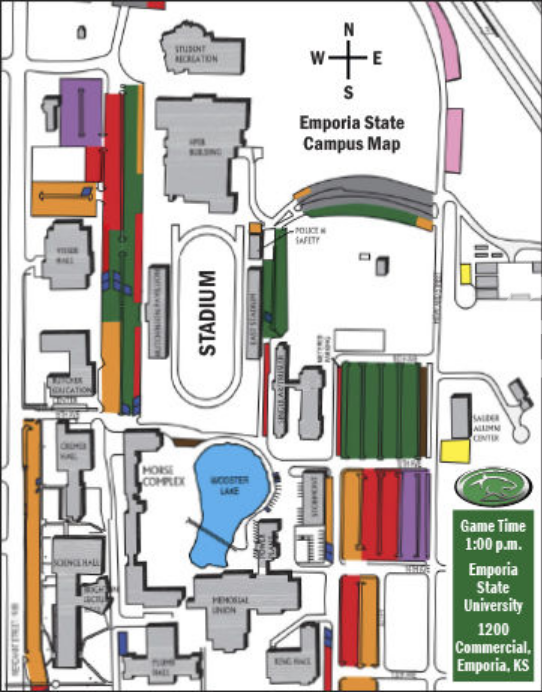 Heading to the Class 6A state championship game on Saturday? 
Here's all the information you need to know before arriving at the game. 
Ticket sales 
Tickets are $9 for adults and $6 for students in kindergarten through 12th grade. They can be purchased on the day of the game beginning at 11:00 a.m. at Welch Stadium on the campus of Emporia State University. Parking is free. 
Tickets cannot be purchased before the day of the game. Ticket booths are located on the west and east sides of the stadium. Derby will be the visiting team for this game and sit in the east bleachers.
Gates to the stadium open at 11:00 a.m. Spectators are asked to get there early because the 10,000 seat stadium is expected to fill up quickly. This may also lead ticket lines to grow quickly.  
Tailgate 
Panther PAC will host a tailgating event at the stadium beginning at 10:30 a.m. and will serve meals until 12:00 p.m. They will grill hot dogs and hamburgers and have drinks available. Donations will be accepted. It will take place on the NW side of the stadium. 
Panther apparel 
There is not a pep rally scheduled prior to the game. Locations in Derby that have Panther apparel include Shirts Plus, Wal-Mart, Dillon's Marketplace, Walgreens, Snappy Chicks and Hibbett Sports. The Panther Stadium Fan Shop will also be open from 8:45-11:00 a.m. on Thursday and 9:00-11:00 a.m on Friday. 
Weather 
The current forecast for Saturday is cloudy with a 30 percent chance of rain showers and a high of 52 degrees. Fans are advised to follow forecasts closely with a high probability of wet or winter weather throughout the holiday week.
Can't make it to the game?
The Derby Informer will have in-game updates, videos and photos at derbyinformer.com as well as on Facebook and Twitter. You can find us on Facebook (The Derby Informer) and on Twitter (@Derby_Sports). A radio broadcast of the game can be found locally on 105.9 FM. The game will also be streamed live on the NFHS Network. Stay tuned to our website for updated details on the broadcast.