As communities and customers grow, a business will make adjustments over time to meet the needs of their customers. After 40 years of adjusting to the growth of the community El Paso Animal Clinic partners Dr. Gary Oehmke and Dr. Jeff Herod have said it is time for not just another adjustment but a major transition.
After 40 years in business and practicing from their location at 233 S. Georgie in Derby, El Paso Animal Clinic will move into a new state-of-the-art facility located in the 800 block of Buckner just south of the K-15 McDonald's, and become El Paso Animal Hospital.
This new hospital will be over three-and-a-half times the size of their current location and handle such a wide array of services that the word hospital better defines what they are to the community.
"We are literally busting at the seams and grew out of the Georgie location several years ago. We'll go from about 2,500 square feet to 9,000," said Becki Herod, Director of Marketing and Human Resources.
Herod says once they made the decision to build the new location, they committed to not cutting any corners and doing it right. That included hiring an architecture firm who specializes in designing and building veterinary hospitals. But many of the concepts in the new facility are the ideas of Drs. Oehmke and Herod, with the needs of the customer still coming first.
Offering a facility that delivers the best for their clients was priority in the new design. Customers can expect the same quality care, great staff and reasonable prices that El Paso Animal Hospital has been known for. The no-appointment-necessary model is something the owners believe strongly in, and they have no plans to waver from that concept. But what the new facility does offer is centered on making the customer experience more pleasant and efficient than ever before.
CUSTOMER BENEFITS
First and foremost is space, and much more of it.
As the customer base grew, it became increasingly difficult to provide a comfortable waiting area for customers and their pets. Also with growth came challenges in minimizing customer wait times. The new spacious design is addressing both issues in a big way.
The new hospital has six separate waiting areas as compared to only one now. The new design features twice the space allowing owners and their pets more separation from others. This change keeps someone's tiny little pooch from having to sit right next to someone else's Rottweiler, providing a much more comfortable atmosphere.
And to make sure cats and their owners can remain calm too, one of the waiting areas is just for cats.
The new facility will have separate customer check-in and check-out areas which will make the flow of traffic much more efficient and faster. The check-out area is much larger and will have four receptionists helping customers, with two helping in the check-in area.
Going from three to eight total exam rooms will keep customers from waiting nearly as long now, and they can be taken into an exam room much sooner. All of this can shrink the current waiting time considerably.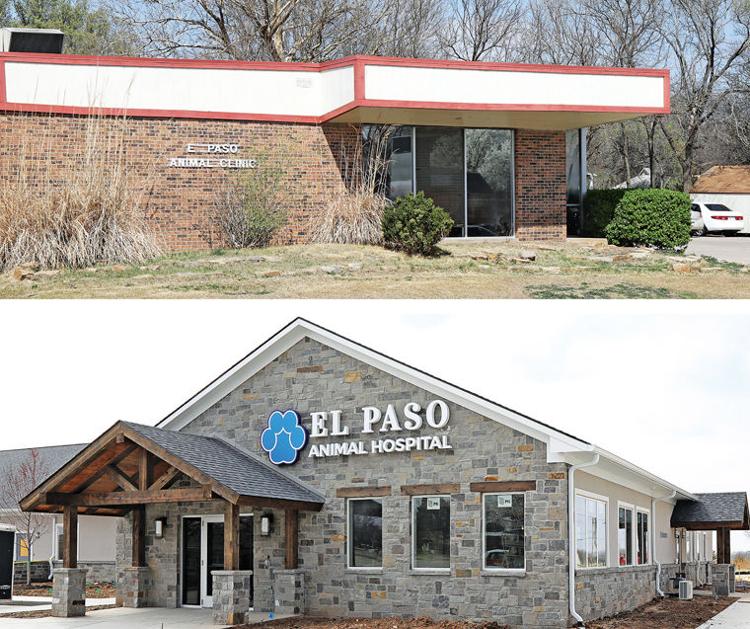 TOP NOTCH, STATE-OF-THE-ART CARE
With the help of a California veterinary clinic IT specialist, El Paso Animal Hospital will be set up with an ultramodern computer network. The clinic will have security cameras, intercom systems, and music that is different depending on the zone or area of the clinic.
Even though the exam rooms are generally set up the same, there are some differences.
Three rooms will have electronic lift tables that can also weigh dogs. This makes it more comfortable for large pets than having to lift them up to a fixed exam table. Some rooms can be accessed from two directions, including a client access and a staff access. Some are set up with a center exam table so caretakers can walk all the way around the pet.
Each exam room will have a computer and keyboard with a large display for educational video purposes to share information with clients. Doctors and clients can review X-rays on the display screen as well. The doctors can create records on your pet's visit immediately with the computer.
The new hospital has two surgery suites with a large glass partition around the surgery areas. A surgery prep area with a pass-through window to the surgery room helps to keep sterile items from being exposed to less sterile areas.
The new dog run boarding area is significantly larger and offers the best in kennel and room cleaning options. The room has two fresh air vents that pump in fresh air through the heat and air units. Air is also sucked out by four exhaust fan units. The bad air is constantly being removed while fresh air is being pushed through the room. This eliminates the issue of odors and helps to create a more sanitary environment.
The slanted design in the room makes it easy for cleaning and washing out with a drain flush that removes all of the dirty water out of the room and the building.
With the glass front kennels, your pet can see out better. The kennels offer separation and are offset so dogs aren't staring at each other. The boarding dog runs contain 10 large dog runs and additional smaller cages.
GOING THE EXTRA MILE
The staff at El Paso Animal Hospital understands how important your pet is to you and your family. With that understanding, the new design brings forward some areas of care that may go beyond what you might expect.
Extremely ill pets or those that must be put to sleep produces a difficult situation for many. The creation of a new space called a Comfort Room has been designed to give clients and their pets a quiet place to go and share some final moments or to visit a very ill pet. The room is set up in a comfortable living room atmosphere. Clients also have the opportunity to leave the clinic out of a rear exit, so as not to walk through the front waiting area.
If you are a cat lover you will love El Paso Animal Hospital's Kitty Cat Condo. Cats traditionally tend to scare or develop fear easily. Because of that, when they are boarding or sick they will have their own separate room that provides a more relaxed, comfortable atmosphere for them. The Kitty Cat two-room condos provide the opportunity to separate the food and litterbox.
The new Isolation Room is for dogs that are especially sick, for example with Parvo, a very contagious disease. The animal can be cared for in the isolated area and for no reason would they have to leave it. There is a separate outside entrance to the room with a dedicated parking space right outside. The room is completely tiled from ceiling to floor. This allows for the room to be easily sprayed down to clean and disinfect.
In the event your pet needs oxygen the hospital is equipped with O2 or oxygen cages. This new service is only available in Derby at El Paso Animal Hospital and may even be the only facility in the area with it. The hospital also offers a noise-controlled Sanitary Critical Care Area with a glass front allowing doctors the ability to observe your pet with ease.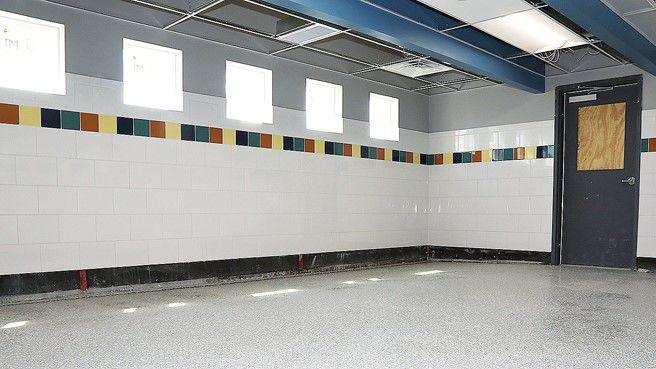 DOING THINGS EVEN BETTER
El Paso Animal Hospital performs pet dental services with many of their current clients. That service can expand to many more now with their four new large wet tables in the treatment area. Two tables also have lifts for large dogs. Going from one table to four in the new facility will allow them to perform dental services much faster and at the affordable prices clients have been used to.
The new special procedure room will primarily be dedicated to ultrasound and cold laser therapy. Cold laser therapy is a revolutionary new approach in veterinary medicine to deal with arthritis, post-surgical healing and pain management. It can significantly reduce healing time and reduce inflammation.
Ultrasound is a brand new service available and is an economical, painless and safe examination and does not use ionizing radiation such as x-rays. Ultrasonography provides important information on the structure and blood flow of the internal organs. It is often useful in identifying both focal and systemic diseases.
A new and expanded retail area in the hospital will include new dog food and a variety of pet accessories.
Improvements and new services for clients continue in the new facility when you step outside. Three 15x40-foot play yards complete with K-9 grass provide staff the opportunity to give boarding and hospitalized dogs that special attention and love, not to mention some fun time outside.
Each outside play area is separated to facilitate different sizes of animals for each area at the same time. Large fencing surrounds the area that the animals can't see through and are unable to jump over. You will also find a large fenced grass area where clients can walk and be with their pets. The entire area offers a safe environment for you and your pet.
The new El Paso Animal Hospital is full of all those little things that make life convenient for you and your pet. Things like a dog weigh-in scale that is built into the floor so the dog doesn't have to step up onto anything. Included in the new facility is a state-of-the art lab area and a pharmacy with call-back area where clients can get prescriptions filled on the phone or by email.
Even four luxury suites are available for those that want to pamper their pet. The suites feature decorative tile, a comfy bed, extra play time, extra treat time and piped-in music. The area has video surveillance as well, to allow easy monitoring of your pet.
The outstanding staff at El Paso Animal Hospital wasn't left out in this new facility. Employees will enjoy a new large break room with all the amenities that exits to a comfortable patio area. It's a great place to take those quiet breaks and enjoy a beautiful afternoon.
There is no question this new cutting-edge veterinary hospital is the premier facility in the area. It offers everything you would want or might need to provide quality care for your pet. Now customers will get a more efficient and state-of-the-art environment making their experience much more positive than ever before.
A special grand opening event is planned for Saturday, May 19 from 4 to 7 p.m. Food trucks will be on hand and staff will be giving guided tours of the new facility. Plus you will have a chance to win at giveaways and some big grand prize drawings.
The ownership and staff of El Paso Animal Hospital are extremely grateful for the commitment Derby and the area has made in trusting them with their pets over the last 40 years. The new El Paso Animal Hospital is a way to give back to the community that has made them who they are today.