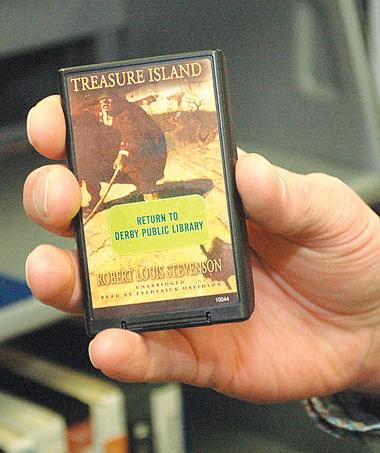 The Derby Public Library has segued into the digital age with a collection that comprises primarily e-books and audio books from Sunflower E-library.
"If you have a library card and the ability to go online, you can download a book to your phone, Kindle, Nook or whatever device you use," according to Eric Gustafson, library director.
E-books are treated the same as physical copies – only one can be checked out at a time. Although it's digital, that artificial restriction is placed on it by the companies to limit lost sales by unlimited borrowing, Gustafson explained.
There is also what Gustafson terms "transitional media" available – self-contained MP3 players that play one audio book. "All the user has to do is put in a AAA battery and plug in some headphones," he said. "It's really convenient for folks who don't have a CD player and aren't quite ready to download an audio book."
Looking ahead, Gustafson said he doesn't believe the library will change drastically in the next 10 or so years.
While e-book growth is still there, and audio books and music CDs are declining as they transition to digital, Gustafson notes that print sales are still growing.
"When e-books first came out they were selling exponentially, but growth has slowed over the last couple of years while print sales continue to grow.
"People still like to read physical books," he said. "Take kids' picture books – they have sort of a digital replacement for that, but it's not the same. You sit down with your kid and you read out of a book, and that's not going to go away any time soon."
The programs and services offered at the library, the one-on-one interactions, the meeting spaces – Gustafson sees all of those as being part of the library into the future.
What he does see as changing most is the kind of quick reference materials libraries used to have that are now available online. But the library's body of deeper research in the form of biographies, narrative nonfiction, even cookbooks and crafting books, "are not going anywhere."