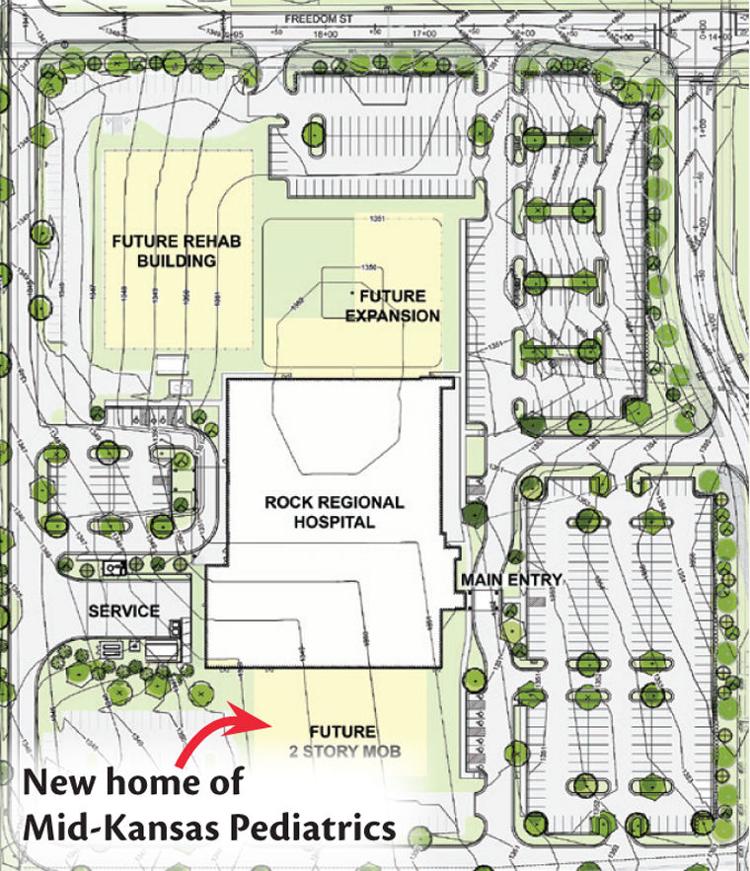 Whether it is a brand new home or a brand new pediatric clinic, moving to a new location can have its benefits. Mid-Kansas Pediatrics in Derby has plans to move from its Georgie Street location to a new office on the soon-to-be Rock Regional Hospital campus in North Derby.
"Anytime you move to a shiny new location that offers advantages to patients it's exciting," said Greg Gheradini Jr., M.D.
Gheradini is the main pediatrician at the Derby location and sees patients daily. Dr. Jennifer Crosse comes down from the Wichita location two days a week and a physician's assistant is also available as necessary. He says the new facility offers them the opportunity to see more patients and for future growth. The exact date for a move is still uncertain, but it could be the end of this year or early in 2019.
The new 4,500-square-foot-clinic will be located at one end of the Rock Hospital campus and that offers some major advantages to patients and their parents.
"We are on the verge of outgrowing the Georgie Street location. The new location has more offices and room, providing the capability of potential expansion," Gheradini said.
No specific plans to add a new full-time provider are in place at the moment, but the new facility should allow that to happen if the time comes. The Derby Mid-Kansas Pediatrics office has an unofficial partnership with Rock Regional Hospital that will give their patients easy access to a number of outpatient services.
For example, if a patient needed a chest X-ray, other imaging or lab work it can be done by simply walking next door to Rock Hospital. This should provide a quicker turnaround for results. Plus, families won't have to drive to another site to have services performed. They can get it all done there and move on with the rest of their day.
The Mid-Kansas office building will be separate from the hospital, but still on the hospital campus, within easy walking distance to services.
"In addition to us having a newer building in a growing part of Derby, we hope to be more visible to families that may not be as familiar with where we are today," Gheradini said.
Gheradini also reminds parents to call now to schedule school and sports physicals for next school year. He suggests having your physical done at your primary care office, where your health and growth history are. Plus they can do an annual check-up at the same time as a sports physical.
"Sports physicals are similar but not exactly the same as your annual check-up so it is good to have them done at the same time," he said.
Mid-Kansas Pediatrics is currently located in Derby at 201 N. Georgie.
316-719-2001 • www.midkspeds.com