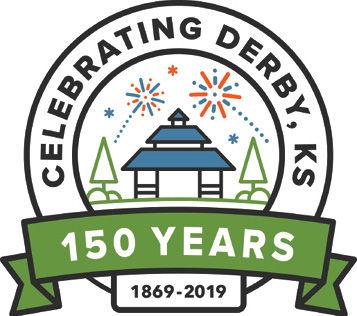 The logo for Derby's 150th Anniversary features sky-high fireworks, and after all these years, event organizers say it's apt for celebration.
With that in mind, the 150th Anniversary Task Force has been busy planning events for all generations, from young kids and teens to families and older adults.
Some events include a dance-along, murder mystery, music fest, bingo, an open house at the new Fire Station and events centered around spring and fall homecoming.
They're following a suggestion of "a mixture of traditional old-fashioned fun and good family entertainment."
A good way to view this period of the process is the "brainstorming," or idea-seeking stage. There are a lot of ideas to consider, officials say, and those are discussed in depth at the regularly scheduled meetings.
One aspect they're working on is getting already established groups and organizations, such as the schools and The Chamber, into the mix and have their members become part of the larger, community-wide effort.
At this point, officials don't want to announce dates as people might get 2018 confused with 2019 and next year is when the whole host of events gets into full swing.
A vital aspect is "people power," as organizers will need numerous enthusiastic citizens to make the celebration all it can be.
"We invite you to be a part of the celebration by volunteering your time or attending events with your friends, family and neighbors," said Mayor Randy White.
The city has come a long way since 1869, just four years after the end of the Civil War, when the Alexander Garrett family's covered wagon stopped on the banks of the Spring Creek, and the family laid a claim and built a sod house.
The 1860s were a vital time in the area. Previously, in 1854, the Kansas Territory was organized, then in 1861 Kansas became the 34th U.S. state. Sedgwick County was established in 1867 and it included the land for modern-day Derby.
The town, really a village, remained largely rural until after World War II as its population was only 432 in 1950.
The booming post-war 1950s changed all that as it mushroomed to 6,458 residents in 1960, due to the growth in the new and nearby McConnell Air Force Base along with jobs at Boeing Wichita.
Now it's on the verge of becoming what is known as a "first-class city," as its population closes in on the monumental 25,000-resident mark.
For those new to the city, they may wonder about all the "El Paso" references in town, including the city-owned water company. Well, that was its name for a long time before it was officially changed in the 1950s. After that, few would think of El Paso, Texas, when referring to the city.
Derby now boasts a full array of modern services, including a large police department and full-time professional fire department, which replaced an all-volunteer one.
With all that history and growth, organizers with the task force and city leaders say there's much to celebrate. And they would like to build on what transpires for the 150th Anniversary for the 175th and even the 200th.
If anyone would like to volunteer to help at the events, or if there are organizations or churches who plan to hold events associated with the 150th anniversary, they are asked to please call Zahra Ehtisham at City Hall at 316-788-1519.