"What goes up must come down" is certainly true for most things in life, except inflation under President Biden.
Prices keep ticking up on everything from fuel (up 42.7%), chicken (up 7.2%), furniture (up 12%) to much more. Inflation is now on track to be the highest level since 1981, and about 63% of Americans are "very concerned." Families already hit hard by the pandemic are finding that essential goods are taking more out of their paycheck. And the small businesses in Derby have seen costs increase, forcing them to pass them along to their customers.
Seventy percent of small businesses have said they've seen price increases within their supply costs, and 48% of small businesses have raised prices as a result – the largest number in 40 years.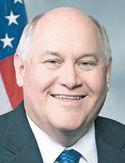 This is a serious issue. Inflation is a hidden tax that hits low-income and retired families the hardest. But instead of addressing it, the Biden administration has repeatedly dismissed the negative impact their inflation is causing.
The White House has argued that the percent of increasing prices will eventually subside. This misses the critical fact that even if the percent of increase subsides, families will still be left with the higher food prices, so we'll be suffering from the cumulative effect of prices rising for years to come.
It's also now October and those "temporary" price increases are still here – and getting worse. Last month, bacon hit record-level highs, and Dollar Tree announced that some items will now be more than just $1.
Even economists on the left have said the influx of government money pumped into the economy through by the Biden administration is increasing prices. Yet, they aren't pumping the brakes on their spending spree. Their proposed $3.5 trillion spending bill has ballooned to $4.3 trillion. Coupled with other proposed federal spending from Democrats, and it looks like inflation will remain high.
It's time for Washington to get serious about the dire fiscal state of our nation. Families are now starting to see the impact that spending without restraint can have on our economic health as a nation.