The 2021 version of the Derby City Council elections is a refreshing turnaround from what the last election in 2019 looked like.
This year every ward is contested except for Ward I where Tom Keil will continue to serve. In 2019 the election scenario was reversed with only one ward contested while the other three wards went uncontested.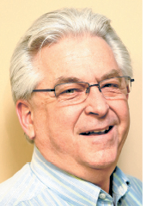 As for the USD 260 School Board election, it too is shaping up to be a race to the finish with seven candidates competing for three at-large positions. One other candidate, Alan Turner, will appear on the ballot, but has decided not to run. Two other candidates will compete for a 2-year unexpired term.
I don't know what you think, but I feel it's a lot more fun to watch as a voter when you have more candidates duking it out to win a seat. And when more voters have more choices it becomes necessary for candidates to engage more. Winning the name recognition game can be important.
Each year we publish a print and online voters' guide. It's just another way for more voters to hear from candidates. The print version will come out next week in our Oct. 20 edition. The online video interviews will likely be available a day or two before that.
Having had the opportunity to sit in on a number of the interviews, I have to say that with both the school board and city council candidates, voters will find wide and even extreme differences.
Yes, city elections are supposed to be non-partisan. But history proves that liberal and conservative thinkers will, more often than not, tend to align on education, social or financial local issues the way their party leans. And with the current themes going on nationally in schools and government, that seems even more obvious today than ever before.
The refreshing part about local government, as compared to the Washington scene, is those that serve on the local level tend to work better together and come to compromising solutions much easier. Part of that is due to a simpler process at the local level.
2021 local elections in Derby are shaping up to be what you would like to see every election – a lot of candidates interested in serving the community. The downside is, there are always losers. And more losers than winners after the dust settles with the school board election.
Anyone that runs for office, win or lose, deserves mountains of accolades. Running for a local office is uncomfortable for many. Candidates have to ask for donations. They are often misunderstood in their statements. And those that are elected to serve spend countless additional hours devoted to trying to make their communities better.
Even though it may have its perks, it can also be a thankless job. I say, tell every local candidate you appreciate their desire to serve and run for office.
In Derby, as in other communities around the country, it takes a special person to make that commitment. And this year's Derby elections are loaded with some really special people.