EDITOR's NOTE: This is part one of a two-part story on the conditions of Wichita's water treatment plant and water in Derby. Next week's story will have more information on the city's emergency drought protocol and the potential future of water in Derby.
Water. It's a basic human necessity that most Derbyites can pull from the tap at any given time.
But what would happen if a hold-up prevented that water from getting to your tap? A recent report by the Wichita Eagle suggests that could be a concern for Wichita and surrounding communities.
The report, which was written based on records dating back to 1993, says most of Wichita's water treatment system is in poor condition and is at risk of failure. The plant is not redundant, meaning a major failure cannot be fixed without shutting down the whole plant.
Despite the alarming conditions of the water plant, City Manager Kathy Sexton said Wichita city staffers have done a good job of maintaining it.
"Since 2011, they've actually been doing things to deal with some of their water issues," Sexton said. "We didn't know at that time how bad the plant was, but the last few years we've learned how old and in poor condition the plant is."
But those improvements didn't come without cost. Sexton says they've caused water rates in Derby to increase about 5 or 6 percent each year, and they're expected to keep rising. 
Wichita isn't expected to have a second water plant until at least 2024. 
From wells to Wichita
Derby switched from its own well system to Wichita water in 2004, joining a fleet of area communities and rural districts that depend on the city for water.
Sexton said Derby switched its water source after the state warned the city it was exceeding its water rights by pulling from the wells.
Before switching, Director of Public Works Robert Mendoza said Derby had "very hard water" due to its limited treatment.
"We did chlorine and ammonia, which is the basic requirements," Mendoza said. "Derby was well known for every house having a water softener."
Derby formerly had a water treatment facility much less complex than the one in Wichita through the El Paso Water Company, which first received water rights in 1954. Water was pulled from a well system west of the Arkansas River.
Though the treatment facility hasn't been used in years, it still stands on Water Avenue.
Now, water travels from Wichita to Derby along K-15 in an underground pipe with a 3-foot diameter. Once in town, it connects to a metering station at a building across from Lowe's and disperses throughout the rest of the city.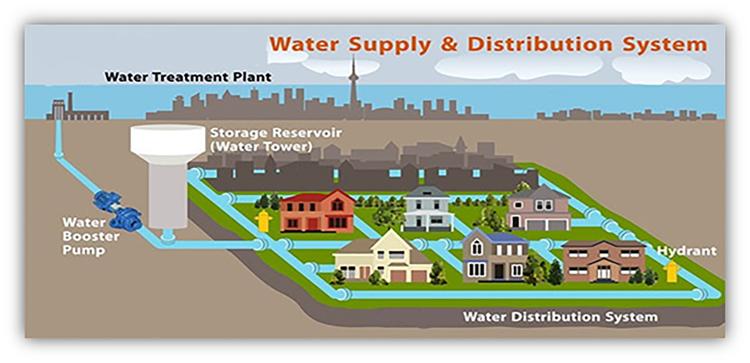 The metering station also doubles as a testing facility.
"By the time it gets from Wichita to us, we're testing the water," Mendoza said. "If there's a drop in chlorine, we have the ability to bump it up."
Wichita pulls water into its treatment plant from two main sources: the Cheney Reservoir and an Equus Beds wellfield near Halstead.
How much does Derby use?
Because of the way this distribution works, Derby is the largest single customer of Wichita water. There are over 10,000 residential customers on Derby water, along with over 600 businesses.
It is unlike cities such as Andover, which has no meter between its own water system and Wichita's.
Derby consumes roughly 1.1 billion gallons per year, landing at an average of about one to three million gallons per day. Those daily averages fluctuate with the seasons.
At any given time, Derby's water system has about 4 million gallons of water rotating through it. That includes the 3 million contributed by the city's three water towers, which help maintain adequate pressure.
"You have to have two things: volume and pressure," Mendoza said.
The city does not have designated water storage tanks, commonly referred to as wet wells.
If you're keeping up with the math, that means the city has enough water at any given time to last a few days in the event it stops coming from Wichita.