Local residents may not pay much attention to the Arkansas River boarding Derby's west side, but they should as it could be useful not just for additional recreational activities but as a economic development tool.
That's just one of the many points Hannes Zacharias made during a recent visit to Derby. He spoke Friday before the Derby Rotary club about his kayaking trip on the river from Colorado to its end in New Orleans as part of the Mississippi River.
A native Kansan, Zacharias was the long-time manager of Johnson County and is now professor at the University of Kansas.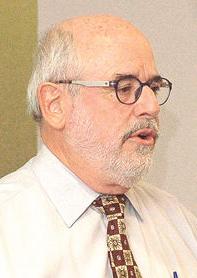 He made the journey – including stops in Derby and Mulvane – from late May to early September. He did a similar trip in 1976 as a young man, and now, in his 60s, thought it would be an ideal time to revisit the Arkansas, or the Ark, as he often calls it.
While it's dry in sections, the Arkansas is, overall, considered a river its whole length and with a 1,469 mile-route, is the sixth-longest river in the United States and the 45th longest river in the world.
Zacharias documented and shared the journey on a Facebook site, "Hannes's Ark River Adventure."
After sharing his journey's details with Rotary members, Zacharias spoke with The Informer about making more use of the river and his advice for Derby's citizens.
"Try to be creative and use the asset you have in ways you haven't thought of before," he said.
At times, people view the river as "a dumping ground," as opposed as a life blood for a community
"Why aren't there paths along the river?" Zacharias asked.
Dry, low-level riverbed can be used
Making the river an attraction for boaters and, along the shoreline, for horseback riders and ATV riders, could result in bringing in new revenue to the city as visitors would use it and patronize local businesses, he said.
"You get a lot of bang for the buck," he said of recreational development.
It doesn't cost much and the return on the investment would be well work it, he said.
Further downstream, in Oklahoma, regattas are held on the river. There's no reason one couldn't be held between Wichita and Derby, he said.
He said it's possible to develop a "tourism corridor," along the river.
That's especially true now that the Warren Riverview Park will be opening. It's due to open Oct. 20 and Zacharias stopped by the park on his journey. It wasn't finished, but Zacharias was impressed with it.
Of course, the water flow varies during the year. When he was here, in July, it was "a tough section" because the water was so low.
"It was drag, flow, drag, flow, so it did get frustrating," Zacharias said.
On the other hand, even dry, the riverbed can be employed, he said.
He pointed out that it is well-used by ATVs in western Kansas.
And unlike what some may believe, ATV riders are not damaging the river, in fact, many of them are picking up trash and cleaning up the river bed along their route.
Zacharias said they have a vested interest in making their routes as pleasant as possible.
Open for business on the Arkansas
City Manager Kathy Sexton said the city would welcome commercial activity along the river. Businesses could use the park to launch watercraft, but will, like any business in Derby, need a local license.
"We want to encourage people to use the park," he said.
From Derby, people could travel downstream to Oxford, where the next launch site is located.
Using the river for a business is already underway in Hutchinson, where a company, Arkanoe LLC, rents equipment for use on it. Four-hour rentals are $20 for tubes, $30 for kayaks and $70 for canoes.
Officials there say tubes are pretty popular and if they haven't floated before, most people pick the tube as the easiest alternative. Kayaks also are popular and the river is navigable year-round by them, they say, although the business is seasonal, operating from May 1 to Oct. 28.
What a lot of people may not understand, Zacharias said, is the legal right they have to use the Arkansas River, which is considered one of three navigable rivers in the state, along with the Kansas and Missouri rivers.
While a Kansas property owner's right typically extends halfway into a waterway, with these three rivers, their ownership ends at the high water mark.
Many people have a fear of big rivers, including the Arkansas, but it is a feeling that's unwarranted, Zacharias said.
"It's a beautiful asset," he said.