The proverbial clock is ticking at Derby City Hall. As December approaches, staff are preparing for a shift in management as Deputy City Manager Kiel Mangus gets ready to take over for current City Manager Kathy Sexton.
Sexton's last day working for the city (Dec. 10) is less than a month away, leaving not much time to impart any last bits of wisdom to Mangus as he prepares to take over for his predecessor.
Mangus took on a new position within Derby as deputy city manager when he was hired three years ago. While that allowed for the shuffling of some city manager duties, both he and Sexton realize there is still quite a bit to glean about the role (especially over the last month) before the transfer of responsibilities.
"We're a big small city, so the city manager does a lot of different things. I want to make sure I understand how she handles those day-to-day items and those key relationships that I may not know. I've gotten to know quite a few over the three years I've been here, but 16 years is a lot different than three," Mangus said. "The tough part about transition is everything else doesn't just stop so you can transition. There's a lot going on and I think we're trying to balance that on top of hiring my old position, making sure Kathy and I get through everything. I'm sure come Dec. 11, the day after she leaves, I'll be like, 'well, I wish I would've talked to her about [this].'"
Divide and conquer has been the approach – at least somewhat – since Mangus was hired, but Sexton noted that there are a number of tasks to handle behind the scenes that aren't as noticeable. Especially while Mangus and the city council look to find his replacement, Sexton noted her successor might have to wear a number of hats for a while.
As the city departments continue to recover from COVID, Sexton noted that has added another layer to the transition, while one of the major focuses has been on the city manager's relationship with the council. That is something both Mangus and Sexton noted is especially crucial in the wake of an election that saw three new members earn seats on the Derby City Council.
Mangus noted he is trying to learn from Sexton how to handle that transition and educating the council members – who the city manger works for – on the duties of their new job.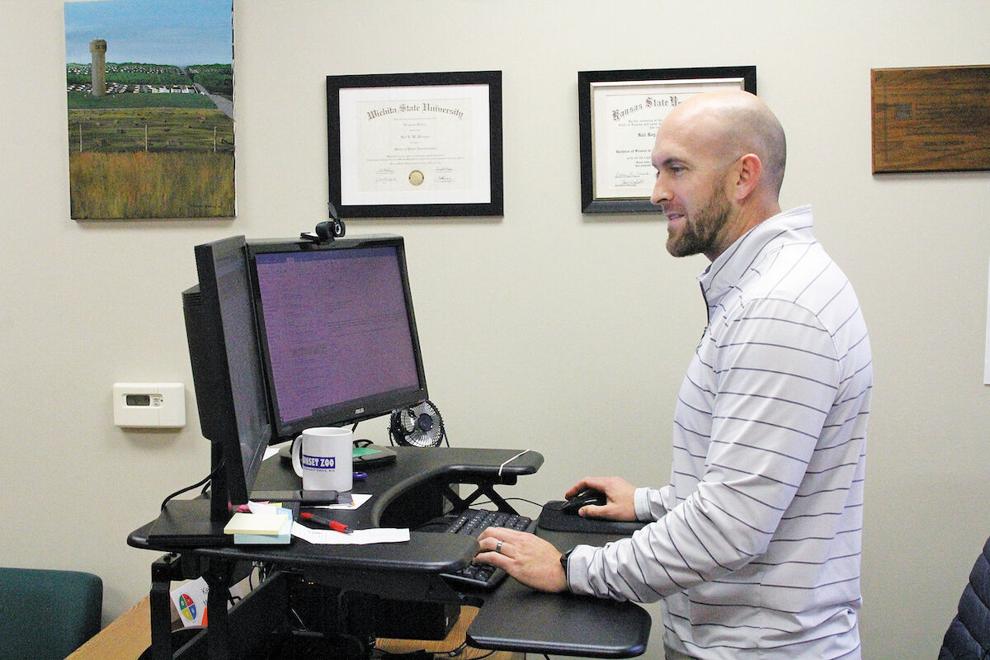 For Sexton, the job as city manager has been a matter of "routine running of government," making sure the city complies with federal and state mandates. Over her 16 years in the role, she has guided the city through a number of routine (and some not so routine) projects, including the creation of new parks, public facilities and more.
Admittedly, Sexton said she did not know much about Derby when she first took the city manager position in 2006, coming over from Sedgwick County government. However, she quickly learned there was a lot going on for the growing community – something she saw and continues to see as a big draw.
"I was intrigued by the challenge of that and still think it's a great opportunity," Sexton said. "It's one of the best communities, for sure in Kansas, to be at."
Similarly, Mangus – a Mulvane native – was also attracted to the area and excited to take a position with a growing, "forward-thinking" community such as Derby. He joined the staff in Derby in 2018 after serving in a similar position in Manhattan.
On top of that, Mangus said Sexton's reputation across the state preceded her and working for a strong leader was another draw for him. Both also earned their master's in public administration from the Hugo Wall School at Wichita State University – giving them a foundation and similar playbook to work from, an added benefit as they prepare for the transition.
The decision to retire was not one Sexton made quickly, but rather one she considered once all the right elements fell into place – including Mangus' initial hiring. She said one of the proudest accomplishments in her 16 years has been the development of staff, "the core that keeps the city going." Between the promotions and new roles taken on, outside of just Mangus, the city is being left in a good position in her eyes.
"For me, part of what went into that was knowing that the organization's in really good shape and knowing that we were leaving the council with the ability to make an easy decision," Sexton said. "I felt like, you know, if you leave a place better than you found it you've accomplished a lot and it's time to move on."
"It's not always on a good note when you come in as a city manager, so I feel fortunate that Kathy's been here as long as she has and set that good foundation. Once you build upon that foundation, everyone has their own flavor of management. I think there'll be small things that will change; a lot of that's just personality-based and who you are. But the goals of the organization and where we want to head, those don't have to change a whole bunch from an internal staffing perspective," Mangus said. "It's not rebuilding from the ground up; it's taking [over] halfway up the mountain and just continuing up."
Being part of an engaging community that people want to move to has also been a gratifying part of the job for Sexton, including seeing DHS grads go on to earn their own master's of public administration in order to serve their community (or others).
Having that engagement focused toward a common goal is something Mangus sees as a key role of the city manager, and in that regard he has learned a lot from Sexton and will take that with him as he continues to help shape the growth and progress of Derby in his new role.
"Under Kathy, one thing I've noticed in her time here is it's OK to set your goals really high. You want to have a higher standard for your city and your community. At the end of the day, not everybody may agree or come to terms on where that goal might be heading but they can state their part so we can all learn from it and become better together," Mangus said. "You shoot for the moon and even if you miss you land among the stars."