Candidates for the Derby Board of Education addressed topics ranging from bonds and safety to educators and curriculum at a recent forum.
Five seats are up for grabs in the Nov. 5 election, including four that are open for four-year terms. The fifth seat is open for an unexpired, two-year term.
The forum was hosted Tuesday, Oct. 1 at City Hall by the Derby National Education Association (DNEA). Dave Kirkbride, former executive director of the Kansas National Education Association (KNEA) moderated the event.
DNEA President Kathleen O'Brien, a science teacher at Derby High School, said the group hosted the forum as a way to promote civic engagement and support for teachers.
"We want the community to get involved and we want to make sure that everyone has a chance to meet all the candidates," she said. "We care about the makeup of the school board and want them to be teacher-friendly and care about our concerns."
All nine candidates in the Nov. 5 election were present except Lauren Ignowski. Those candidates are incumbents Althea Arvin, Matt Hoag, Matthew Joyce and Tina Prunier – as well as newcomers Ron Chronister, Don Adkisson and Mark Tillison.
After brief introductions, each candidate was given two minutes to answer a different question each round, meaning not every candidate answered the same questions. Candidates were given the bulk of questions ahead of time, but a few were submitted by audience members Tuesday night.
For length, the Informer has selected one response from each of the eight candidates, along with brief information about each of their backgrounds. You can watch the forum in full at www.derbyweb.com/406/Channel-7.
In what ways have you supported teachers in Derby Public Schools?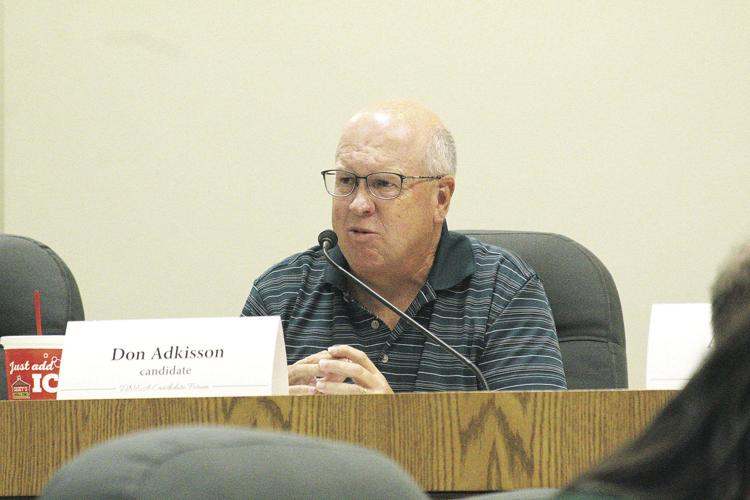 "Trying to just be available in my previous role as finance director," Adkisson said. "I served on the IBB committee for 18 years. The finance department was responsible for putting together an adequate benefit package."
"I tried to work with administrators to provide sufficient resources in the classrooms for teachers."
Don Adkisson is the former finance director for Derby Public Schools, retiring last year after an 18-year career with the district. He also served as a liaison between the district and the Kansas Legislature.
What do you see as the greatest challenge currently facing Derby Public Schools?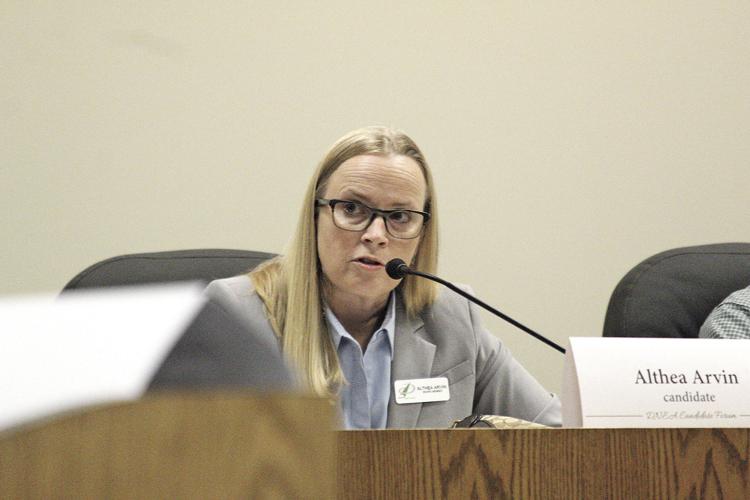 "I think it's bond execution," Incumbent Althea Arvin said. "I think it's an important challenge that deserves our utmost attention and prioritization."
"This requires juggling at times, balancing priorities to ensure we complete bonds on time and on budget."
Arvin has served on the school board since members selected her in May to fill the seat left vacant by former BOE member Mark May. She is a veteran of active-duty service in the Air Force and currently works as the leader of integrated business teams for Spirits AeroSystems Defense.
In what ways would you work to maintain high teacher morale across the district?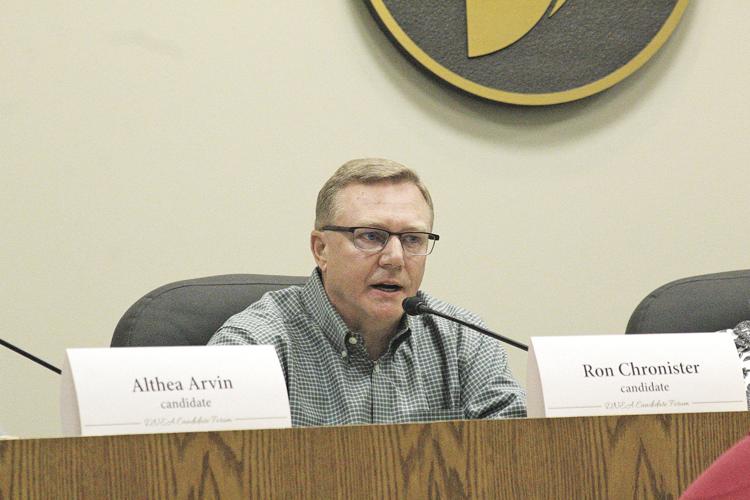 "I think the way to maintain high morale is just to get involved," Ron Chronister said. "I'd like to listen to the teachers, get involved with the teachers, make sure the teachers have the resources they need. Support a good working environment."
Chronister is a small business owner and financial representative at LPL Financial – the Office of Carro, Chronister, Goldsmith, Herrman. He served in the Kansas National Guard for over 25 years and is a former member of the State of Kansas Learning Quest 529 Advisory Board.
What are the responsibilities educators have to provide education to all, including our most vulnerable populations?
"Every child has a right to learn, and I believe we have a responsibility to provide the resources that will allow that child to learn," Pamela Doyle said. "Diversity, I think, is an essential component of any educational environment. To get real learning, we need to be exposed to people who are different from ourselves."
Doyle has worked in education for 28 years and is vice president for general education and health sciences at WSU Tech, formerly known as the Wichita Area Technical College (WATC). She has lived in Derby since 1991.
What is your most valuable vision for the future of Derby Public Schools?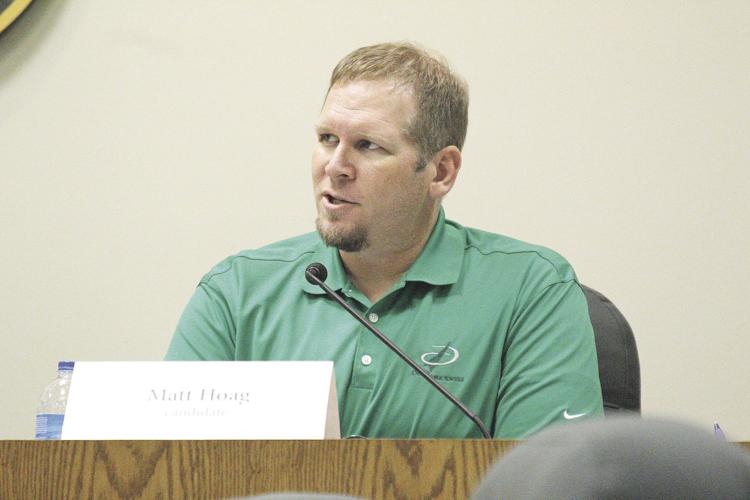 "I see my core strength is really being able to think critically, create relationships and look at problems and opportunities from multiple perspectives," Incumbent Matt Hoag said. "It's not jumping to conclusions, but really digging in to understand what that looks like."
Hoag is a graduate of DHS and has lived in Derby since 1983. He works as an enterprise architect at Koch Industries and is in his sixth year on the board.
What do you see as the greatest needs in the area of safety and security at our schools?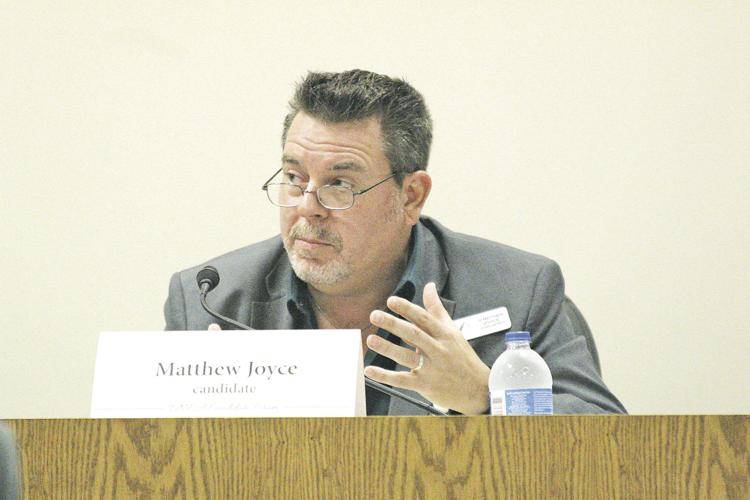 "The easy things are the things we listed out on the bond: storm shelters, safety locks, secure access to all buildings [and] most of the facilities," Incumbent Matthew Joyce said.
Most of that has been completed, Joyce said, but he says there are some needed features the public might not consider like positional plans during recess.
Joyce was first appointed to the BOE in 2009 and is now the longest-serving member. He is a principal lead-systems integration engineer at Spirit AeroSystems and is a union representative.
If elected, how would you work to strengthen academic achievement in kindergarten through 12th grade?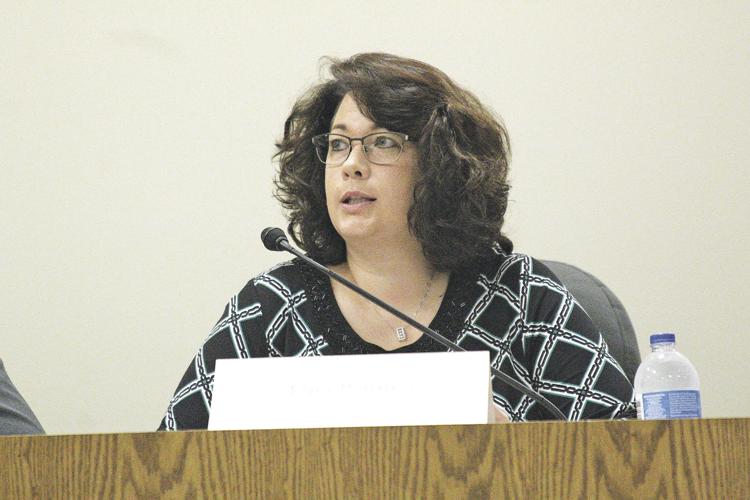 "If elected, I would work – and I have worked – to ensure that our curriculum is up to date," Board President Tina Prunier said. "Something else that's very important is that we're working on individual plans of study for each of our students."
"We have to tap into their interests and encourage them to follow their own paths to success."
A DHS graduate and criminology graduate at WSU, Prunier was first elected to the school board in 2015. She is now a stay-at-home mom and volunteers in the district.
What criteria would you use to determine district budget priorities?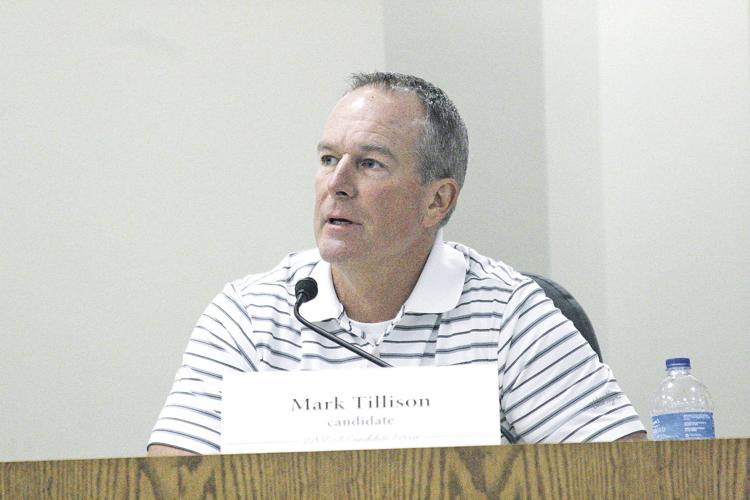 "Safety is pretty obvious, and certainly the mission of the schools is education and making sure our kids are successful," Mark Tillison said. "Of course infrastructure – we're doing a lot right now with that but that kind of spills into identity. A new stadium, sports, those kinds of things help build cohesion."
Tillison retired from the Kansas Air National Guard after 34 years of service with a focus on logistics, intelligence and maintenance. He also serves on the Derby Planning Commission.