Derby Rotary Club has now seen 40 years worth of meetings, but their meeting on Friday was the first of its kind.
Rotary club members met Friday to celebrate the club's 40th anniversary in the Derby Public Library's parking lot, straight from the comfort of their own vehicles. John Bode, a Rotary member and employee at BRG Precision Products, helped the club broadcast its meeting to members on a specific radio station, similar to a drive-in movie theater.
"We just picked up on this idea and took off with it," said Rob McDonald, president of Derby Rotary Club since July 2020. "We thought it was a wonderful, creative idea."
Since October, the Rotary club has been meeting via Zoom, but McDonald and other members wanted to do something special to mark four decades of activity.
The Rotary club also set up a "drive-thru" food pickup, so members could safely enjoy a meal during the meeting. After handling the usual rotary meeting business, members competed in friendly games of bingo.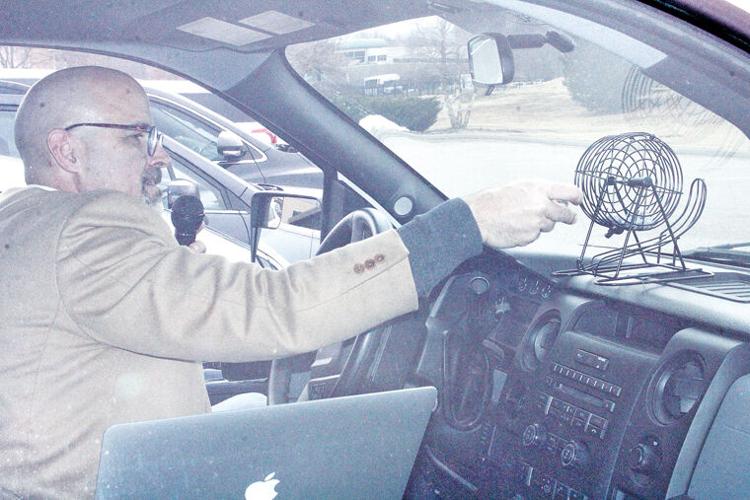 Prior to the meeting, McDonald sent out a questionnaire to gather members' favorite experiences and memories throughout the club's history.
"I read a lot of those comments off and it brought a lot of memories back, as well as just good times that we've had in the past," he said.
McDonald said the group still has some of its charter members, who helped establish the club in 1981.
"For me, [Friday's meeting] showed our resilience – that you can't keep any Rotarian down," said McDonald, who has been a member of the Rotary club for eight years. "As for the longevity of our club, it is because of the leaders in our community who have continued to stay with [us] and also pass the torch to other leaders in our community."
McDonald estimated about 30 members attended the car rally.
After the meeting, members attached 40th anniversary signs and balloons to their cars and led a parade through town.
McDonald said the club is planning to host a car show as part of its 40th anniversary celebration on April 10, with a possible raincheck date on April 17.
Proceeds from the car show will benefit the Rotary club's Feed-a-Hungry-Child program, which helps cover meal costs for students in need at Derby schools.