Motorists traveling along Market near the east bank of the Arkansas River are seeing, on a daily basis, Derby's latest park take shape. The $4.1 million Warren Riverview Park is coming along at a steady pace, said Michael Day, the city's parks superintendent.
"It's going well," said Day, who recently gave the Derby Informer a behind-the-scenes look at the park. What has helped construction is the dry fall and winter weather.
"We've really made progress with that. We've had very few rain days."
There were some extremely cold days in January, but crews are able to work through that, although a bit slower because of the extra clothing required.
Robert Mendoza, director of public works, agrees that the weather has not been an adverse factor. While there is no firm completion date, it should be open sometime this fall, he said. "Building a park is not like building a structure, we need time for plants and grass to grow before the space is usable," he said.
It's also on budget. Sometimes, projects can undergo what are called change orders, in which the contractor submits a request for additional funding because of unforeseen circumstances, but the park is on its financial schedule.
There was soil remediation done on site as it once was the location of the city's public works facility and wastewater treatment plant and had high amounts of salt in it, but that process is complete, Day said, and the excess soil is now being hauled off.
"There are no contaminants in it," Day said as a large soil-laden truck drove passed. The cost of remediation is part of the park's construction cost.
Multiple phases of the park are now being undertaken, including placing trees. The park will incorporate 34 different varieties of trees from commonly found pines and oak species, to the more unusual such as the bald cypress and tulip tree.
Other tasks being conducted include working on the playground area and laying the foundation for the park's building, The Lodge, which will have a sweeping view of the river in a southward direction.
Day said that view will be an impressive point for park visitors. Since most people are driving by quickly on Market, they don't have time to soak it in, he said.
Visitors who are used to seeing the Arkansas River in Wichita will be surprised at its clarity in Derby. The wastewater treatment plant is just north of the park, so the river's water is clear, with fish visible. At this site, the river's base also is extremely sandy, as are its banks.
It's also, at this time of year and after months of little or no rain, extremely shallow, although that can change, Day said.
"A good-sized flood would cover this area," he said pointing out the canoe launching area and riverside path. But that's OK, as planners have taken that into consideration.
"Everything here at the park is designed for flooding," he said.
In 2016, with the massive rains Derby had, the river got "pretty high," and if that repeats itself, park activities may be hampered but actual damage should be minimal. The Lodge is perched high above the river, almost at street level, placing it out of flood danger.
A 3,000-square-foot climate-controlled structure, the building accounts for about $1 million of the park's cost and will be a rentable park shelter in the design style of National Park lodges like those found in Yellowstone or Yosemite.
It can host small events, gatherings, scout groups or other meetings and conferences. The Lodge is rustic with large heavy timber beams, a slate-style roof, stacked stone columns, a fireplace and lots of glass.
City officials project that the cost will pay off in rentals in the long run and points out how well The Venue is doing in its bookings. The riverside facility is different than the city's other parks in that it's oriented toward older youth and has an active tack to it. In that regard, there will be a ropes and rocks course and direct access to the river.
Mendoza said he's been pleased with the work Snodgrass – which also is building Derby's new fire station – has been doing.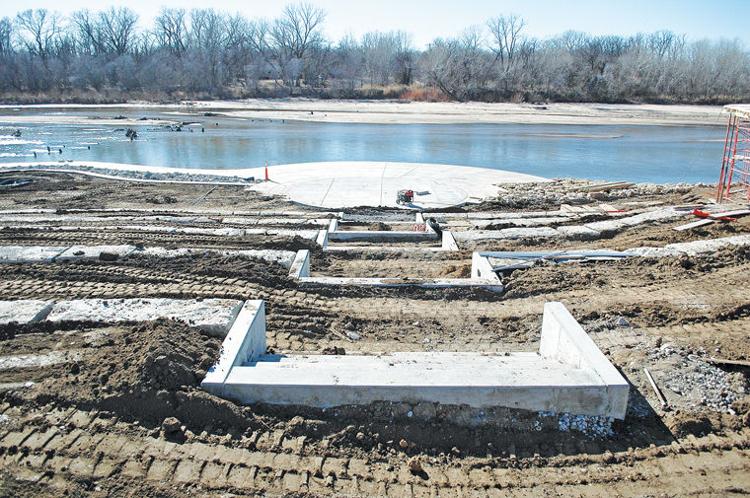 Payment for the park includes a $50,000 donation from the Warren family. The family has long been active in outdoor activities, especially those dealing with Boy Scouting and its endeavors such as camping and canoeing.
The cost is up from the first estimates, which were about $1.3 million less; however, labor and material costs have risen since the first estimates back in 2012. Plans also call for the use of stone on the embankment, which is expensive and heavy to work with, but Mendoza said it will be worth it as stone is a natural barrier and "will last forever."
A team at WDM Architects PA, the same firm involved in Central Park, was the force behind the design. Like Central Park, Riverview is a unique design, and the ultimate reward will come, say planners, when it's open and residents can use it as designed.