A new business relationship has been formed for Field Station: Dinosaurs, the planned visitor attraction in Derby's STAR bond district.
Under terms of the agreement, Bighorn Basin Paleontological Institute will design and create scientific exhibits and educational programs at the Derby site along with the Field Station in Teaneck, N.J.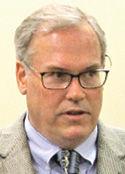 Guy Gsell, executive producer at Field Station: Dinosaurs called the new relationship "the perfect fit for us."
"They're real scientists making important paleontological discoveries, but they're also teachers, ready to share and explain their processes and findings with our family audience," Gsell said.
Terms of the contract were not disclosed.
Gsell said the partnership will ensure that each park will be built upon a solid scientific foundation while providing visitors with additional learning opportunities stemming from the institute's annual field expeditions and fossil digs in Montana and Wyoming.
Bighorn Basin is a not-for-profit organization dedicated to paleontology and earth science research and education.
The organization "harnesses the universal appeal of dinosaurs to engage people of all interest levels," according to its website.
Its executive director is Jason Schein, formerly the assistant curator of the Natural History at the New Jersey State Museum.
Schein said he is excited to be working for the new Derby park location.
"Kansas is famous around the world for fossils and for the many excellent paleontologists who have called Kansas home," he said.
He also said he is looking forward to, when needed, calling on the expertise of Mike Everhart, one of the world's leading experts in marine paleontology and a Derby resident.
Everhart has written a widely acclaimed book, "Oceans of Kansas," which deals with the late Cretaceous Western Interior Sea that once covered what is now Kansas.
Gsell said Kansas and New Jersey are "central to the history of paleontology and home to some of the most important fossil discoveries of all time."
"It will be fun to explore the many connections between our two homes," he said.
The dinosaur park, related attractions and new businesses are planned for a 49.5-acre parcel at the northwest corner of North Rock and Patriot. It is scheduled to open in 2018.
At 233 acres, the entire district, which received special tax status, is much larger and goes from Meadowlark north along Rock to Derby North Middle School.