With its sights set on developing more pride in Derby, a new, highly visible marketing effort has been rolled out.
Called "Derby Proud," the campaign made its official introduction last week at the monthly luncheon meeting of the Derby Chamber of Commerce in front of a crowd of about 80 members and guests.
Kristy Bansemer, communications director for the city of Derby, and Katie Carlson, director of communications with Derby Public Schools, co-hosted the program, explaining its intent.
"We're excited about it," Bansemer said.
Derby Proud involves a community marketing undertaking. It's not just the city and the schools, but the Senior Center, Chamber, Library, Recreation Commission and the Community Foundation as a team. Working together, groups can provide a synergy that otherwise isn't available, she said.
Community marketing can help give a city a well-known identity, Bansemer said, and she provided examples, such as "The Little Apple," "The City of Love," and others.
In this case, Derby Proud is an outgrowth of an effort already underway in the schools, and the community groups thought it would work well for the city at large.
The logo is not copy written and Bansemer said officials are not only fine with other groups and businesses using it and promoting it, they want them to.
"We compare it to how the Wichita flag is used," she said.
That flag also is not copywritten and is used widely in Wichita by individuals and businesses.
Mark Staats, president and CEO of the Chamber, agreed.
"This is a community initiative," he said. "Take Derby Proud and make it your own. Use it and run with it. We want to have fun with it."
Banners up around town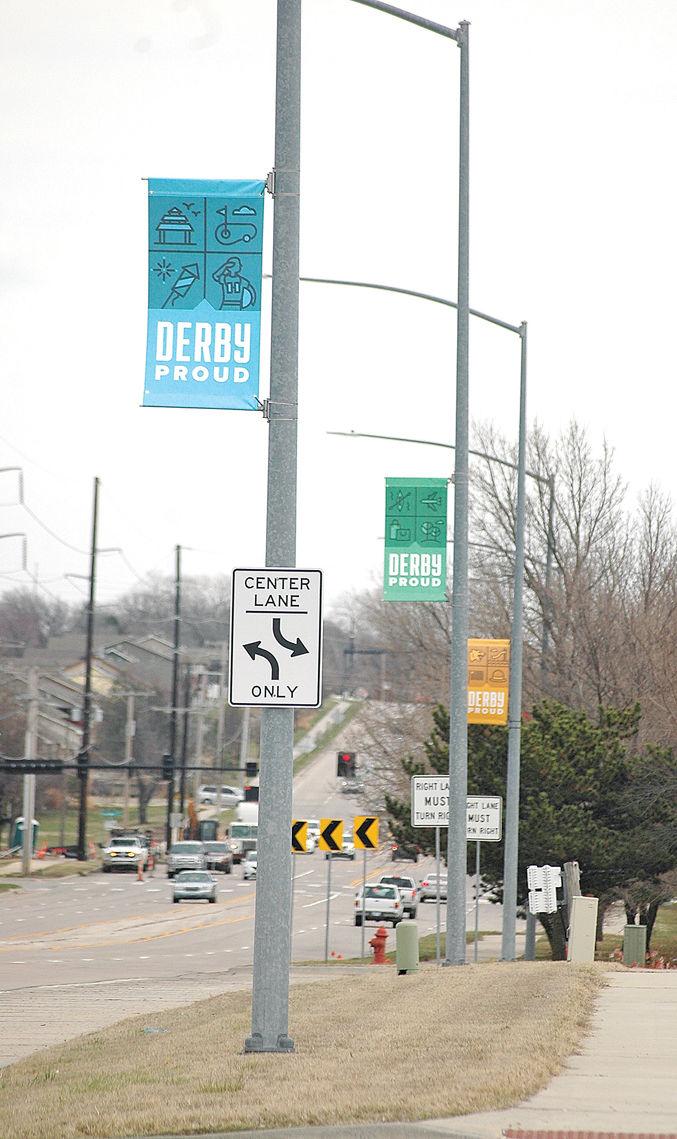 One of the most visible, immediate signs of the effort are banners up around the city on K-15, Rock Road and Patriot. In all, there are 204 street poles in the Derby, including the Buckner Business District.
The banners were in the budget, so that cost was covered, Bansemer said. The program is being run at a low cost and the banner design work was done in-house, she said.
If the city had gone with an outside agency it would have been quite expensive, she said.
Justin Miller, who also works as the city's photographer and videographer, did the design work. He also shot and edited a video, which is posted on the city's Facebook site.
In it, local citizens, including Mayor Randy White, introduce themselves, and say that they're "Derby Proud."
Derby Proud is a multi-year campaign that could go on for as long as five years.
It fills a marketing gap left after the city's 150th anniversary celebration ended late last year.
The effort includes T-shirts and stickers for sale in the library.
Bansemer said she and others involved in spearheading the effort have enjoyed the creative process.
"It's been fun developing some of these things, sitting in meetings and brainstorming," she said.