Maintaining personal health and fitness can feel like a daily battle – something with which new Derby Recreation Center instructor Craig Fairley is familiar.
Fairley is the new combat fitness instructor at the DRC, starting just over a month ago. Currently, he is leading three classes at the DRC – combat fitness from 4 to 4:45 p.m. Wednesdays and 11 to 11:45 a.m. Saturdays, as well as a self-defense cardio class at the Oaklawn Activity Center from 3:15 to 3:45 p.m. Wednesdays.
"We just work on boxing and kickboxing techniques – a little bit self-defense, a little bit workout. That's my role," Fairley said.
Having a background in mixed martial arts (MMA), Fairley is well-equipped to lead those classes – spending equal amounts of time in the ring (or octagon) and gym.
Playing football at Tiffin University (in Ohio), Fairley was looking for ways to keep active after college once he moved to the Wichita area – where his family had resettled after growing up in Indiana. Watching MMA in high school planted the seeds, and it didn't take long for Fairley to switch gears (a couple hard training sessions, he said) and pursue a professional fighting career.
"I guess it was the pure competition aspect of fighting that I saw. It's just all you and nobody else to depend on," Fairley said. "I can work with a team, but I'd rather it be my fault if I win or lose."
Over the past five years, Fairley has had 10 fights (currently holding a 2-3 record). He noted he tries to schedule three to four fights per year – with his next likely to come soon, potentially locally.
As a fighter, Fairley noted he is a "jack-of-all-trades," equally comfortable grappling and striking. The striking element is more of what he focuses on with his students in the DRC classes, though, but he did note there is a similar mentality that holds true in both his MMA fights as well as his classes.
"You go through adversity, things get tough and sometimes you do want to quit. You just can't quit on your health, you can't quit on yourself – you can't quit on yourself mentally. That was probably the biggest takeaway putting both two together," Fairley said.
Taking the job with the DRC, Fairley (who is also head fitness trainer at Derby's Laselva MMA and Fitness) said he was looking to get out and start teaching in a broader market.
Fairly said he's always thought of himself as a fitness instructor, so the position with the DRC was a perfect blend of his two worlds. Additionally, he said in leading his combat fitness classes he can train his students and train himself at the same time. He noted in the midst of teaching jab techniques to students he has identified what he has been doing wrong and been able to fine-tune his own technique in turn.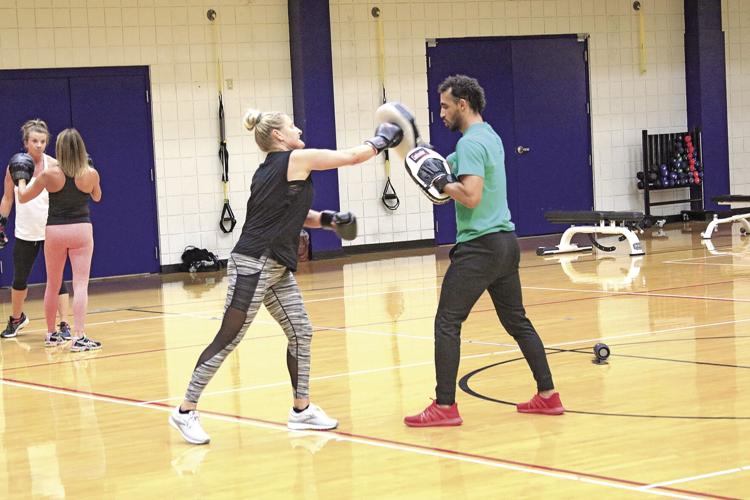 Whether wanting to lose weight or wanting to learn to defend themselves, Fairley admitted that he thought a lot of students were drawn to his classes because of his MMA background. That background presents a well-balanced approach to fitness, but there is also a crucial self-empowerment aspect that Fairly hopes his students take away from his classes.
"At least on the self-defense side, coming from me, you're not going to learn techniques that aren't going to help you out. That's why you're here. Also, I think learning from fighters [you're] learning from probably the toughest people out there, so when it comes to just working out hard – and working out safe – you're getting that from a guy or girl who just knows what to do because it's total body fitness," Fairley said. "I really want them to walk away feeling like they've done their best in that moment and to also go on with their day knowing that they've accomplished something and that it's not going to be any harder than what they've dealt with at that very moment."