A new eight-period bell schedule at both Derby middle schools will mean shorter class periods and smaller classes next school year.
The Derby Board of Education on Monday approved the new schedule, which will go into effect at Derby and Derby North middle schools for the 2020-2021 school year. The schedule adds an eighth period by eliminating homeroom and allocating the period's 15 minutes to instructional time.
Clint Shipley, principal at DMS, said the additional period gives students more choice when picking electives.
"One of the things I think you heard … at the student meeting at Derby Middle School was about choice about electives and wanting more opportunities and more options," Shipley said. "... it allows kids to potentially do choir and band, orchestra and choir."
Shipley said the changes will also benefit students who are in interventional math or reading classes. Those students are frequently required to take the intermediary classes instead of electives.
"Electives are huge in building engagement," Shipley said.
Ultimately, the new eight-period schedule will only require students to stay an extra five minutes per day with no impact on the teacher day. Students will still dismiss at 3:25 p.m.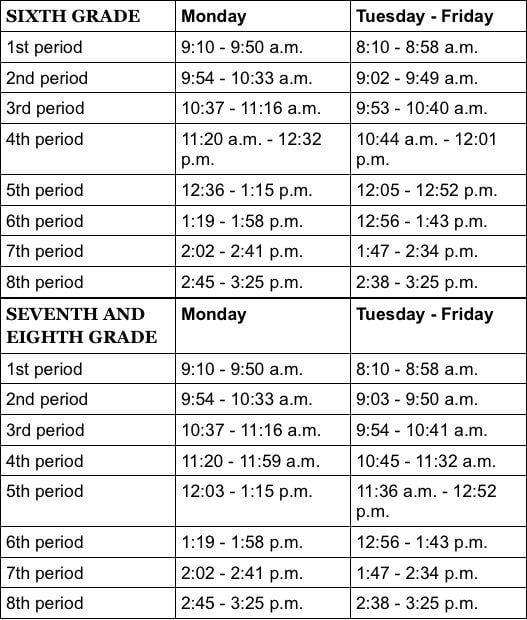 Class periods will also be reduced from 50 minutes to 47 minutes.
The district says the changes will give students an additional 85 minutes of instructional time per week. As part of the changes, the average class size will also be reduced from 29-31 to 24-26 students.
DNMS Principal Jeff Smith said reducing class sizes will enable the school to better handle current and anticipated growth.
"We're very excited about [the schedule]," Smith said at the board's Nov. 12 meeting. "We have a lot of work ahead of us, and we're excited to get started."
As part of the schedule changes, Shipley said the schools are considering new electives and changes to current ones, including making sixth-grade physical education an all-year class. Those potential new courses or changes would be brought back to the board at a future date.
"Going from fifth grade where they have recess built into the day … to transitioning from middle school, where we take that away from them, we know we need to get our sixth graders more active," he said. "It also allows us the opportunity to integrate a more robust curriculum into sixth grade."
The new bell schedule is based on recommendations from an Instructional Review Committee. In the 2017-2018 school year, the committee recommended reducing passing periods from five minutes to four – a change that was implemented this school year.
Because it deviates from language used in employee contracts, the new schedule required approval from a majority of educators affected, the Derby National Education Association's executive committee, the superintendent and the school board.
Middle-level educators voted to approve the deviation last month with a vote of 72-38, or about 65% in favor. The DNEA Executive Committee also approved the deviation last month.