For a brief period of time over the weekend, a quiet reverence enveloped the small crowd of firefighters, American Legion and VFW members, and city representatives gathered outside of Derby's Fire Station 81. The only sounds that could be heard were that of the passing traffic along Madison and Woodlawn, mixed with the occasional "thank you" from a driver passing by, as those gathered remembered the events that transpired 20 years ago on Sept. 11, 2001.
As part of a countywide tradition, personnel from Derby Fire and Rescue gather each year on the anniversary of 9/11 for a small ceremony. Dispatch calls then go out in conjunction with the times the two towers of the World Trade Center went down, with a moment of silence following in honor of the sacrifices made.
"This is a hard day for a lot of families. You think of the babies that never got to know their parents. It's just really hard on the families and hard on our nation," said Mayor Randy White.
In total, 343 firefighters were among the nearly 3,000 lives lost in the terrorist attacks that occurred on Sept. 11, 2001.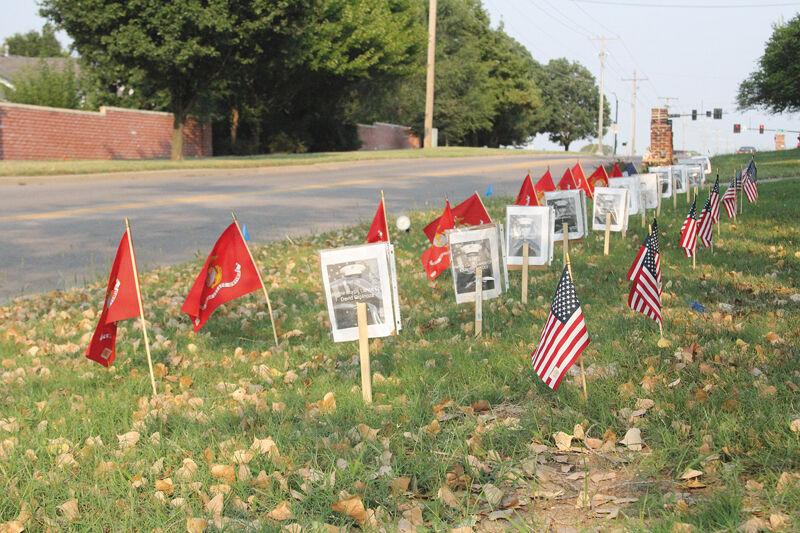 Both White and American Legion Family Post 408 Commander Bryan Page recalled watching the events of Sept. 11 unfold on television in the moment. While both noted the significant impact on the country as a whole, they also realized the importance of paying tribute to the sacrifice of the first responders.
"We're good about honoring our veterans and stuff these days, but very seldom do we actually reach out and say, 'first responders, we really know what you've gone through; we really appreciate your service.' To me, the first responders are the same as any veteran," Page said. "They put their life on the line day in and day out. They don't know when they wake up in the morning if they're going to come home at night."
Derby Fire Chief John Turner shared some of the stories of those firefighters who made the ultimate sacrifice on Sept. 11, 2001, with Page admitting it was "hard to hold back the tears" hearing some of that testimony.
Turner cited the Sept 11. attacks as a major part of U.S. history, part of why it is important to remember as the years pass.
"I think it's very significant after 20 years, and 20 years of war, to remember what led up to this – protecting Americans' freedom," Turner said. "A lot of people in a lot of our fire service weren't on the job at that [time] and then we're starting to hire people who weren't alive back then, so it's all distant history to some of our folks. I think it's important to keep that alive."
Given recent actions, with President Joe Biden electing to pull U.S. military forces out of Afghanistan, that memory may become even more important.
For Derby resident Robert Lang, he admitted the anniversary of 9/11 is part of why he was spurred to put up a memorial at his house for the 13 U.S. service members who were killed in a bombing at a Kabul airport on Aug. 26.
"This is my way of saying, hey, there's people out there fighting for freedom," Lang said. "It was a complete, utter disaster and I feel heartbroken that this had to happen. We're all brothers and sisters in the armed service and this is my way to show support for them and their families."
Lang – a former member of the U.S. Air Force who was deployed to Afghanistan – said he plans to leave the memorial up until the last service member killed in the Aug. 26 attack is buried.
With the U.S. war efforts in Afghanistan ending this year, it brings more poignance to the message to "never forget" that has been so closely associated with the aftermath following Sept. 11, 2001. Derby FD won't anytime soon and the department is glad to have support in those efforts.
"It's great to unite and rally around this community, not just the fire service," Turner said. "It affected us all in some minor way."