Derby Fire and Rescue responded to multiple calls on Thursday, January 9 in and around the area that included an extensive house fire in Derby.
Early morning grass fire
The day started early Thursday morning with a call to assist with a grass fire at 119th Street South and Hydraulic. Derby Fire Chief John Turner said because the call was early enough in the morning the fire was controlled relatively quickly.
"The early humidity helped us out and the wind hadn't kicked up yet. That bought us a little bit of time," Turner said.
Rock Road field fire
At approximately 12:25 p.m. Thursday afternoon, several 911 calls came in reporting a large field fire just north of 55th St. South and Rock Road. The fire, which had started on the west side of the road, quickly jumped the four lanes of Rock Road and continued moving east and south.
Turner said that approximately 160 acres were impacted by the fire with the largest majority of that east of Rock Road. Turner said their concern was that the running grass fire would move far enough to impact some homes in the area. Several fire engines moved to the exposed neighborhood areas and worked to protect the homes while the off-road brush units attacked the grass fire.
The initial cause of the fire was determined to be the result of tall grass being in contact with a hot vehicle exhaust system. There were no injuries reported in the fire and all homes in the area were saved. An estimated loss of $10,000 resulted from the blaze that included fence posts and rounds bales.
Five fire departments and over 20 units were called to assist in the blaze. Units from Derby, McConnell, Mulvane, Sedgwick County, and Wichita were all involved.
Derby house fire
Thursday evening at approximately 8:45 p.m. a caller to 911 reported that a house, located at 421 S. Westview in Derby, was on fire. Upon arrival of Derby Fire and Rescue the fire had extended past the roofline engulfing the entire rear structure and had made its way to the interior of the home.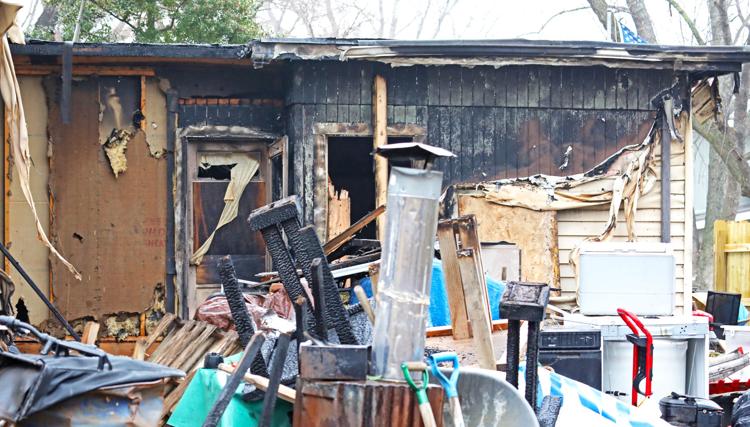 Turner said firefighters immediately advanced an attack line on the interior of the home and started searching for victims. There was no one found in the home and it was discovered later that the occupants were not at home during the fire.
A second line of attack on the fire was also made from the outside to keep it from spreading to neighboring homes. Derby firefighters were on the scene for about two hours and did follow-ups through the night and early Friday morning making sure no "hot spots" still existed.
Turner said about $100,000 in contents and structure damage was estimated and that the cause was still under investigation as of Monday. He said the origin of the fire does not appear to have been from the outside.