Leaders from the city's three major governmental organizations – the city, the schools and the recreation center – used an hour-long session on Sept. 17 to keep each other abreast of developments in their entities. While the three chiefs of each group meet every other month, others involved get their updates two times a year and the fall session was full of project progress.
The gathering, which attracted 22 people, was held at the new Fire Station 81 and, for those who hadn't met him, included the introduction of Derby's new Fire Chief John Turner.
Each group has different missions, but a "common customer," the Derby citizen, said Mayor Randy White.
"It's important that we share and work together," White said.
The fire station is an example of cooperation, he said, as it was once school property. The city needed a new station, built it, and now it's completed and in use.
"We figured out right here is the perfect location and the school system understood that, too," he said.
New arts center coming together
The first speaker, Chris Drum, superintendent of the Derby Recreation Commis-sion updated the group on another project just south of the station, the Hubbard Arts Center.
The front entrance is being completely reworked and there's a lot of interior work taking place, he said.
When done, the center will be completely renovated, including have an "artsy" look.
"We're having fun picking out some of the decorations," he said.
It's vital that it is so close to the DRC so people can drop off their children and go to the center, too. There will be lots of classes.
"We're going to program the heck out of it," he said.
Classes included enhanced art offerings, video and tape recording and cooking.
Drum was especially excited about the center's new 1,200-square-foot kitchen for young people to learn about healthy cooking.
A lot of the emphasis will be on teens. However, it can be difficult to find programs that they are attracted to, he said. This center and its offerings should solve that, he said.
It will open in mid-winter and programs start in spring.
On another front, Drum said the DRC's change in membership structure has been a success. It now includes all classes, instead of having separate fees.
"People really wanted flexibility," he said.
The idea was put forth in April, but took 4-1/2 months to implement as there was a lot of work to do.
It's paid off as they have had a busy August, which is usually a slow period.
"We're very pleased with the outcome and we're seeing a lot of new faces," he said.
Bond work progresses during summer
Heather Bohaty, superintendent of USD 260, presented an update on the school bond work, including all the emphasis on safety and security.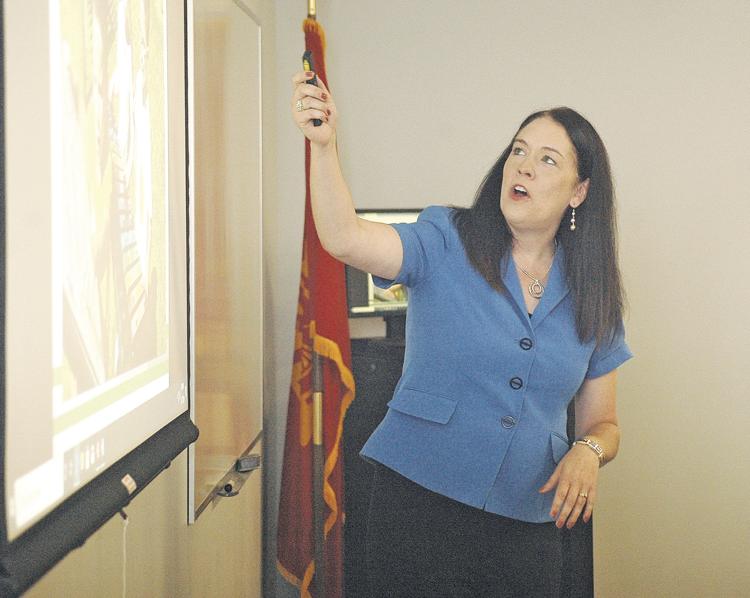 The school bond election took place on Feb. 20, 2018.
The project is phased in, so there already have been completed projects. That in-cludes storm shelter facilities at Wineteer Elementary, which also doubles as classroom space, and renovations at El Paso Elementary.
"A lot of work occurred in a short amount of time," she said. That included work during the summer.
All the elementary schools will have ADA-accessible playgrounds and at the high school, new bleachers were installed.
The former bleachers were used and "very much in the life," as she put it.
She also was excited about the new administrative center as it will bring different operations together.
As for new school boundaries, Bohaty said the schools are working to address concerns of parents through transition committees. New boundaries take effect in 2020-21.
"It's an exciting time," she said.
There was a question about the lighting at the new soccer field just to the west of the fire station, which was addressed by Director of Operations Joe Dessenberger.
The lighting is slightly narrower than planned but that was necessary to ensure that the light doesn't adversely affect the neighborhood. 
"One thing we can't do is wash that light off to Madison or Westview," he said. "There wasn't a full understanding of that by everyone."
Building for anticipated future growth
City Manager Kathy Sexton pointed out that the fire station itself is reflective of the type of growth Derby expects during the next two decades, where projections call for a city of about 36,000. It now is closing in on 25,000 people. "We can expect strong housing growth for all income and age brackets," she said.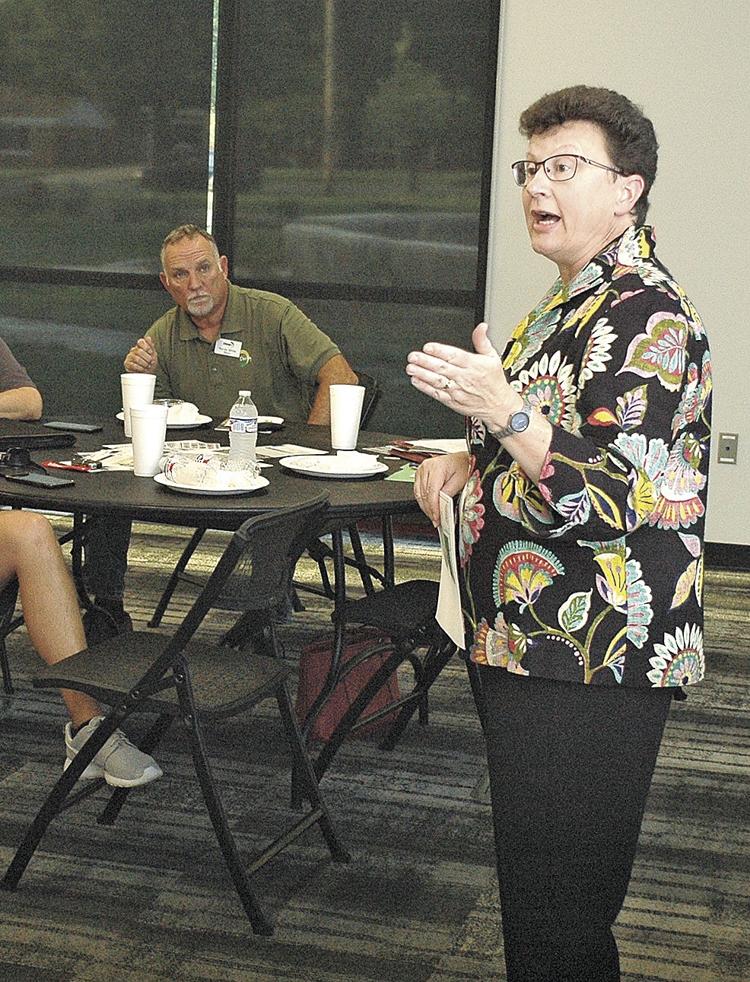 With its resources, the city is a "community of choice," she said.
During the July 4th open house, many people asked her why the station was so big, as it has empty offices and open spaces. The plan, she said, is that it can handle anticipated growth for several decades to come.
In different topics, she said the city is going to work closely with officials from Mul-vane and the county to build a bike path along Rock Road between Derby and Mul-vane. It would be protected and off the road, she said.
Also, it's looking at traffic management in front of the high school, which affects nearby residents when school opens and lets out, along with students.
The whole Rock Road corridor will be examined for safety and traffic issues.
The city also is putting a lot of time and effort into the K-15 corridor, buying lots and buildings as needed for new access and a redevelopment of the aging area from Patriot to Meadowlark.
Sexton urged patience with it.
"We can't expect progress overnight," she said.
It also has been working on Crane Park, clearing trees out of the creek to help wa-ter flow and avoid flooding issues.
Sexton said making Derby work requires working together and open communication.
"It takes a community effort," she said.