A new story has been installed at Derby's StoryWalk, this time with a nod to the city's 150th anniversary.
StoryWalk is a project developed by the Derby Public Library, Derby Recreation Commission, and the Derby Health Collaborative that pairs a walking trail at High Park with 20 signs that collectively tell a children's story.
The latest story, "Stellaluna," was installed on Friday, March 8. The 1993 children's book by Janell Cannon tells the story of a young fruit bat who loses its mother and finds itself in a bird's nest.
In the current rotation, two signs were reserved for historical photos taken throughout Derby's 150-year history. Officially called a "sesquicentennial," the milestone is slated to be celebrated by community groups throughout the city in 2019.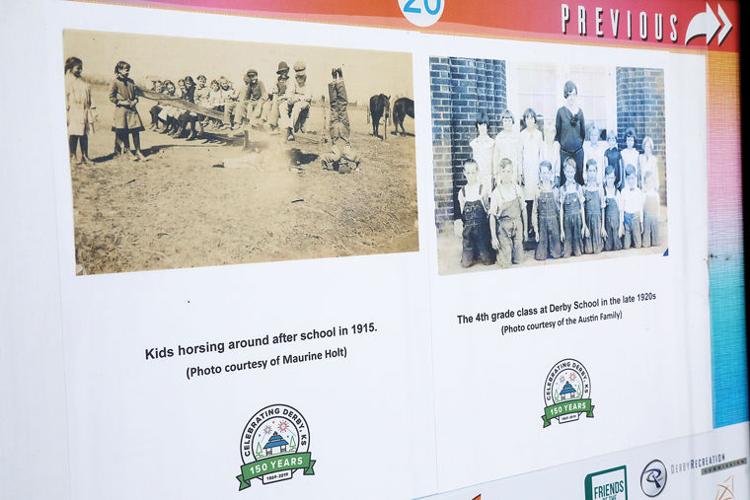 Like many children's stories, "Stellaluna" aims to teach a moral – acceptance, in this case.
Teaching those morals is a key intention behind StoryWalk, said Carri Fry, youth services coordinator at the library for 21 years. Each rotation, Fry is responsible for selecting the story, breaking it up into parts, and laminating each piece to be framed inside the signs.
"I have lots of experience with children's literature," she said. "I just select popular stories, classical stories that have got a lot of good reviews and … something that has some meaning behind it."
The city played a part in bringing StoryWalk to fruition by installing the signs at High Park in 2017 and currently maintains the area around the signs.
Initial funding, which came in the form of donations from area organizations and businesses, has been enough to sustain the project thus far, Fry said.
The idea to bring StoryWalk to Derby was formed after Debbie Williams, director of the Derby Health Collaborative, saw stories spread out along botanical gardens in Springfield, Missouri.