If you view a familiar face when you see the Kansas State University marching band on the move, you're not mistaken: there's a fair number of Derby High School graduates who have found that being a musical Wildcat is an ideal fit.
One of those faces is Bryce Schreiber, a 2021 DHS graduate and music education freshman at K-State.
"I'm loving it," he said. "It's a good balance of responsibility and also having fun."
Going to a university with a marching band was one of his top priorities when looking for his post-high school education, and K-State, with its size and program depth, made sense for the trumpet player.
"It's rewarding," he said. While the practice and shows are steps above the high school level, Schreiber said the effort is worth it. "In the end, it pays off," he said.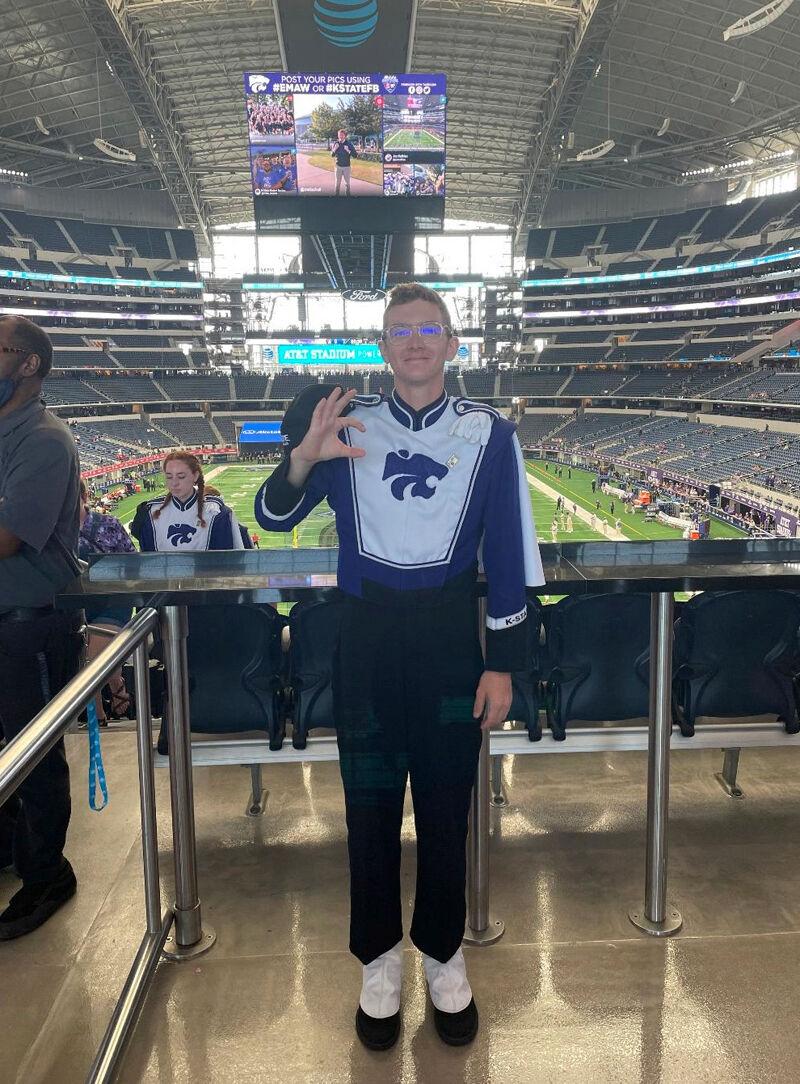 There's a lot of time to be put into being in the band. First, there was a week-long rookie camp for the band's newbies, then there are the regular practices: two hours on Tuesdays and Thursdays and an additional session on Fridays if there's a home football game that Saturday.
And game Saturdays are a long day as he and the other members of the band, numbering about 400 strong, need to be on site six hours before kickoff, getting set up, going through routines and playing the pregame entertainment. They continue to play throughout the game, including a halftime show.
Add to that a full class schedule of 15 credit hours and several other activities and Schreiber has a packed schedule.
"I make time; it just works out," he said.
Schreiber's experience at K-State is not an unusual one for DHS grads as there's quite a connection between the two schools.
"Because of the strong marching program at K-State and the strong marching program at Derby, that connection has been forged," said DHS band director Adam DeVault. "It's kind of a unique situation."
Football program helps the band
But it makes sense, he said, because it gives students such as Schreiber the opportunity to learn and grow in the activity – and then pass along that knowledge to yet another generation of band students.
There were some 16 to 17 DHS graduates in the K-State band in 2018, and while that number has slid down just a bit due to the pandemic, DeVault is quite confident it will come back and perhaps gain in number.
Band members come from not just all over the state, but the nation, too.
The tie between schools is binding in many ways, including DHS staff members who have attended K-State and DHS band students going up to the university's annual band festival and seeing its marching band in action.
While DeVault did not go to K-State, his current assistant, Rachel Villareale, and former assistant, Travis Keller, now teaching in Mulvane, both did.
DeVault went to Fort Hays State University for his undergraduate degree, and played in its marching band, and then on to Wichita State for his graduate degree.
WSU has a strong performing music program, but not a large marching band. Part of that is due to not having a football program, which is an important aspect of a marching band's endeavors – not only for the performance time, but financially. And since K-State's football program has been fairly successful, including postseason bowl games, that means a monetary gain, too.
WSU does have a small marching unit, the Shocker Sound, which plays at basketball games, and the University of Kansas also has a marching band, but DeVault said many DHS students are simply not as familiar with those as K-State's.
"I would love to send kids to WSU and I have a lot of connections there, but when a student comes in and wants to march, it was easy to direct to them K-State," he said.
Band open to a variety of majors
Along with earning her master's degree at K-State, Villareale was a graduate assistant with the band there, so she is quite familiar with it. It prepared her well for her current job, she said.
"They're doing some really good things there," she said.
While there is some competition for the slots, if a student is really interested and motivated to be in the band, the leaders will often find a spot for them.
It's also important to remember, she said, that not everyone in the band needs to be, nor is, a music major. The players have a wide variety of diverse majors, such as engineering.
They can take that college experience with them into their lives and careers, she said, and have a sense of music appreciation. Some also play in community or other volunteer civic bands.
At DHS, both DeVault and Villareale stay busy teaching about 150 students, with about 100 in the marching band and 50 in the concert band. They also teach band at the middle schools.
Some of those students will continue at DHS and some even further, perhaps at K-State like Schreiber, and play in the nation's biggest venues.
For Schreiber and other band members, one highlight of being in the band is being able to travel, and this year, that was kicked off with a trip to Dallas in the AT&T Stadium, which seats 80,000.
"That was very cool. It was a lot of fun," he said.
And if K-State goes to a bowl game, he and the band go, too.
Schreiber plans on being in the band for his full college career and would "recommend it 100 percent," for the musically inclined who love the marching band experience.