Eli Hill, a former Derby North Middle School student, built a gaga ball pit for the middle school as part of his Eagle Scout project. 
Hill attended DNMS from sixth to eighth grade. He is now a sophomore at Derby High School. 
"I went to [DNMS Principal] Jeff Smith asking for any eagle project ideas he had since he had been helping my troop with that previously," he said. "One of the ideas he gave was a gaga ball pit, and I liked the sound of it because I thought it would be fun."
Gaga ball is a variety of dodge ball that is played in a fenced-in area, usually octagonal or hexagonal. The game is believed to originate in Israel ("gaga" literally means "touch touch" in Hebrew) and has been a growing trend at playgrounds across the United States.
Players are "out" when the ball touches them below the waist or if they were the last to touch the ball when it goes out of bounds.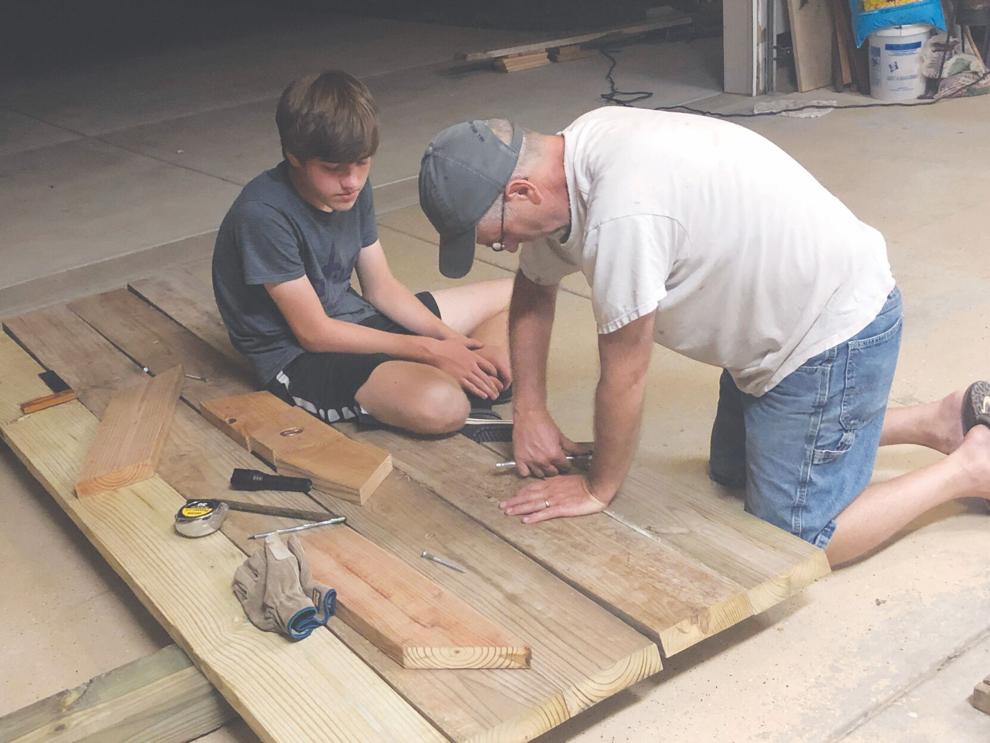 Hill worked with a team of helpers to build the gaga ball pit, including his dad, Ed, who is an engineer. Hill said his dad played a "big part" in helping with the design and construction of the gaga ball pit. 
"He helped work at it every single work day, giving me any advice I needed," he said. 
The project took 216 hours of total work from everyone who helped out, Hill said. The group started on Aug. 29 and finished on Dec. 21. 
The supplies for the project were partially salvaged from old materials that DNMS offered, Hill said. The lumber and gravel were repurposed from other USD 260 projects at Derby Hills Elementary School and Panther Stadium. 
Smith, the project beneficiary, paid for the rest of the project's supplies with funds through the school. 
The biggest challenge, Hill said, was placing the artificial turf in the gaga ball pit. 
Everything besides the turf was completed within the first two weeks of work: woodwork, digging, moving gravel and sand, and even pouring concrete. The rest of the time spent on the project was almost entirely for the turf, he said. 
"I am very proud of how it turned out in the end, and it exceeded my expectations in terms of how it looks, as well as how sturdy it is," Hill said. 
Smith highlighted Hill's gaga ball pit project as part of DNMS's "outdoor classroom" during a presentation on Feb. 8 at a Derby Board of Education meeting. 
"[Hill's] dad was an engineer, and he thinks like that," Smith said during the presentation. "That gaga pit's going nowhere."
In an email to the Informer, Smith described Hill as a "great kid and part of a great family." He said Hill's older brother built the frisbee golf and foot golf course at DNMS.
"So this family has been very good to the DNMS outdoor classroom."