When thousands of visitors arrive for next month's NCAA tournament in Wichita, along with seeing some of the nation's top college basketball teams, they also will get an unexpected blast from the past: a full-scale model of a tyrannosaurus rex, commonly called the T-rex.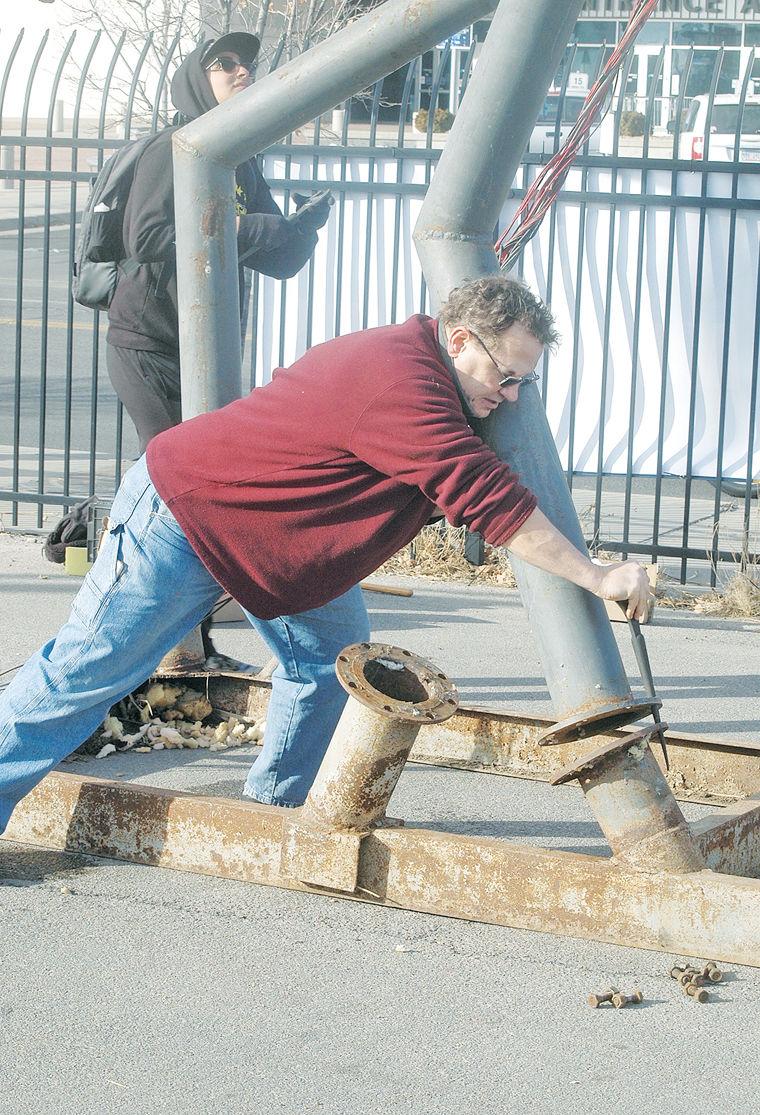 It's just like the animatronic dinosaurs to go in Field Station: Dinosaurs at Rock Road and Patriot Avenue in Derby later this year.
The model, a female nicknamed "Ruth" by one of the promoters, was installed Friday afternoon in a parking lot south of the Intrust Bank Arena, site of the tournament and numerous other events during the next two months.
The model came early to give residents and visitors an idea of what they can expect when the park opens Memorial Day weekend. A technician, Frank Leslie, flew into Wichita from the original park in New Jersey to set up the model, which arrived earlier by truck.
Leslie had a piece of heavy machinery to help in the process of getting Ruth set just right, a task that appeared fairly involved to the casual observer. He was helped by Kent Miracle of RSM Marketing, located just to the east of the dinosaur site and helped obtain the venue.
Among the people passing by and taking a look at Ruth were Gus Torres and his daughter, Zoe, 7, both of Derby.
They were impressed by the presence of the T-rex, and look forward to seeing more of the prehistoric beasts in Derby.
"We're excited about it," he said.
The T-rex was turning heads from other pedestrians along with motorists grabbing a quick glance at the unusual sight as they drove by on Waterman Street.
Leslie spent most of Friday afternoon setting up Ruth and was back the next day, attaching the feet to her body. The model had to be taken apart in order to fit in the truck.
Unlike the models in the parks, this T-rex is not set up to move as it doesn't have a nearby power source. But promoters say just having her peer out with her wide-gapped, sharped tooth mouth is enough to get attention. To stress why she is there, they've placed several banners on the fence running under her.
Ruth will be going back to New Jersey after staying on view for a few months, but about 40 other full-sized dinosaurs will be arriving in Derby from overseas and installed at the park. The attraction is in a STAR bond district, which was set up with special tax financing to allow for its development along with other businesses.