When Derby High School sophomore Vivian Kalb read the announcement that track was cancelled for the year, she thought there must have been a mistake.
Track was her outlet. It was how she stayed productive and competitive. It kept her around her friends.
The 3,200, the 1,600, the 4 x 800 relay – she wouldn't get to run any of those this year. All the practices, meets and races were gone, wiped away by an apathetic, unsparing virus. As realization sunk in, it was hard to hold back tears.
She realized she was going to have plenty of extra time on her hands.
Kalb did have another outlet that got overshadowed by track, a hobby she came back to here and there: sewing.
Kalb had first learned to sew in first grade. She was taught by her grandmother, and she used the skill every now and then. Her nana recently sent her a sewing pattern for making face masks, and she started using the skill more than ever.
Kalb started sewing face masks about two weeks ago. Her goal is to make about 15 a week. So far, she has made nearly 30. Now that school is starting back up online, some of her focus has shifted, but she's still committed to the masks.
It's a solitary process – just her and her sewing machine – but it's one that relaxes her, Kalb said.
"It's really calming," Kalb said. "It's what I do to destress, think and calm down."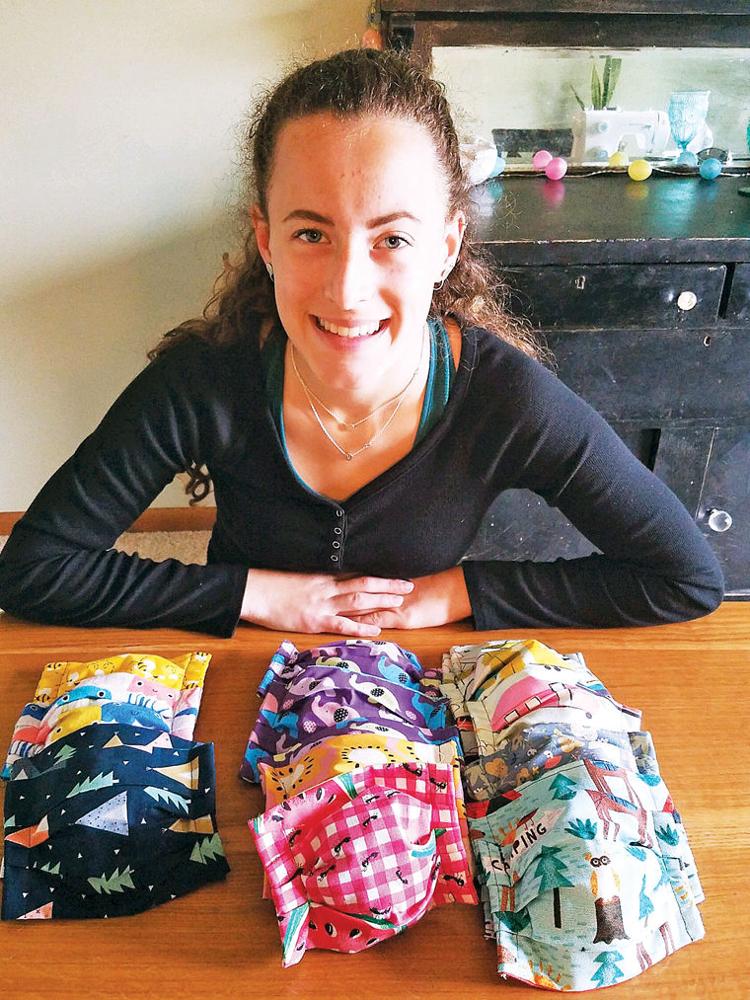 The masks are mostly made out of cotton – all different colors, sewn in fun-looking patterns. A filtering fabric lines the middle of the masks. Kalb was able to pick up some extra fabric before the pandemic became as widespread as it currently is, and she had plenty of extra material given to her by her grandma over the years.
When she's done with a batch of masks, she takes them to the dry cleaners. They're cleaned and then distributed to area hospitals and nursing homes.
Kalb has no plans to stop sewing the masks anytime soon. She said she will probably stop when she runs out of fabric.
"I don't really know when that will be quite yet," Kalb said. "I think whatever comes first – whenever this is over, or once I run out [of fabric]. I think I'll run out before it's over."
Kalb uses sewing to relax, but she's also being helpful in the face of an epidemic. Last week, the Center for Disease Control and Prevention issued an updated set of guidelines on wearing face masks in public. The CDC recommends Americans wear face masks, including cloth face masks crafted at home.
"I know how much they're needed right now, and so it's really awesome to know I'm able to help," Kalb said.
Vivian's mom, Amy Kalb, said sewing the masks and keeping up with the pandemic has made Vivian realize there are bigger things happening than a missed track season.
"She's talked with me before about how she felt kind of sorry for herself when track was first cancelled," Amy said. "I think this kind of helps her put things in perspective."
"Both her nana and grandmother are crafty, I'm not, so it's neat that she's able to use this skill that she was taught by her grandmothers and do something constructive and helpful at this time. It makes me proud to see it … She's realizing when things are outside of your control, you just have to roll with them and make the best of every situation, and I think that's happening."