Rock Road is a busy place right now, and not just because of the traffic, with a number of developments along one of Derby's primary corridors near various stages of completion.
One of the developments with the longest gestation periods is starting to make some major headway, with buildings beginning to take shape on the Derby Sports Zone site (2412 N. Rock Road). Currently, the attraction is slated to have a soft opening in December 2021.
Part of the first amendment to the STAR bond plan, the Derby Sports Zone project was approved in early 2020. Initially, a summer 2021 opening was targeted, but complications tied to the COVID-19 pandemic delayed the sale of bonds. Similarly, owner Chas Tulipana noted COVID created some construction issues (while also adding to the expenses of the $11 million project), pushing the opening back to late 2021.
As local crews continue work on the facility, Tulipana said he is hopeful Derby Sports Zone will fill a niche in the metropolitan area once open.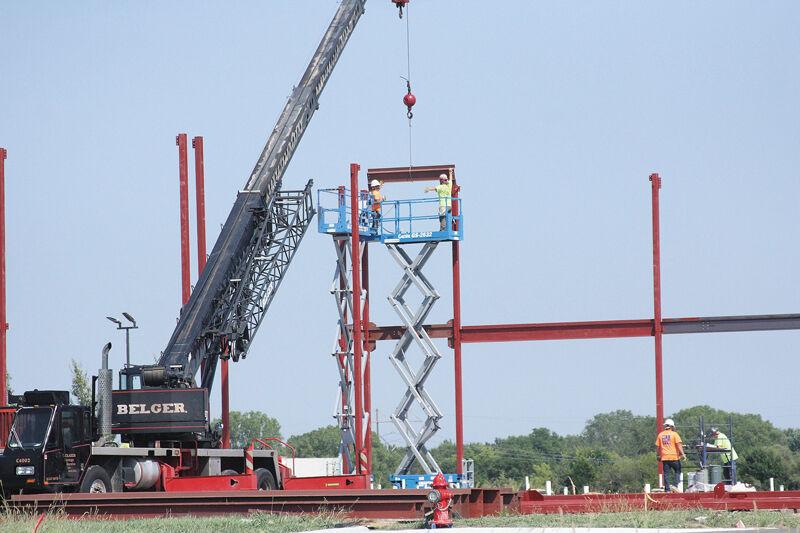 "Not only will Derby Sports Zone have a two-story restaurant and bar, but the top level will be a 5,000-square-foot deck that will be overlooking all of the sporting activities," Tulipana said. "Also, the cornhole and other yard games that we will offer, they will be covered for the winter months, as well as the pickleball and sand volleyball courts. They will be covered by our 65,000-square-foot dome that will be erected in the fall and come down in the spring."
Tulipana currently owns and operates a similar facility, Powerplay Entertainment Center, in the Kansas City metropolitan area.
While there will be some carryover in the featured attractions, Tulipana noted the Derby facility (being constructed on an 11.2-acre parcel of land south of the Cambridge/Rock Road intersection) will have a broader scope when it comes to the amenities.
"Derby Sports Zone will be similar in some ways but totally different in others," Tulipana said. "The Sports Zone in Derby will be about four times bigger than the one in Kansas City. It will be a 12-month-a-year sporting facility that will offer so much more than our Kansas City location."
Pricing and rental rates at Derby Sports Zone, though, will be very comparable to what is in place at Powerplay KC.
Being part of the community is also important to ownership, Tulipana said, as Derby Sports Zone is open to hosting fundraisers and clinics for schools, churches and other local organizations.
"We do not feel we could have picked a better location," Tulipana said. "We are very excited about being in a community that is forward looking, fast growing and vibrant that just happens to be connected to the very large population of Wichita to draw from as well."
Intended as an all-ages facility, Tulipana suggested the clinics for schools may draw a younger crowd, while ownership is hoping the volleyball, cornhole and pickleball leagues attract an older demographic.
Sitting on the deck of the two-story restaurant and enjoying the evening is another option for visitors to Derby Sports Zone, which is a part of the varied atmosphere that has gone over well in Kansas City that Tulipana is also hoping to establish in Derby.
"One of the most repeated things from our customers that we hear in Kansas City is that they feel they are on vacation when they are in our facility in KC. Our goal is to not only offer a variety of healthy sporting activities, but to also offer a very fun, exciting dining and drinking establishment," Tulipana said. "We hope that they will find exactly what we are trying very hard to build – not just a bar and restaurant, but an entertainment destination."
Future updates and information on business operations will be available at derbysportszone.com.