Derby schools will remain in person through at least the end of January. 
The gating committee for Derby Public Schools voted Wednesday to keep the district in the "yellow" column of its criteria chart, allowing students to stay in school buildings instead of returning to a hybrid or remote instruction format.
The gating committee's latest decision lasts from Jan. 19 to Jan. 29. Committee members will meet again via Zoom at 1 p.m. Wednesday, Jan. 27 to determine operations for Feb. 1 to Feb. 12. 
Committee members weighed COVID-19 trends in the district and the larger community. Community trends are relatively stable, with the county's two-week positive test rate currently sitting at about 12%. 
Confirmed cases within the district have seen a slight increase, from 13 the week of Dec. 28 to 31 the week of Jan. 4. 
"You can see that we had a little bit of a jump from last week to this week," said Nicki Seeley, director of special services. "We did have some tests that had come in that either people did not report to us over Christmas break or they had happened on Dec. 31."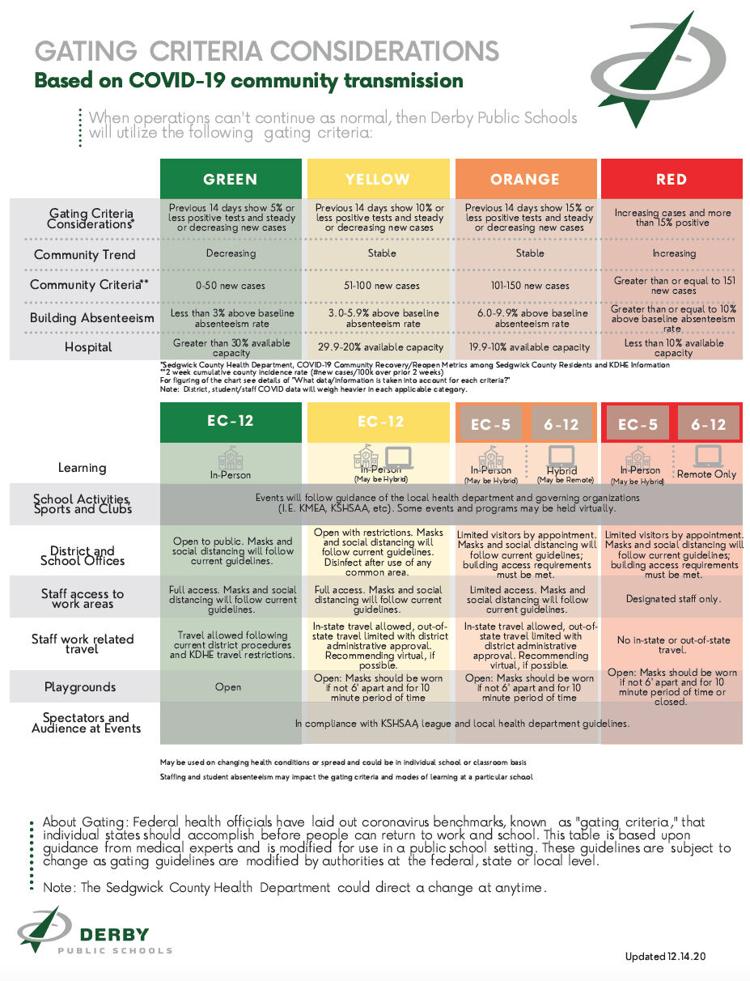 The district uses a gating criteria chart to determine modes of learning for its schools. The chart is separated into four columns: green, yellow, orange and red, with each column having tighter regulations than the previous. 
Under the yellow column, in-state travel is allowed and out-of-state travel is limited with district administrative approval. District offices are also open with some restrictions, and the gating committee can choose to place schools in either an in-person or hybrid format. 
While schools are remaining in person, the district can still move specific schools to a hybrid setup at the gating committee's discretion if that school has a spike in COVID-19 cases, quarantines and/or absenteeism. 
Parents can also keep their students learning online if they'd like, with the option to adjust their students' mode of learning every nine weeks. 
Marty Turner, a family medicine specialist with Family MedCenter, advised people to be cognizant of their symptoms and stay home from school if they're sick, even if their symptoms seem unrelated to the coronavirus. 
"I think overall, at least in our numbers, we're still getting positives, but it seems like it has leveled off," he said. "But like you said, people that are having even sinus infections that they think is a normal sinus infection, that's turning out to be COVID, too."
Since the start of the school year, Derby Public Schools has reported 308 confirmed cases of the coronavirus – 172 among students and 136 among staff. In total, about 11.4% of the district's 1,195 staff have had confirmed cases of the coronavirus so far, as well as about 2.5% of the district's 6,832 students.