With three new faces on the Derby Board of Education, the board wasted no time Monday night changing the district's COVID-19 masking criteria policy. The 4-3 vote eliminated any mask mandate within the current COVID protocol.
The COVID-19 masking criteria currently in place is a tiered system that assigns a level of  COVID precautions taken in each district school building. Determinations are made based on regular reporting of COVID positive case numbers in staff and students along with current quarantine numbers in each building. The level of safety precautions vary depending on the rise and fall of the reported numbers.
Prior to Monday night, if any building reached the highest concern or red level, masks were required. As of Monday night, Derby Hills Elementary was the only building in the district at the red level.
The board's decision moved the red level mask policy from "masks required" to "masks strongly recommended."  The change allows parents, staff, students and others the option to make their own decision as to whether a mask must be worn at all. While that will apply in the district buildings, per a federal mandate masks will still be required on school transportation.
Earlier in the evening the board voted 7-0 in favor of approving an updated plan for safe in-person instruction and continuity of services. The review is part of requirements for the American Rescue Plan: Elementary and Secondary School Emergency Relief funding program.
But later in the meeting, new board member and just-elected School Board President Michael Blankenship asked that the board go back and take a second look at the masking policy. He requested a motion to change the mandate part of the current masking criteria policy.
"I just don't feel we should be mandating mask wearing," Blankenship explained.
Blankenship went on to say he was comfortable with everything else in the policy for the moment and he was for tracking positive COVID cases and other numbers. He also indicated they continue keeping the public informed of that information.
"Right now with the way things are, we as a school district, when it involves the health decisions of people's children, I just don't feel like we have the authority to tell them what to do," Blankenship said.
He also suggested that children wearing masks in schools may be causing other damage to them, outside of COVID.
Superintendent Heather Bohaty and other district staff members encouraged the board to consider the growing case numbers and other things like staffing issues that a continued increase of cases could impact.
"Part of my Job is to give you things to think about. With that, are patrons aware? Including parents and staff that are impacted. Have you had an opportunity to hear from those individuals?" Bohaty said.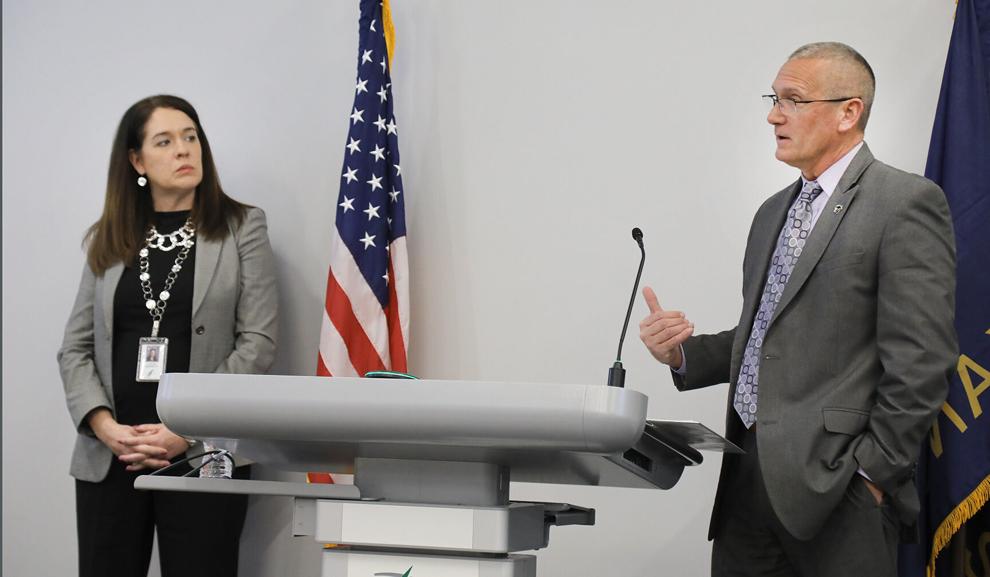 Bohaty went on to reference district surveys presented earlier that indicated more parents wanted the masks. The survey was a small sample of district patrons.
"I think it's important to note that not everybody responded," she said.
Derby North Middle School Principal Jeff Smith said one of the biggest parts of his jobs is to keep students safe.  Smith explained that he had a member of his staff die of COVID this year.
"If you give me the simple choice of keeping a piece of cloth over my face or having that staff member alive, guess what I'm choosing," Smith said.
Smith says that if he was wrong all it cost him was wearing a piece of cloth over his face. Then he addressed Blankenship by indicating that if Blankenship was wrong, the cost is more.
"Mr. Smith, I don't want to be viewed or projected as somebody that is choosing someone's life over a mask policy.  That is nowhere in my mind and is nowhere in my intent," Blankenship replied.
Blankenship went on to say just because the district doesn't  have a mandatory mask policy doesn't mean people can't wear masks. 
"I want to be fully supportive of people wearing masks," Blankenship said.
District Assistant Director of Special Services Dawn Gresham and COVID-19 Site Coordinator Joel Addis shared some of the current COVID data from the district.
At the district's COVID testing center prior to Christmas break, the number for positivity for those tested was 3.01%. When schools resumed after Christmas break the positive rate was 26.18%. Gresham said as of Monday they have administered 186 tests; of that 85 were positive, or a 45.7% rate. 
The tests are given to any district individual or anyone who is connected to a district student or employee. This includes teachers, students, employees, parents and other family members. Not all are directly in a school facility.
The board voted to change the policy from a mask requirement to masks strongly recommended. New board members Blankenship, Jennifer Neel and Robyn Pearman voted in favor of changing the policy, along with board member Andy Watkins. Matthew Joyce, Tina Prunier and Pamela Doyle voted against the change.