Dylan Edwards, volunteer, and Randall Collins, staff, were named this month's recipients of the I Make A Difference awards at the Derby Board of Education's Nov. 22 meeting.  
Dylan Edwards, volunteer award winner, is a student-athlete at Derby High School in his junior year. Edwards' talents have shown clearly on the field, but he also serves as a role model and inspiration for younger athletes and kids, spending time with them after football games. That includes taking pictures, giving them his gloves, handing out wristbands and engaging with  the young kids and junior football players. Even in his special game moments, he takes time to greet and connect with the young fans. He does this during pre-game, halftime, after the game and outside of football. 
On a recent Friday night after the high school game, several fourth-graders asked Edwards to come to their own game the next day. Not only did he show up to the Saturday game, but he went down on the field and spent time interacting with the kids. Additionally, Edwards recently spoke to the Derby Wrestling Club at the kickoff practices for the year.  
According to the DHS coaching staff, Edwards is a "high-character kid. What people see in public is what we see as coaches when nobody is looking. He has a huge heart and just loves being kind to others."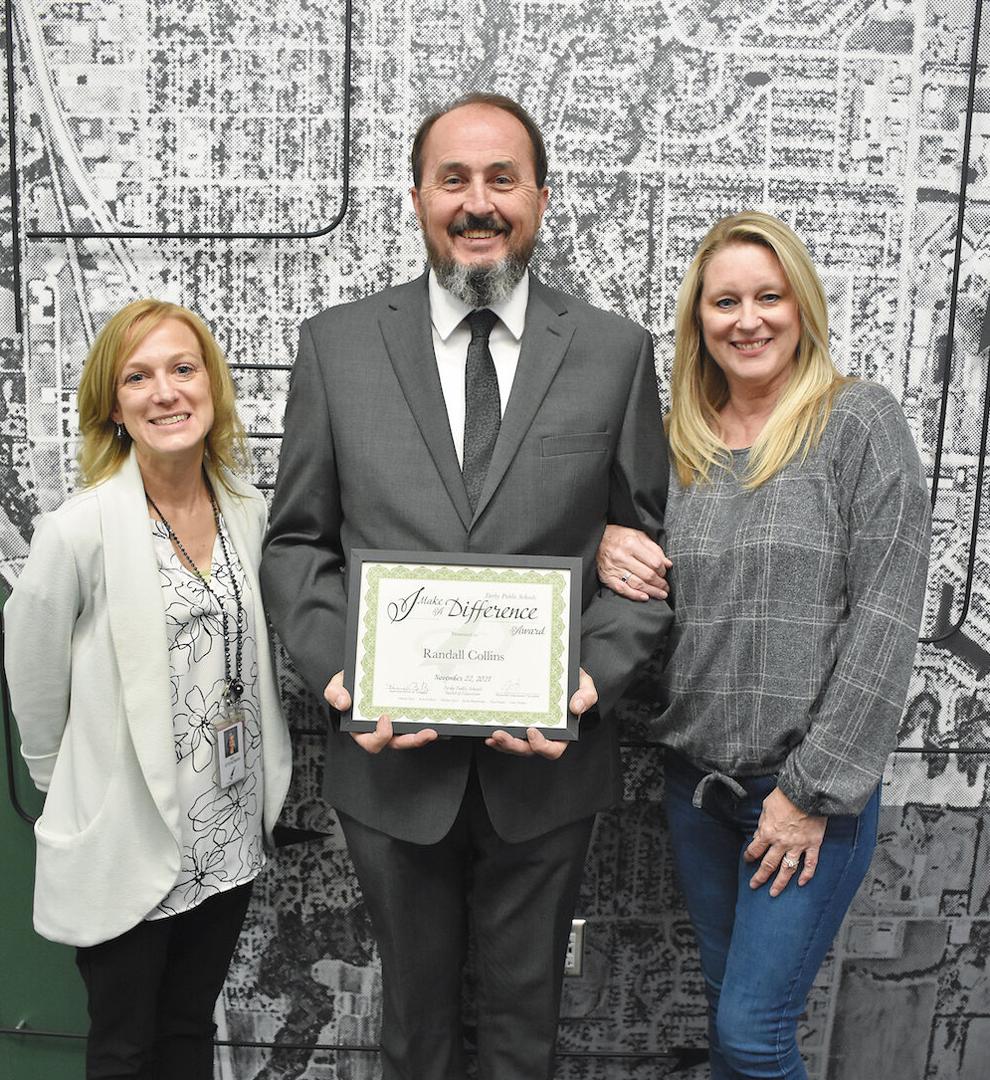 Randall Collins was also named a winner of the staff I Make A Difference award for his work at Derby Public Schools. 
Many businesses are short-staffed and have been working in creative ways to fill positions. Schools are no exception to this. As the Transportation and Supply Supervisor, Collins has worked hard to organize bus routes and coverage when staffing is limited. This year already, his dedication to Derby students has shown. One day, he had to make last-minute accommodations and the students at Tanglewood who were headed to Latchkey had to be picked up by a different bus with a different driver. 
A student was hesitant about getting on a different bus with a different driver. Seeing the struggles the student was having, Collins got off the bus to talk to the student directly. Collins promised the student he'd be on the bus and the student felt comfortable riding. About a week later, Collins had to make another switch to the Latchkey bus route. He called Tanglewood ahead of time and let them know of the switch as he remembered that they had a more hesitant student. Principal Amy Steadman was able to go talk to the student to prepare him in advance of the change. When the bus arrived, the student saw Collins and got on, no problem. Derby Public Schools has nearly 7,000 students in the district. Collins remembered to take extra care of one. This is just one of many examples of him going the extra mile – quite literally. He goes that extra mile often as he doubles as a supervisor, driving routes and any other role his department may need filled. His flexibility and  willingness to jump in wherever is needed is appreciated.