Derby resident Vy Nguyen, a junior at Derby High School, found appreciation for her Vietnamese roots as a young student. Now, she's hoping her efforts can replicate that pride among other young Asian-Americans and Pacific Islanders (AAPI).
Nguyen is a third-year student in the Project Lead the Way biomedical pathway at DHS, runs cross country and operates a digital space called The Asian Roots. Her favorite subjects are science and English, but she said she also "loves history when I am given the freedom to choose what to learn and research."
That love for history is apparent in a documentary film she made as a middle schooler called "Sailing Away From the Turbulent Waters of Vietnam: The Overflowing Waves of Boat People."
As a student at Derby North in 2018, Nguyen's piece earned second place in a National History Day junior documentary competition. The documentary is about Vietnamese refugees who came to the United States after years of war and U.S. occupation in Vietnam.
Nguyen said making the documentary was essential in her personal journey toward appreciating her cultural heritage.
"I found it hard to develop my cultural identity in a healthy and meaningful way. Instead of embracing what would always be a part of me, I tried to expel it from existence," she said. "It wasn't until the end of eighth grade that, through [the documentary], I started uprooting my shame and embarking on my journey of feeling proud of my Asian roots."
Her website, The Asian Roots, aims to seek out overlooked stories in Asian-American history and celebrate the voices of AAPI youth. It consists of a literary journal and a centralized database of history resources made by and for students, she said.
Nguyen said she was inspired to start The Asian Roots about six months ago amid protests against racism and police brutality in 2020.
"I wanted to start this digital space because, for the longest time, I struggled to grapple with my Asian roots," she said. "Like any other kid out there, it's pretty difficult trying to find your place in the world. But as a Vietnamese girl from the Midwest who was raised by her immigrant mother, my upbringing was … in many ways different than my peers."
Nguyen's experience in Derby
While not everything has been "sunshine and rainbows," Nguyen said her experience at Derby schools as a Vietnamese-American student has been mostly positive. She also said she cannot speak for the experiences of other Asian-Americans in Derby.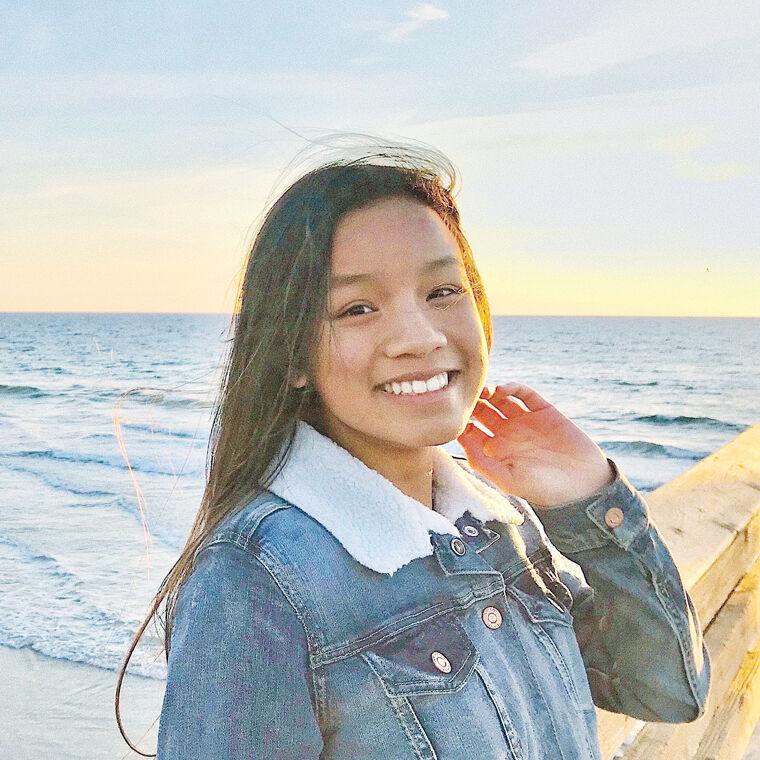 "It might be similar or very different from other folks," she said. "For me, the experience of living and attending school in Derby will always be a great blessing, and I have cultivated many relationships that I will forever be grateful for."
One negative memory that Nguyen has is the profound shame she felt in speaking Vietnamese. When calling her stepdad, a non-English speaker, to pick her up after practice, Nguyen said she would move away from earshot of her teammates to avoid racist comments.
On her first day as a sixth grader in Derby schools, Nguyen said someone told her they were incredibly impressed by her English – failing to realize that she has lived in the United States and spoken English her entire life.
"I am just as American as anyone else," she said.
Nguyen said the best way for schools to improve the experiences of Asian-American students is through education because "it's the most direct way of unlearning the existing narratives and not merely tolerating diversity but truly celebrating it."
She said she has rarely, if ever, read a book by an author of color or learned about history from the perspectives of marginalized communities. By broadening the curriculum, Nguyen said schools could make students feel like they have a "personal stake" in history.
"Our current curriculum portrays history through such a fixed, narrow lens that most kids are never equipped to see the broader picture and actually apply it to real life," she said.
Nguyen is also co-president of the HOSA Future Health Professionals organization at Derby High School. She recently helped create a community awareness project around COVID-19, in which students and staff placed sticky notes with their thoughts about the pandemic on a syringe-shaped poster.
Nguyen won four first-place awards last week at a HOSA Future Health Professionals competition in behavioral health, cultural disparities in medicine, medical reading and epidemiology. She and her colleagues Katrina Turner, Anna Lin and Vivian Kalb also won first place for their community awareness project.
After high school, Nguyen has her eyes on attending Stanford, Rice or Wichita State University and studying a field in the social sciences realm. In the long-term, she'd like to work in public health – something she said would give her room to use her set of skills and passions to contribute to the world.
"I want to specifically address the racial and socioeconomic disparities in healthcare and the cultural differences that must be understood to maximize people's quality of life," she said.
Nguyen said her teachers are some of her biggest supporters and role models, including Molly McFerson, Amy Steadman, and Lori Schock.
Steadman, Nguyen's gifted facilitator throughout her time at DNMS, supported Nguyen's endeavors in running and played a critical role in the creation of Nguyen's documentary.
"I will never forget the impact that she has made in my life," she said. "I'll forever be grateful that I had the chance to have her as my teacher for three whole years."