Above the plethora of state titles, a new attraction is taking center stage. Derby High School has added a Panther mural that displays past and present logos of the historic school.
Designed by local artist John Thatcher of CMdesigning, the mural takes up the entire wall above the decorated trophy case of the high school that had been a blank canvas for a long time.
Thatcher was approached by Athletic Director Russell Baldwin with the possibility of creating a design for the blank wall in February of 2020. After schools opened back up, the conversations resumed to finish the designing of the mural.
"The idea was to put as many of the logos that have been used at Derby High School since they just got all of the new logos," Thatcher said. "The challenge was to find a way to put the old and the new in some kind of orderly way."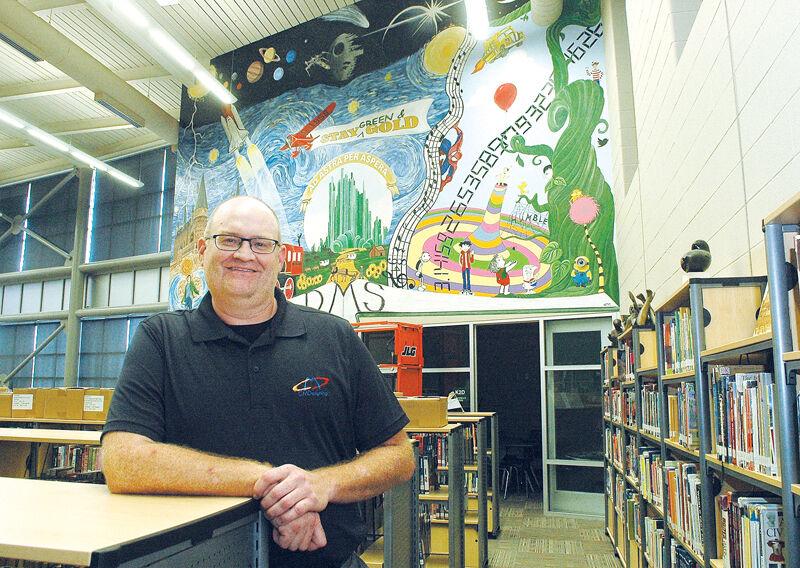 Tracking down the logos presented a big challenge, and the design team looked through past yearbooks to find various old logos.
Thatcher had to redraw some of the Derby logos after finding the designs in pictures of the basketball court and football helmets found in the yearbooks.
The placement of the mural is right above the trophy case, which enhances the decorated room full of various titles collected throughout Derby's history.
"Some credit goes to those who wanted something there in the first place," Thatcher said. "The wall was blank for years, and Tim Hamblin wanted to do something to cap off all of those state tiles in there."
Thatcher was able to work on the project with his sons Mercer and Drake Thatcher, who are seniors at DHS, which provided him an opportunity to spend time with them while working on something productive.
After spending evenings and late nights in the high school tracing the projected image of the mural, it came time to paint.
"Once I get the design on the wall, it is really just staying in the lines and painting," Thatcher said. "Sometimes there are some different techniques to be done, but this one was pretty straightforward and that is what they do to help me at that point."
Mercer and Drake assisted in the painting process along with Shara Unkel, a local artist that Thatcher has recruited for some of his projects to help finish the painting process of the mural.
The design took on some changes throughout the project, which turned out to enhance the creation of the mural. Thatcher tested out a gradient background but had to go back to the drawing board when it didn't look as he anticipated.
"It is cool to see how it all progresses to what they have now; it is a cool thing each one of the logos has individual little things," Thatcher said. "I am sure people look at it and remember what their logos were when they were attending high school."