Before the current pandemic situation drove up traffic even further, Derby's Disc Golf Course at Stone Creek Park was already a prime destination given the number of attractions that appealed to the sport's enthusiasts.
Established nearly two decades ago, it's hard to imagine the course turning into what it's be-come, according to avid disc golfer and Derby Parks and Urban Forestry Board member Marty Hunt.
"You would be amazed what that looked like before the disc golf course was put in," Hunt said. "There were two or three old outbuildings. It was basically the dump of a farmer. They hauled off tires, appliances, just all kinds of junk."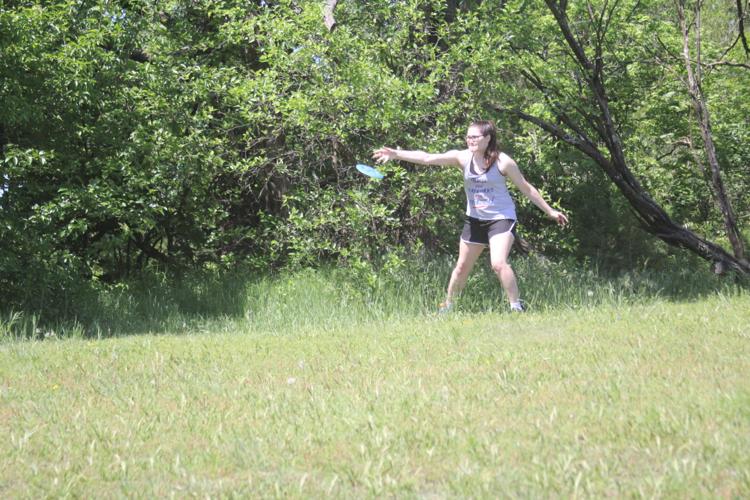 And trees. There were trees almost as far as the eye could see. In fact, Hunt noted the first hole you see from the parking lot off the disc golf course entrance from Patriot Avenue was the edge of the tree line – which was extremely dense.
Stone Creek is Hunt's home course, as he lives nearby, so he has seen it go through plenty of changes. While Hunt didn't start playing regularly until the course expanded to 18 holes, he is a member of the Air Capital Disc Golf Club, which put a lot of work into the course along with city staff.
Much of that work focused on clearing the tree line at the course's establishment – but there are still plenty of trees and other obstacles spread throughout the course that provide part of Stone Creek's appeal.
"It's still one of the most heavily wooded courses around," Hunt said. "That's the big draw of it. It's a challenging course. It's fun, but I live right close to it and I get my best scores anywhere else besides Derby."
Last summer, the Air Capital Disc Golf Club held a fundraising tournament to replace the original baskets for the holes that were donated by a club member who taught shop in the Wichita area. Following that, with the help of Derby Parks staff, second pin hole placements were added in the winter of 2019. Additional tee pads are a goal for the future.
City support and continued maintenance are another reason why Derby's disc golf course is held in such high esteem. While Hunt said some regional courses are avoided later in the summer due to overgrowth, that is not an issue at Stone Creek. Derby Parks Superintendent Steve White noted the course is mowed on a weekly basis and additional landscaping (i.e., addition of wood chips) is done regularly.
On top of the challenge, variety of holes and its regular maintenance schedule, Hunt said the dedication to disc golf is another attraction of Stone Creek. While many other parks with disc golf courses are multi-use and feature picnic areas, bike paths and playground equipment, Stone Creek has few of those additional amenities – with the disc golf course taking center stage.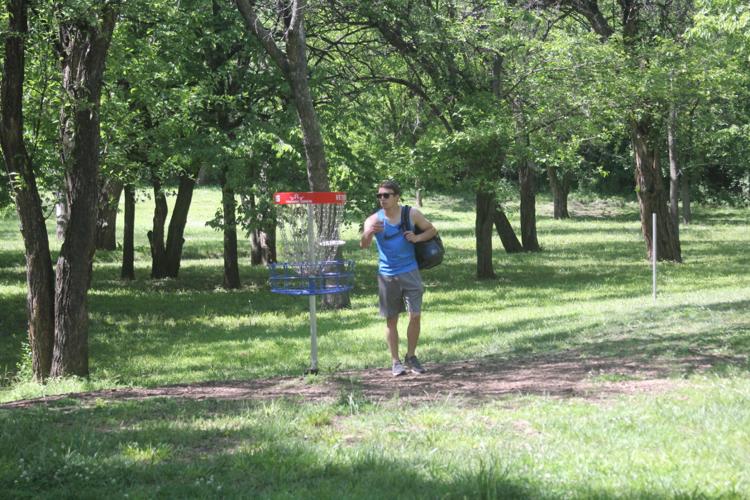 Hunt pointed out that attention to detail and the overall challenge as likely reasons the Derby course is rated one of the top 20 disc golf courses in Kansas, according to discgolfscene.com.
While there are a number of features that attract regular disc golfers from around the state (and even some from Oklahoma) to Stone Creek, the park has been even busier of late, with the pandemic seemingly driving more traffic than usual to the course.
"As I walk around the course on times when I'm not playing, I see lots of groups of families going up and playing because it is accessible and it's right here in town," Hunt said. "I've seen a lot more use on the course this spring because of everybody stuck in town."
For Hunt and members of the Air Capital Disc Golf Club, league events (and a planned fall tour-nament) have been put on hold for the moment until mass gathering restrictions are loosened, but the course is still drawing numbers. At a loosely organized event last week, Hunt estimated roughly 50 people were playing while spread out on the course.
Open from 6 a.m. to 11 p.m. and free to play, both Hunt and White said now is the perfect time to get out and explore the highly regarded amenity in Derby.
"If people want to come out and maybe try disc golf for the first time, it'd be a great place to go and experiment and see if they like the sport," White said. "It is a growing sport and I'd encourage anybody to come out, try it and see what they think."